NFC East Draft: 2-Gap Defensive Ends Who Could Free Dallas Cowboys' Jay Ratliff
April 6, 2012

Doug Pensinger/Getty Images
A good way for the Dallas Cowboys to ensure Jay Ratliff returns to his best would be to equip the front with stronger 2-gappers on either side of the elite nose tackle.
Marcus Spears is not the force he was and Jason Hatcher has not managed to find the consistency to match his natural talent. Ratliff has always worked best when surrounded by big-bodied pluggers who will absorb double teams and let him use his quickness to penetrate the backfield.
Here are three 2-gap, 5-technqiue defensive ends the Cowboys should strongly consider adding in this draft class:
Kendall Reyes, DL, Connecticut
Reyes is a player the Cowboys have to consider if as seems likely, he slips into the second round. He has the upper-body strength and initial quickness off the ball of a natural 2-gapper.
Reyes is also capable of good lateral movement down the line of scrimmage. This is an asset given the fact that many 3-4 teams use line slants as a feature of the run defense.
At 6'4" and 299 pounds, Reyes has the frame and long arms to occupy double teams and split gaps. Aligning this active force at one end would help keep blockers off Ratliff.
Kheeston Randall, DL, Texas
Randall could easily fall to the Cowboys in Round 3 or 4. The Texas star would be a steal at this stage for the Cowboys schemes.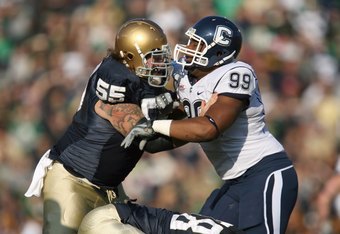 Jonathan Daniel/Getty Images
He plays with a tough combination of power and natural leverage, allowing him to control blockers and open free lanes of pursuit for linebackers. Randall is very stout against one-on-one blocking and naturally attracts double teams.
Like Reyes, Randall won't get many sacks or generate a great deal of pressure. However, his technique and strength would certainly create more playmaking opportunities for the likes of Ratliff and the brilliant Sean Lee.
Billy Winn, DE, Boise State
Winn has the size to project well as a 5-technique end at the pro level. The 6'4", 294-pounder offers good technique, strength and footwork, along with underrated first-step quickness.
If Winn could learn consistency, his natural athleticism may allow him to provide more of a pass-rush threat than the Cowboys are used to from their defensive end position. A very deep defensive line class could see Winn available in the third round.
His deceptive speed and excellent leverage would certainly appeal to coordinator Rob Ryan who could use a player as athletic as Winn in a variety of positions, from multiple fronts.
Conclusion
All of these linemen have the ability to upgrade the defensive end position for the Dallas defense. They also represent excellent value in the later rounds.
A few days ago this author wrote about how the Cowboys would benefit from a player like Fletcher Cox. While the Mississippi State standout would surely ease the pressure on Ratliff up front, the Cowboys would be wise to target another cornerback with the 14th overall pick.
The depth at defensive line in this draft means they can count on picking up a quality player in the mid rounds and these three suit the scheme. Rob Ryan aligns his defense in a traditional, "Parcells-style" 2-gap 3-4 more often than his brother Rex, dating back to his days as an assistant under Bill Belichick.
Reyes, Randall and Wynn all fit the mould of this defense and would eliminate the idea of moving Ratliff to end, which this author believes would be a mistake.