Saints Bounty Punishment Has No Chance of Being Reduced After Audio Tape
April 5, 2012

Matthew Sharpe/Getty Images
Good luck to Gregg Williams or any New Orleans Saints players or employees involved in the bounty program.
After today's news, they're going to need it.
Have you heard the audio of Williams before the team's divisional round playoff game against the San Francisco 49ers?
If you haven't, it's time you listen. 
If you have, listen again. 
Note that Williams gestured toward the injury incentive system in place.
This clip is so damning, there's absolutely no way he or any major players in the Saints bounty program will see their punishments reduced by commissioner Roger Goodell. And really, there shouldn't be any reduction.  
Actually, I'd be stunned if Williams ever coaches any type of football game again—at any level.
I totally believe that similar speeches happen in every locker room every week. But the cash rewards are the final step that cross the line of the typically figurative "knock them out" football mantra.
B/R's NFL Editor and brilliant wordsmith Michael Schottey said it best in a tweet this morning: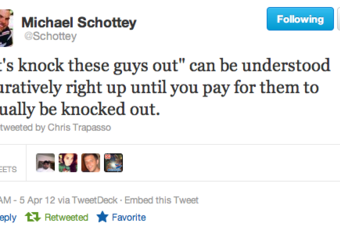 Precisely.
No one in America's ultra-competitive society who understands the game of football or any sport for that matter, will ever be outraged by a coach saying "knock 'em dead" in the locker room. 
But with Williams, it's different. 
The rewarding of those punishing, potentially career-ending hits with money goes too far. 
In a league that's made huge strides in what's known about the lasting effects of concussions, Williams urged his players to specific target Kyle Williams, a player who suffered multiple head injuries during his football-playing career. 
Not to mention, Michael Crabtree's ACL was a target, too.
Nothing cool about that. 
The NFL has rightfully been trying to protect its players and their well-being after they hang up the cleats. Williams was the exact counter to all of that. 
Chances are, you already believed Williams and the Saints deserved the consequences handed down by the league.
But now, you realize they will never see their punishment lessened.