2012 NFL Draft Predictions: Denver Broncos Give Peyton Manning New 1st Round Toy
April 4, 2012
Doug Pensinger/Getty Images
Rumblings around the league are that despite the huge needs on the defense, the Denver Broncos will make a splash in the first round of the NFL draft when they add a new toy for their newest franchise quarterback, Peyton Manning. This "toy" comes in the form of a huge, lightning-fast wide receiver to go on the opposite side of Demaryius Thomas—former teammate at Georgia Tech Stephen Hill.
Stephen Hill will be latest first-round wide receiver to come out of Georgia Tech following in the footsteps of the Denver Broncos' Demaryius Thomas and the Detroit Lions' Calvin Johnson. Hill definitely has Calvin Johnson-type size. He stands at 6'4", 215 pounds. He ran a blazing fast 40-time of 4.36 seconds during the NFL Combine at the end of February. His wingspan is a walloping 33-3/8" inches and his hands measure 9-3/8" inches.
These rumors go against all of my previous musings as to whom the Broncos might choose in the first round. I had a cornerback or a defensive tackle going in the first round to Denver with their emphasis on defense and the obvious struggles they encountered from time to time against the run in the middle and pass-happy offenses.
The Broncos may still be able to get a top-quality defensive tackle in the second round as most believe that the draft is flush with quality talent at DT. Adding former New Orleans Saint CB Tracy Porter during free agency last month was another win for the Broncos, reducing the need to add a CB as a high draft pick in 2012.
Hill would be a deep threat for the Broncos to counter Thomas' bruising size across the field. Hill's impressive speed would be a major asset for Denver to give Manning a guy he can throw it up to deep and expect him to come down with the ball.
Hill's hands are solid. He appears to be a possession-type receiver who comes down with everything in his vicinity. His body control also is a huge advantage. He can position himself to create separation with cornerbacks and then keep his body in control to bring down big grabs.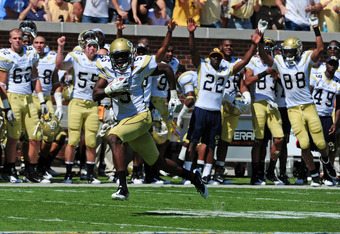 Scott Cunningham/Getty Images
With body control and hands like Reggie Wayne and size like Calvin Johnson, this pick would be hard for the Broncos to pass up on, especially with a quarterback such as Peyton Manning running the offense.
He looks to have lots of raw talent, similar to Demaryius Thomas, with a very high ceiling. Adding a top prospect like Hill would instantly make the Denver Broncos' passing offense one of the top in the league. Adding Manning alone made the Broncos instantly better, but adding Hill to go along with him, would make the Broncos possibly the top offense in the AFC. Scouts have fallen in love with Hill's size and playmaking ability.
As far as stats go for Hill, his numbers were kind of unreal in 2011. Despite catching only 28 passes in the triple option offense Georgia Tech ran, those receptions resulted in a gaudy 820 yards. That feat led the nation in yards per catch at 29.3.
Will the Broncos appear to have passed on Mike Wallace and the deep threat he offers, adding Hill late in the first round would give the Broncos that playmaker for the home run ball.
Hill's addition would continue to raise the Broncos odds of securing an AFC title this season, and give them one of the best chances to win a Super Bowl in 2012.