Lions Pot Busts Put Spotlight on Marijuana Use, Athletes as Role Models
April 4, 2012

Jonathan Daniel/Getty Images
If Detroit Free-Press columnist Drew Sharp had his way, the Lions would kick Mikel Leshoure and Nick Fairley to the curb, forever banning them from Ford Field in the wake of their respective marijuana-related arrests.
Quote Sharp:
Just because marijuana usage is perceived as more casual than other drugs doesn't mean the punitive measures should be equally nonchalant.

Have them pack their bags (and baggies).

The Lions should kick Leshoure and Fairley off the team.
Sharp also suggested that Tom Izzo and the Michigan State Spartans boot center Derrick Nix from the locker room following a similar, ill-timed bust.
Suffice to say, Sharp did not just kick the hornet's nest here, he hurled a 90 miles-per-hour fastball at it.  Reaction to Sharp's sentiments was shift, harsh and often well south of dinner-table mannerisms.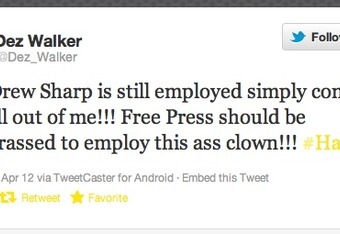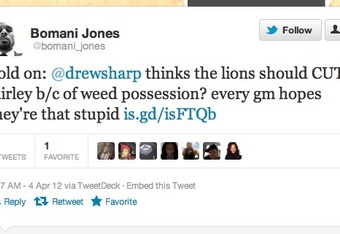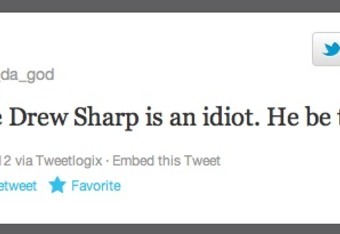 Most of these musings, of course, centered around Sharp's suggestions that these players be dropped from the roster as a result of their transgressions—certainly, an extreme call for justice, one of the more radical moves a team could make in order to punish its players.
But then, they miss the larger issue here: the wider net as it relates to all of sports.
How do we reconcile, as a society, marijuana use amongst athletes, specifically athletes as celebrities, as public figures and as role models?
Let's face facts: amongst other things, our country—grounded by all its puritanical roots—still has some major hang-ups revolving around marijuana.  
These reservations are further amplified, of course, when a figure of any great significance in the public view—an athlete, a movie star, a politician—is associated with the drug, or with any drug for that matter.
Take Michael Phelps, for example.  Following a dominant performance in the 2008 Olympics which saw Phelps net eight gold medals, Phelps was suspended for three months in early 2009 after photos surfaced of the star swimmer planted face-first in a bong at the University of South Carolina.
Criticism was quick and pointed.  Here was America's golden boy, its chlorine-scented champion and poster child for success, caught square in the middle of casual drug use.  Phelps, surely sensing the shifting weight of dissatisfied sponsors, swiftly apologized for his actions.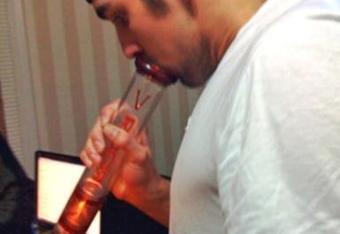 "I engaged in behavior which was regrettable and demonstrated bad judgment," said Phelps, by proxy of his agent, "I'm 23 years old and despite the successes I've had in the pool, I acted in a youthful and inappropriate way, not in a manner people have come to expect from me. For this, I am sorry. I promise my fans and the public it will not happen again."
Though some columnists, such as ESPN.com's Jim Caples, did author strong support for Phelps, or rather, strong criticism of a society that would label Phelps as a deviant worth punishing rather than seriously dissecting the social responses to such a curiously taboo topic, an overwhelming amount of negative reaction was launched.
Elisabeth Hasselbeck, live on The View, claimed that Phelps disappointed because he was "paid to be an example" and that "every single kid wants to be like him," before all but suggesting that his supposed gateway drug usage could surely indicate a willingness to use...performance-enhancing drugs?
Hasselbeck wasn't alone in adding to Phelps' deviant label, nor was she alone in playing the think of the children card.  Mary Kate Cary of U.S. News, incidentally a former speechwriter for George H.W. Bush (who may or may not himself have been the center of a what-will-the-kids-think moment), found Phelps' pipe-posing particularly disturbing:
Does she not realize how many middle- and high-school kids look up to Michael Phelps? That he's on the front of Wheaties boxes right now? That we all warn our kids about the dangers of drug use? Most parents find that photo sad and disappointing and will use it as a Teachable Moment for teenagers. What Michael Phelps did was a shame, but adults' defending—and even encouraging—his drug use are far more shameful.
Ah, right.  The children.  It always go back to the children, and the athletes' roles in setting examples for them, calculating the finer balances of their moral compasses.
And we just can't let someone like Phelps, or Fairley, Leshoure or Nix, lead them astray, can we?
At some point, this is about more than weed, a conversation well beyond chronic.  That's not to say that our views of deviancy are not worth addressing when it comes to marijuana, but rather, that the more pertinent questions—and hopefully, the more helpful answer—result from examining our societal expectations of athletes as role models.
To some extent, athletes certainly relinquish the right to a private life when they sign that multi-million dollar contract.  They are celebrities, public figures.  If they get a speeding ticket, it makes the news.
If they coach their kid's soccer team, it makes the news.  And if they get caught with anything less than lollipops in their possession, you'd better believe it makes the news.
It's a trade-off, and one oft-accepted.  As with actors, athletes embrace the spotlight, relish it even. It's a platform, the opportunity to be heard, often the only opportunity many athletes from disadvantaged youth environments have ever had to be seen, heard or acknowledged outside of a crowd, of a simple mass of statistics.  
But many athletes don't realize the cost of that spotlight, of course, until they find themselves escorted to the side of the road by an Alabama state trooper, furiously fanning the fumes of the skunk weed out of the passenger window (or, in a moment Broken Lizard couldn't have scripted any better, eating it) to avoid punishment.
The question, then, is why, and how these actions are motivated, how an athlete finds himself gorging on ganja in order to avoid arrest or detection.
Marijuana, after all, is less physically harmful than tobacco, and far less addictive given the chemical dependency on nicotine developed by long-term tobacco use.  Which makes you wonder, to some extent, whether we would label an athlete as deviant were he caught smoking a cigarette in public view instead.
Certainly, marijuana alters perception and can prove a dangerous drug in certain situations—specifically, when used behind the steering wheel.  But then, alcohol certainly alters perception as well, and we more often than not champion athletes for their industrial-strength livers when caught on the tail end of some epic drinking binge.  
Hell, when Indianapolis Colts punter Pat McAfee took a drunken dive in the Broad Ripple Canal, a business was born out of it.  Popular sports humor site Kissing Suzy Kolber derived its name from an incident where inebriated former New York Jets quarterback Joe Namath slurred his love from ESPN sideline reporter Suzy Kolber during a Dec. 20, 2003, Monday Night Football game.
These men are slapped on the back, practically revered—albeit, sometimes in the form of parody—for their alcohol-soaked escapades.  Phelps, harmlessly toking in a dorm room, was forced to drop out of public sight for several months.
Or think of it this way—which has the most negative connotation: a smoker, a drinker or a pothead?  Pretty easy answer.
So, where does the discrepancy come in?  And how do we, as a society, forgive the dereliction of "role model" duties so much more readily for some forms of substance use and/or abuse than others?
Why is marijuana use amongst athletes viewed as inherently more devious than use of alcohol or tobacco, and why do we so quickly flee to the moral high ground at the first whiff of weed, concerned that our youth are somehow in danger of imminent moral demise when confronted with news or images of their favorite athlete's goody-two-shoes image going up in smoke?
If the concern is truly for the children, and we find ourselves in a position where we genuinely fear that athletes as moral gatekeepers have let them down, that there exists a very real danger that our youth will now flood the drug market, then the shaming should center on us, as a society.
Because if we really purport that Junior will be so catalyzed by this shock as to hit the streets hounding every vinyl-store junkie for a dime bag, then we have clearly failed to establish an appropriate scale of example.  And that failing falls on us, not the athletes, who stunningly enough do not have parental responsibilities inked into their contracts.
Yes, athletes are in the public view and yes, they need to act accordingly and be ever so image-conscious, lest they risk forfeiting numbers on their next contract or sneaker deal, anyway.  
But if this really about setting an example for our children, then we need to get some priorities straight, starting with advising our youth against deifying young men playing games for a living, and ultimately ending with establishing clear moral standards and precedents we encourage them to aspire toward.
Or, at the very least, being consistent in our labeling of deviancy, if we are going to seriously hold that athletes are single-handedly tasked with setting these moral standards.
Columnists like Sharp would hold that pot is a big deal, that by his own argument, the NFL should take immediate action against guys like Fairley or Leshoure.  And I'm not arguing that it isn't a big deal or can't be harmful in the wrong circumstances.
What I do argue, though, is that we need to separate the argument of actual harm and danger from the argument of athletes as role models.  The former is the real issue we should be discussing, and somehow the issue we never quite arrive at because we're too busy claiming impressionable minds have been ruined by the latter.  
And even if and when we do separate those arguments, we still need to examine the scope of damage, and other existing practices or forms of abuse that are ignored or otherwise accepted.  
We can't, after all, solely claim that marijuana use could be the only dangerous activity athletes could possibly partake in.  There needs to be a sense of scale established, and all consequences should be calculated thusly.
Until then, though, until we can get over our hang-ups and our unfailingly hopeless act of deviant labeling and chastising young men for failing to inspire every child to maintain his inner Opie Taylor, we will never get to the root cause of this controversy.
We'll just spend our days aimlessly fighting through the endless haze of cloudy non-answers and cyclical social failings.