Denver Broncos Mock Draft: Building the Perfect 7-Round Draft
April 3, 2012

Joe Robbins/Getty Images
The Broncos were able to go from having the No. 2 overall pick to AFC West champs in one year under John Elway's stewardship. Now with Peyton Manning, the Broncos are gunning for their first Super Bowl since Elway was their starting quarterback. How can the draft shake out to give them the greatest chance of pulling off that dramatic turnaround?
Round 1, No. 25
Plan A: Jerel Worthy, DT, Michigan State—Fletcher Cox would be a dream pick, but there's no way he's falling that far. Peyton Manning teams plan on playing from ahead and living on the pass rush on defense. Worthy could be a handful for guards that have to also be thinking about Von Miller and Elvis Dumervil.
Plan B: Peter Konz, C, Wisconsin—Konz would be an instant massive upgrade from J.D. Walton at center. Jeff Saturday turned down the Broncos, so getting Konz would soothe the pain and then some.
Round 2, No. 57
Plan A: Ben Jones, C, Georgia—The Broncos need to come out of this draft with a center who can start Week 1. Jones was a mainstay for four years at Georgia, and he'll do the same for Denver.
Plan B: Kelechi Osemele, OG, Iowa State—Defensive tackle value isn't terrific in the second round, so even if the Broncos don't land one in the first, they should instead continue to focus on upgrading the interior offensive line.
Round 3, No. 87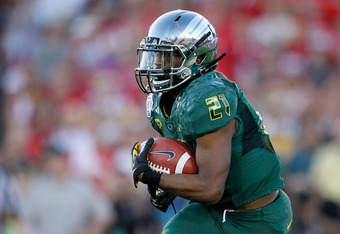 Jeff Gross/Getty Images
Plan A: LaMichael James, RB, Oregon—James might not last this long, but he would be a massive get for a RB-poor team like the Broncos if he does. His ability to be a passing game and return game weapon only enhances his value.
Plan B: Derek Wolfe, DT, Cincinnati—Wolfe would be an excellent consolation if the Broncos aren't compelled to take a defensive tackle in the first round. What he lacks in physical gifts he makes up for with versatility and a nonstop motor.
Round 4, No. 108 (from New York Jets)
Plan A: James Brown, OL, Troy—Brown might not be able to start right away, but he projects as depth at both guard and tackle and a good counterpart for Orlando Franklin.
Plan B: Cyrus Gray, RB, Texas A&M—Gray is a great receiver and has underrated speed. His patience on the stretch play and quality pass-blocking will fit well in a Peyton Manning-led offense.
Round 4, No. 120
Plan A: B.J. Coleman, QB, Tennessee-Chattanooga—Time to plan for the post-Peyton era even though it has barely begun. Coleman is raw, but his frame, arm, mechanic, mobility and intangibles present a nice package for a developmental QB.
Plan B: DaJohn Harris, DT, USC—If the Broncos don't land a top DT in the first round, they should spend two mid-round picks on the position. Harris hasn't quite played up to his potential, but he can give quality rotational snaps.
Round 5, No. 137 (from St. Louis)
Plan A: Ryan Steed, CB, Furman—Tracy Porter is only signed to a one-year deal, and Champ Bailey will be 34 when the season starts, so the Broncos need to cultivate some long-term depth at the position. Steed could be a third-day steal because he was a small school player.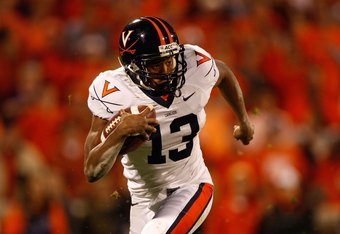 Streeter Lecka/Getty Images
Plan B: Chase Minnifield, CB, Virginia—Perhaps Minnifield's recent knee surgery could cause him to fall to the team that ruined his father's chances of playing in a Super Bowl.
Round 6, No. 188 (from New York Jets)
Plan A: Hebron Fangupo, DT, BYU—Nothing flashy here, just a massive run stuffer who will help fill the hole left by Brodrick Bunkley signing with New Orleans.
Plan B: Aaron Corp, QB, Richmond—The former USC Trojan has been turning some heads in the postseason, and he'll be a quality late-round developmental prospect.