Nike NFL Jerseys: Changes We're Most Looking Forward to Seeing
April 3, 2012

Al Bello/Getty Images
That Tim Tebow, Tom Brady or Peyton Manning jersey that you may have in your closet could look outdated in the near future, as Nike may make some changes to the way uniforms look in the NFL. 
In an interview with CNBC's Darren Rovell back in October, of 2010, Nike brand president Charlie Denson said about the changes: 
Darren: Many fans want to know how much you are going to change the jersey. Will it be similar to what you've done in college with pretty significant overhauls?

Denson: We plan on changing the NFL jersey dramatically just like we've done with the college programs, using new thinking and the greatest technology available. The NFL program hasn't had the same type of advancement in recent years.
However, from Pro Football Talk, the NFL is saying otherwise as league spokesman Brian McCarthy said, "Logos are controlled by teams and the NFL."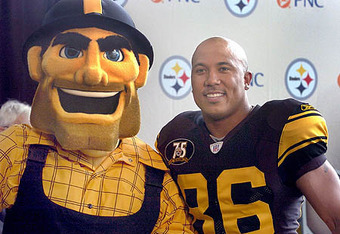 So, for starters, we can look forward to knowing that Nike cannot come in and make a change to a logo like the Pittsburgh Steelers' simple diamond-look to a steelworker looking like Steeley McBeam on their helmet and jersey.
However, McCarthy did say: "We anticipate new uniform technology (i.e., performance-driven, lighter materials).  That's what Nike's [Charlie] Denson was referring to in his interview in 2010 regarding changes."
From what it sounds like is that the new uniforms from Nike will be made so that players can run even faster than they already do. Plus, the technology in the uniforms may be a take off of what the company, Under Armour, has athletes wear at the NFL scouting combine. 
According to that same article from Pro Football Talk, some of the Seattle Seahawks front office has already made a trip up to Nike headquarters to check out what some of the new designs may look like. As Seahawks president Peter McLoughin said:
Pete Carroll was in the room, John Schneider, all kinds of people, and we're looking at all kinds of new designs, and new kinds of jerseys, and we're talking about a throwback for sure.  So there's a lot of creative stuff in the works right now."
The new uniforms aren't going to look extremely different from what we are used to seeing during NFL games. However, what we can expect is new technology that makes the game even better than the current state it's at.