2012 NFL Draft: Predicting Landing Spots for Top Pac-12 Stars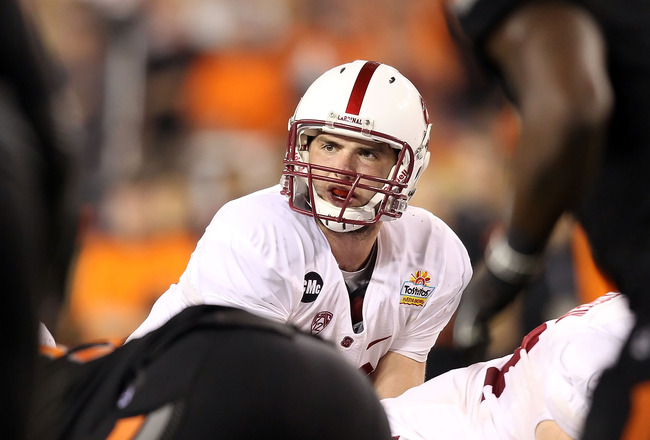 Christian Petersen/Getty Images
By now, if you don't expect Andrew Luck to be the No. 1 pick in this year's NFL Draft, you're either living underneath a rock or a Colt's employee with inside information.
The "best quarterback prospect since Peyton Manning" may be receiving the bulk of the attention surrounding the Pac-12's draft talent, but he certainly isn't the only West Coast collegiate athlete looking to make a splash this April.
Who else will join Luck amongst the NFL elite, and where will they end up?
LaMichael James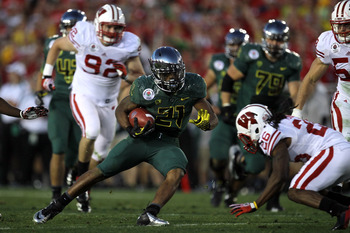 Stephen Dunn/Getty Images
Coming off a big junior season for the Ducks, James opted to leave Eugene early, having already set many major rushing records at UO.
Size and durability will be the major knocks against the speedy back; a nagging shoulder injury and questions about whether his slight frame will hold up against NFL competition have been asked since he first gained prominence at Oregon. He also will have to answer to those who question his off-the-field character, due to a 2008 arrest that garnered significant attention.
Right now, most experts have James pinned as a third- to forth-round projection due to reasons mentioned above, as well as his likely nature as a third down back. However, an impressive 40 time (4.37) may help boost him up the draft board as the draft nears.
Matt Kalil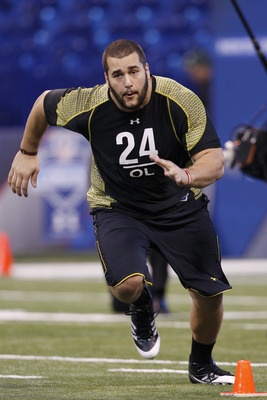 Joe Robbins/Getty Images
The best Pac-12 prospect after Luck, Kalil has the bloodlines, size and ability to make a huge impact at the next level.
The top-ranked tackle in the draft, the former USC star will likely not have to wait around long before his name is called. He is the rare combination of attributes that makes him near impossible to pass up, and the only real knock against the tackle is that he may be overrated due to being surrounding by such great talent at Southern Cal.
If Kalil's draft day goes as planned, expect him to join Minnesota as the third pick, and assume his place among the NFL's most promising talents.
Vontaze Burfict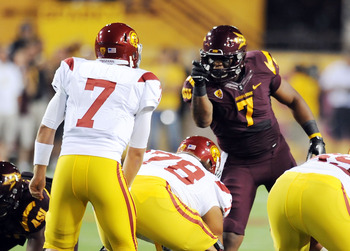 Norm Hall/Getty Images
Initially pegged as a possible top-10 selection this April, Burfict has seen his draft stock plummet since the combine, and after an underwhelming showing at the ASU pro-day, it does not seem likely to improve before draft day.
While he's shown incredible potential since being touted as the best linebacker prospect in the country in high school, inconsistency and poor attitude have marred his reputation among scouts, and there are significant questions as to whether he will succeed in the NFL.
Despite these knocks, Burfict could still find himself drafted, perhaps even in the early rounds, but he will also have to shake his disappointing 40 time (+5.00)
Coby Fleener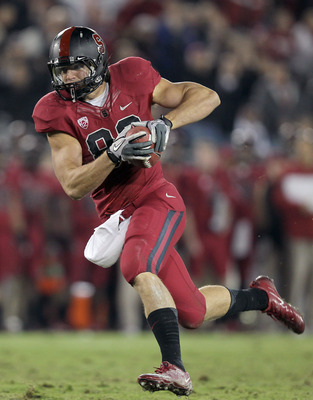 Ezra Shaw/Getty Images
One of Luck's favorite targets at Stanford, Coby Fleener looks like he may just join his quarterback on the first day selections.
Fleener impressed scouts at the combine and Stanford's pro day with his size, speed and hands—enough to be picked by some analysts as a potential top-25 selection. His success with the Cardinal is also a big selling point, catching 10 touchdowns in a first-team All Pac-12 season while operating within Stanford's pro-style offense.
If Fleener's draft stock remains high, look for him to end up at number 22, joining the Cleveland Browns.
Mychal Kendricks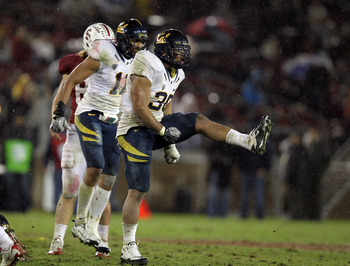 Ezra Shaw/Getty Images
Linebacker Mychal Kendricks made up for his diminutive stature by impressing scouts at the combine with strong drill results.
Kendricks ran the 40 in a sharp 4.47, jumped an impressive 39.5 inches in the vertical and did 24 reps in the bench press, dispelling fears that his small size meant he lacked the power to play in the NFL. The Pac-12 defensive player of the year, Kendricks may use his strong combine performance to make a play to move up the board come draft day.
Expect him to be one of the first linebackers taken in the draft.
David Decastro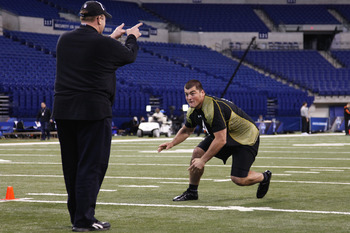 Joe Robbins/Getty Images
Another member of Stanford's strong draft class, DeCastro has made scouts salivate, as he's moved to the top of many scouts' ranking boards for offensive guards.
Stanford's head coach David Shaw has compared DeCastro to some of the best offensive guards in the league's history. What he lacks in athleticism he more than makes up for in skill, size and intelligence, and his performance at the combine did not dissuade scouts from being enamored with him.
Analysts have projected him somewhere within the top 20, with Cincinnati, Arizona and Dallas being likely destinations for the young guard.
Nick Perry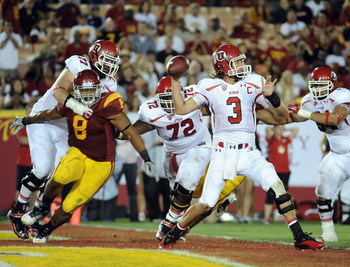 Harry How/Getty Images
USC's sack leader last season, scouts are hoping Perry can translate that same explosive impact to the next level of competition.
A strong, smooth-moving athlete, Perry could play on both the line and as a linebacker, making his versatility an attractive option to NFL teams. Perry performed great at the combine and is on the radar for plenty of teams' first-round selections.
If his draft stock remains where it is, expect Perry to be taken somewhere in the top 20, with Chicago being a likely destination.
Keep Reading