MLB Opening Day: Ranking All 30 Lineups as the Season Kicks off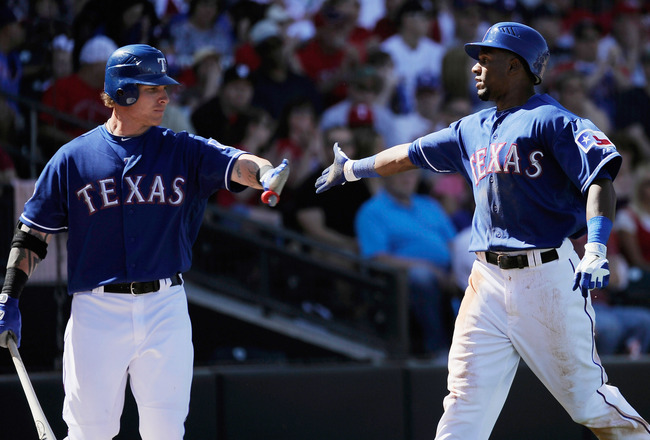 Kevork Djansezian/Getty Images
After reshaping their lineups during the offseason, each MLB team will start with a clean slate to begin the 2012 season.
Big name acquisitions like Albert Pujols and Prince Fielder have changed the landscape of the American League, while the Miami Marlins have built themselves a flashy club in the National League heading into the season.
A new king will be crowned in 2012 and what better way to begin the season than by ranking each team's lineup leading up to their first game of the season (with the exception of the Seattle Mariners and Oakland Athletics).
So without further ado, here are my 2012 MLB lineup rankings:
For the purpose of this article, CBS Sports was used for the following American League and National League lineup projections.
30. Houston Astros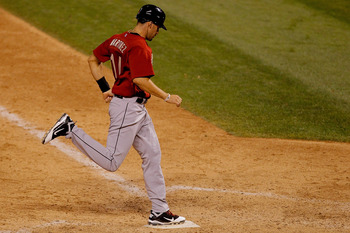 Justin Edmonds/Getty Images
Projected Lineup
Jordan Schafer, CF
Jose Altuve, 2B
J.D. Martinez, LF
Carlos Lee, 1B
Brian Bogusevic, RF
Jed Lowrie, SS
Chris Johnson, 3B
Chris Snyder, C
Pitcher
Aside from Carlos Lee, the Houston Astro's lineup looks more like a Triple-A squad. J.D. Martinez has showed some potential and will be the player to watch for the Astros in 2012.
But aside from Martinez and Lee, there aren't many bright spots in this Houston lineup.
They're in for a long season.
29. San Diego Padres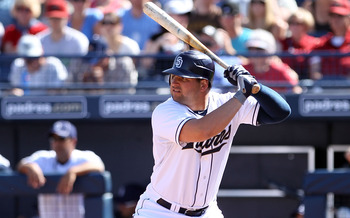 Christian Petersen/Getty Images
Projected Lineup
Will Venable, RF
Chase Headley, 3B
Cameron Maybin, CF
Yonder Alonso, 1B
Jesus Guzman, LF
Nick Hundley, C
Orlando Hudson, 2B
Jason Bartlett, SS
Pitcher
The San Diego Padres feature an unproven hitter at cleanup in Alonso.
Further, Alonso's protection in the order are Maybin and Guzman, one of who has never played in more than 80 games in a season, and another who has never hit better than .264 in a legit season.
After Alonso, the Padres' order doesn't look too promising. Expect another losing season in San Diego.
28. Seattle Mariners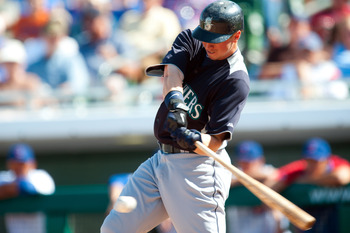 Rob Tringali/Getty Images
Projected Lineup
Chone Figgins
Dustin Ackley
Ichiro Suzuki
Justin Smoak
Jesus Montero
Mike Carp
Miguel Olivo
Michael Saunders
Brendan Ryan
While the Seattle Mariners boast some speed at the top of the lineup with Figgins and Suzuki, they're weak in the heart of the order.
Smoak is coming off of his first complete season in the MLB, where he hit just .234 with more strikeouts than hits, and Montero has yet to prove his worth in the bigs.
It's another down year for the Seattle Mariners.
27. Oakland Athletics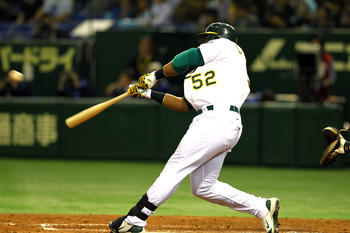 Koji Watanabe/Getty Images
Projected Lineup
Jemile Weeks, 2B
Cliff Pennington, SS
Coco Crisp, LF
Seth Smith, DH
Kurt Suzuki, C
Josh Reddick, RF
Yoenis Cespedes, CF
Brandon Allen, 1B
Josh Donaldson, 3B
Like the Seattle Mariners, the Oakland Athletic's lineup boasts some speed at the top with Weeks and Crisp, but lack power in the middle of the order.
Out of the cleanup spot, Smith has never hit more than 17 home runs or posted an average better than .293 in a season.
If Cespedes turns out to be the player he's projected, we could see him move up in the A's order.
For now, we'll sit back and watch this lineup struggle in the American League.
26. New York Mets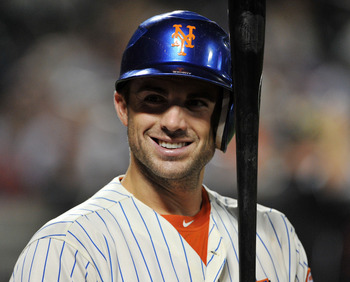 Christopher Pasatieri/Getty Images
Projected Lineup
Andres Torres, CF
Daniel Murphy, 2B
David Wright, 3B
Ike Davis, 1B
Jason Bay, LF
Lucas Duda, RF
Josh Thole, C
Ruben Tejada, SS
Pitcher
Given the state of the New York Mets' franchise, they were unable to spend money in free agency and give David Wright some help in the lineup.
Ike Davis should give him some protection, but there's not much to look forward to from there on down.
The Mets also sport a weak pitching staff and the lineup will be feeling the pressure of always playing from behind.
25. Chicago Cubs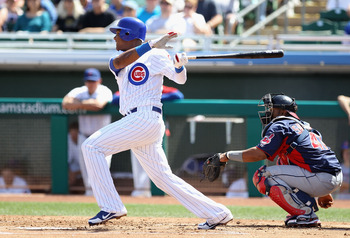 Christian Petersen/Getty Images
Projected Lineup
David DeJesus, RF
Starlin Castro, SS
Marlon Byrd, CF
Bryan LaHair, 1B
Alfonso Soriano, LF
Geovany Soto, C
Ian Stewart, 3B
Darwin Barney, 2B
Pitcher
Losing Aramis Ramirez in the heart of the order for the Chicago Cubs will undoubtedly hinder the offense in 2012. Ramirez led the Cubs in both batting average and RBI.
The acquisition of David DeJesus in the leadoff spot should generate some more activity at the top of this Chicago lineup, but scoring runs will still be an issue.
Only Ramirez and Starlin Castro hit better than .300 last season and their cleanup hitter has less than 200 at-bats of experience.
Darwin Barney provides the Cubs with a good bat at the bottom of the lineup, but the Cubs ranked No. 18 in the MLB last season in terms of runs scored, and without Ramirez in the lineup, that number will probably go down in 2012.
24. Pittsburgh Pirates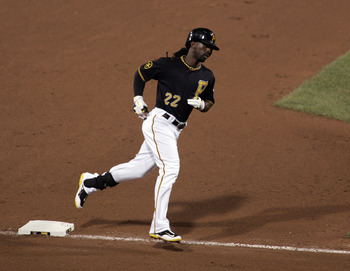 Justin K. Aller/Getty Images
Projected Lineup
Jose Tabata, RF
Alex Presley, LF
Andrew McCutchen, CF
Neil Walker, 2B
Garrett Jones, 1B
Pedro Alvarez, 3B
Clint Barmes, SS
Rod Barajas, C
Pitcher
The Pittsburgh Pirates' team batting average was .244 in 2011—which ranked No. 23 in the MLB—and doesn't seem to have any new pieces to improve that mark this season.
Andrew McCutchen continues to stand out as the Pirates' best offensive weapon, yet he failed to hit better than .259 or drive in more than 90 runs last season.
Neil Walker and Garrett Jones will have to make huge strides from last season to improve the offense this season.
With the exception of Clint Barmes, this Pittsburgh lineup looks a lot like the one that finished 72-90 in 2011.
23. Minnesota Twins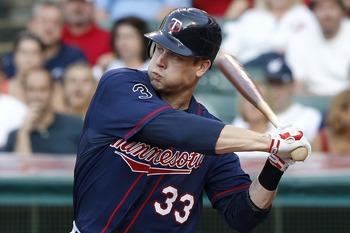 David Maxwell/Getty Images
Projected Lineup
Denard Span, CF
Jamey Carroll, SS
Joe Mauer, C
Justin Morneau, 1B
Josh Willingham, RF
Ryan Doumit, DH
Danny Valencia, 3B
Alexi Casilla, 2B
Ben Revere, LF
From an offensive standpoint, the Minnesota Twins season relies on whether Joe Mauer and Justin Morneau can stay healthy.
The biggest question is Morneau and if he'll be able to remain in the lineup after suffering a concussion last season that resulted in him missing practically a third of the season.
Losing Michael Cuddyer and Jason Kubel will hurt the Twins, but acquiring Josh Willingham should help.
22. Chicago White Sox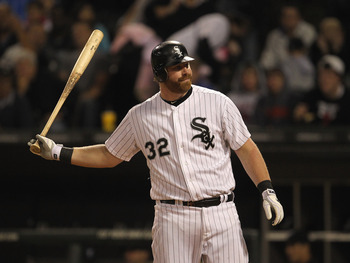 Jonathan Daniel/Getty Images
Projected Lineup
Alejandro De Aza, LF
Alexei Ramirez, SS
Paul Konerko, 1B
Adam Dunn, DH
Brent Morel, 3B
A.J. Pierzynski, C
Dayan Viciedo, RF
Alex Rios, CF
Gordon Beckham, 2B
Without Juan Pierre and Carlos Quentin, the Chicago White Sox lineup has declined from the one that hit .252 as a team last season.
Adam Dunn is easily the biggest question in the Sox lineup and he's hitting in one of the most important slots. After posting back-to-back 38 homer and 100-plus RBI seasons in Washington, Dunn hit a mere .159 and sent just 11 over the fence in 2011.
The play of Dunn this season will effect the production of his teammate and No. 3 hitter, Paul Konerko, who led Chicago in batting average, home runs, RBI and on-base percentage last season.
21. Washington Nationals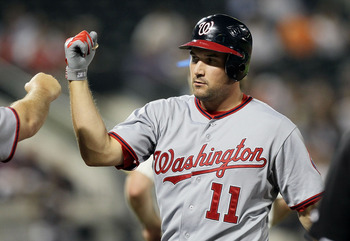 Jim McIsaac/Getty Images
Projected Lineup
Ian Desmond, SS
Jayson Werth, RF
Ryan Zimmerman, 3B
Adam LaRoche, 1B
Michael Morse, LF
Danny Espinosa, 2B
Wilson Ramos, C
Roger Bernadina, CF
Pitcher
A healthy Ryan Zimmerman—who looks great this spring—will be the key for the Washington Nationals' lineup in 2012.
The Nats' lineup looks promising from No. 2 to 6, with Danny Espinosa drilling 21 homers and playing second base out of the six spot in the lineup.
Like Zimmerman, if Adam LaRoche can remain on the field this season, the Nationals could put up a fight in the NL East.
Unfortunately for Washington, General Manager Mike Rizzo focused primarily on pitching this offseason.
20. San Francisco Giants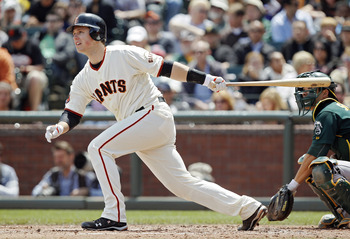 Brian Bahr/Getty Images
Projected Lineup
Angel Pagan, CF
Melky Cabrera, LF
Pablo Sandoval, 3B
Buster Posey, C
Aubrey Huff, 1B
Nate Schierholtz, RF
Ryan Theriot, 2B
Brandon Crawford, SS
Pitcher
The strength of the San Francisco Giants' lineup relies on the health of catcher Buster Posey in 2012.
Aside from the health of Posey, also going against San Francisco is the fact that Carlos Beltran is no longer in the lineup. Other departures include Andres Torres, Orlando Cabrera and Cody Ross, but were replaced with guys like Melky Cabrera, Angel Pagan and Ryan Theriot.
The one through four hitters look solid for the Giants, but it's questionable after that. San Francisco finished last in the National League in runs scored in 2011 and they're hoping the additions of Pagan and Cabrera to the top of the lineup will help.
19. Los Angeles Dodgers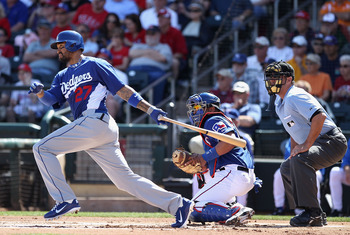 Christian Petersen/Getty Images
Projected Lineup
Dee Gordon, SS
Mark Ellis, 2B
Matt Kemp, CF
Andre Ethier, RF
James Loney, 1B
Juan Rivera, LF
Juan Uribe, 3B
A.J. Ellis, C
Pitcher
Led by Matt Kemp and his new mega-deal, the Los Angeles Dodgers—under new ownership—will be looking to make a splash in the NL West in 2012.
After Kemp—who drove in 126 runs last season—James Loney drove in the second-most amount of runs, with 65.
As a team, the Dodgers ranked No. 21 (644 runs) in terms of total runs scored in 2011, a number they'll need to improve this season if they want to contend in the West.
If Andre Ethier carries his spring dominance into the regular season, L.A. should produce more runs in 2012 than they did last season.
18. Cleveland Indians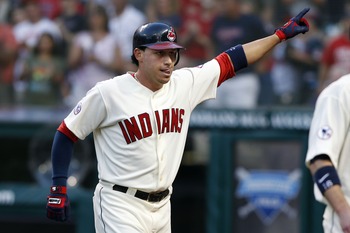 David Maxwell/Getty Images
Projected Lineup
Michael Brantley, CF
Asdrubal Cabrera, SS
Shin-Soo Choo, RF
Carlos Santana, C
Travis Hafner, DH
Casey Kotchman, 1B
Jason Kipnis, 2B
Shelly Duncan, LF
Jack Hanahan, 3B
Other than losing Jim Thome to the Philadelphia Phillies and acquiring Casey Kotchman from the Tampa Bay Rays, this Cleveland Indians' lineup looks similar to the one that scored 704 runs last season, which was good for No. 16 in the MLB.
In order for the Indians to show the same offensive production as last season, Asdrubal Cabrera will have to play identical to that of 2011.
Atlanta is also hoping for a healthy Travis Hafner and Shin-Soo Choo—who played a combined 179 games in 2011—to provide offense in the middle of lineup.
17. Atlanta Braves
Christopher Pasatieri/Getty Images
Projected Lineup
Michael Bourn, CF
Martin Prado, 3B
Brian McCann, C
Dan Uggla, 2B
Freddie Freeman, 1B
Jason Heyward, RF
Eric Hinske, LF
Tyler Pastornicky, SS
Pitcher
No Atlanta Braves starter hit over .300 last season and they ranked in the lower half of the MLB in runs, batting average, on-base percentage and slugging percentage.
The X-factor for the Braves will be Jason Heyward. He put together a solid rookie campaign but missed some time due to injury during in 2011. If he can hit upwards of .280 and drive in more than 80 runs, the Braves offense will be much improved from last season.
We already know what Michael Bourn means to the top of a lineup and what McCann, Uggla and Freeman can do in the middle of the lineup, but it's towards the bottom of the order, where the Braves will feature a rookie at shortstop, that is the question.
16. Baltimore Orioles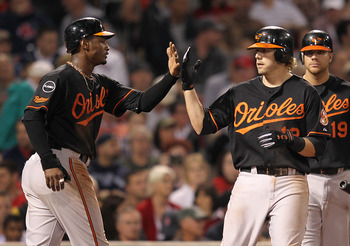 Jim Rogash/Getty Images
Projected Lineup
Nolan Reimold, LF
J.J. Hardy, SS
Nick Markakis, RF
Adam Jones, CF
Matt Wieters, C
Mark Reynolds, 3B
Wilson Betemit, DH
Chris Davis, 1B
Robert Andino, 2B
The Baltimore Orioles offense ranked better than you probably think it did in 2011.
They were No. 14 in runs, No. 11 in batting average and No. 9 in slugging percentage for the entire league.
The O's had four players hit at least 22 home runs, highlighted by Mark Reynold's 37 dingers.
Baltimore downgraded at the DH position by replacing Vladimir Guerrero with Wilson Betemit, but as long as Hardy, Reynolds, Jones and Wieters continue to rake, the Orioles should put up similar numbers to 2011.
15. Milwaukee Brewers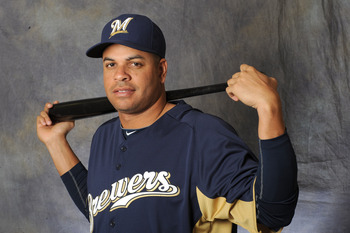 Rich Pilling/Getty Images
Projected Lineup
Rickie Weeks, 2B
Nyjer Morgan, CF
Ryan Braun, LF
Aramis Ramirez, 3B
Corey Hart, RF
Mat Gamel, 1B
Alex Gonzalez, SS
Jonathan Lucroy, C
Pitcher
After losing Prince Fielder to free agency, the Milwaukee Brewers went out and signed Aramis Ramirez to help make up for the loss of Fielder.
It's a good signing for the Brewers—Ramirez hit .306 last season with 26 home runs and 93 RBI—as Ramirez will provide protection for Ryan Braun in the middle of the lineup.
With Braun being cleared of his PED scandal, you can expect him to return to MVP form again in 2012 as long as Ramirez has another solid season.
Corey Hart is projected to make the season opener for Milwaukee, which will only add depth to the Brewers lineup in 2012.
14. Philadelphia Phillies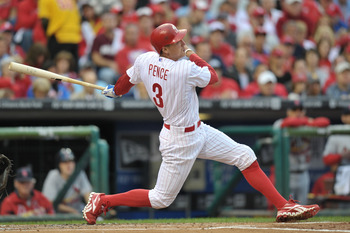 Drew Hallowell/Getty Images
Projected Lineup
Jimmy Rollins, SS
Placido Polanco, 3B
Shane Victorino, CF
Hunter Pence, RF
Ty Wigginton, 1B
Laynce Nix, LF
Carlos Ruiz, C
Freddy Galvis, 2B
Pitcher
With Chase Utley and Ryan Howard projected to miss a considerable amount of time this season, the Phillies lose two of their most important hitters in the lineup.
The Phillies lineup ranked No. 13 in runs and No. 16 in batting average in 2011 with Howard and Utley, and those numbers will probably sink this season.
They're without their top two RBI leaders from last season (Howard and Raul Ibanez) and will need Hunter Pence to step up in the role of cleanup hitter.
Ty Wigginton was acquired to fill in for the injured Howard, but his offense doesn't hold a candle to that of Howard's.
The Phillies pitching staff is good enough to keep them in any game, but their offense will weigh them down in 2012.
13. St. Louis Cardinals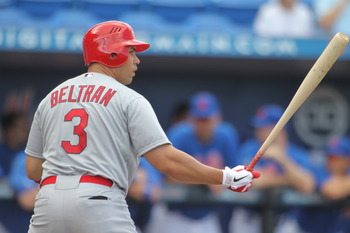 Marc Serota/Getty Images
Projected Lineup
Rafael Furcal, SS
Jon Jay, CF
Matt Holliday, LF
Lance Berkman, 1B
Carlos Beltran, RF
David Freese, 3B
Yadier Molina, C
Tyler Greene, 2B
Pitcher
Carlos Beltran could never fill the void of Albert Pujols in the St. Louis Cardinals' lineup, but he'll try in 2012.
As a member of the New York Mets and San Francisco Giants last season, Beltran hit an even .300 with 22 home runs and 84 RBI.
If the Cardinals are going to contend in 2012, they'll need Beltran to have a repeat season, as well as increased roles from Matt Holliday and David Freese.
At this point in his career, it will be hard for Lance Berkman to mirror his 2011 performance, but the Cardinals lineup could sure use it in 2012.
12. Colorado Rockies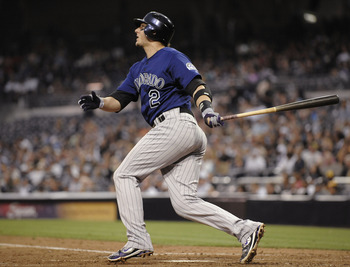 Denis Poroy/Getty Images
Projected Lineup
Dexter Fowler, CF
Marco Scutaro, 2B
Carlos Gonzalez, LF
Troy Tulowitzki, SS
Todd Helton, 1B
Michael Cuddyer, RF
Ramon Hernandez, C
Casey Blake, 3B
Pitcher
With questions swirling around the pitching of the Colorado Rockies, the offense will need to carry the load in 2012.
They were one of the better offensive teams in 2011, ranking No. 7 in the MLB in runs and No. 9 in team batting average.
Troy Tulowitzki led the Rockies in practically every statistical category, and the Rockies feature one of the best three and four hitter combinations in Tulo and Carlos Gonzalez. The two combined for 56 home runs and 197 RBI in 2011.
The addition of Michael Cuddyer should add some power to the middle of the lineup, where Todd Helton has lost the power he once possessed.
11. Kansas City Royals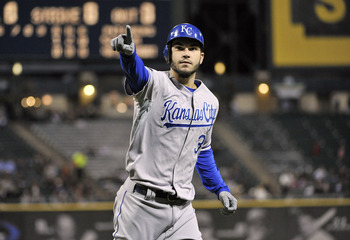 Brian Kersey/Getty Images
Projected Lineup
Alex Gordon, LF
Lorenzo Cain, CF
Eric Hosmer, 1B
Billy Butler, DH
Mike Moustakas, 3B
Jeff Francoeur, RF
Chris Getz, 2B
Humberto Quintero, C
Alcides Escobar, SS
Eric Hosmer is the name to remember for the Kansas City Royals this season. He's one of many Royals youngsters who make Kansas City the youngest team in baseball.
According to ESPN, Hosmer is projected to be the top sophomore of 2012.
The Royals lineup also features Alex Gordon, who led the Royals in home runs and on-base percentage last season.
Though losing Melky Cabrera will hurt Kansas City, the acquisition of Jeff Francoeur and the projected play of Eric Hosmer should upgrade the Royals lineup from 2011.
The Royals' 2011 lineup ranked No. 4 in batting average across the league, and they'll look to build off of that heading into this season.
10. Toronto Blue Jays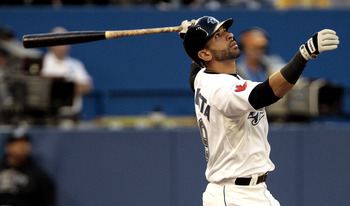 Abelimages/Getty Images
Projected Lineup
Yunel Escobar, SS
Kelly Johnson, 2B
Jose Bautista, RF
Adam Lind, 1B
Edwin Encarnacion, DH
Colby Rasmus, CF
Brett Lawrie, 3B
Eric Thames, LF
J.P. Arencibia, C
Often overshadowed by the powerhouses above them in the AL East, the Toronto Blue Jays offense was impressive in 2011, ranking No. 6 in runs.
Led by Jose Bautista—who continues his assault on the baseball—the Jays lineup looks strong again in 2012.
Yunel Escobar, Bautista, Adam Lind and Edwin Encarnacion all collected at least 125 hits last season and should be large contributors to Toronto this season.
Eric Thames got his shot last year, hitting .262 with 12 home runs and 37 RBI in 95 games with the Blue Jays.
All in all, it should be another strong offensive season for the Blue Jays in 2012.
9. Tampa Bay Rays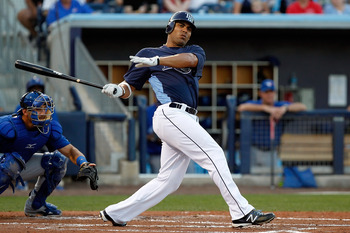 J. Meric/Getty Images
Projected Lineup
Desmond Jennings, CF
Ben Zobrist, RF
Evan Longoria, 3B
Carlos Pena, 1B
Matt Joyce, LF
Luke Scott, DH
Jeff Keppinger, 2B
Sean Rodriguez, SS
Jose Molina, C
The back-to-back threat of Evan Longoria and Carlos Pena is back in Tampa.
The health of Longoria and the consistency of Pena will be something to watch for the Rays in 2012. If both can return to 2009 form—when they combined for 72 homers and 213 RBI, Tampa Bay will be a real contender in the AL East.
Desmond Jennings possesses the speed at the top of the lineup that every club wants, and the Rays feature a solid No. 5 hitter in Matt Joyce.
Zobrist had a solid 2011 campaign that saw him drive in 91 RBI. If he gives the Rays that type of production out of the two hole in 2012, they'll be tough from the top to the middle of their lineup.
8. Arizona Diamondbacks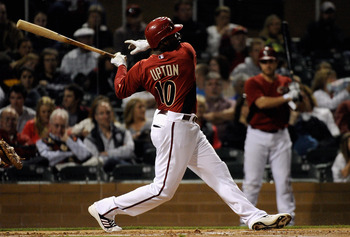 Kevork Djansezian/Getty Images
Projected Lineup
Willie Bloomquist, SS
Aaron Hill, 2B
Justin Upton, RF
Miguel Montero, C
Chris Young, CF
Jason Kubel, LF
Paul Goldschmidt, 1B
Ryan Roberts, 3B
Pitcher
Justin Upton is becoming one of the bright young stars in the MLB, leading the Arizona Diamondbacks in practically every major statistical category last season.
Behind Upton is Miguel Montero—who had the best season of his career in 2011—smashing 18 home runs and driving in 86 runs while hitting .282.
Chris Young is another bright spot in the Diamondback's lineup, followed by Jason Kubel, who Arizona acquired from the Minnesota Twins.
The top of the lineup is slightly weak with Willie Bloomquist and Aaron Hill, or at least the Aaron Hill .246 last season and .205 in 2010.
Overall, the addition of Kubel makes the Diamondbacks lineup stronger in 2012.
7. Miami Marlins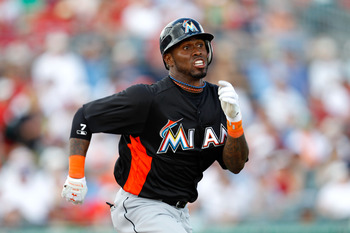 Sarah Glenn/Getty Images
Projected Lineup
Jose Reyes, SS
Emilio Bonifacio, CF
Hanley Ramirez, 3B
Giancarlo Stanton, RF
Logan Morrison, LF
Gaby Sanchez, 1B
John Buck, C
Omar Infante, 2B
Pitcher
With the addition of Jose Reyes, the Miami Marlins may just have the quickest top of the lineup in all of baseball.
Reyes, Emilio Bonifacio and Hanley Ramirez combined for 99 stolen bases in 2011. Combine that with Giancarlo Stanton—formerly Mike Stanton, who hit 34 home runs in his sophomore season—and the Marlins could make some noise in the NL East.
Omar Infante collected 160 hits last season, and if he could do that out of the nine spot in 2012, the Marlins could be deadly.
Logan Morrison is a nice fit behind Stanton in the lineup and the Marlins should be able to produce more than 625 runs this season.
6. Cincinnati Reds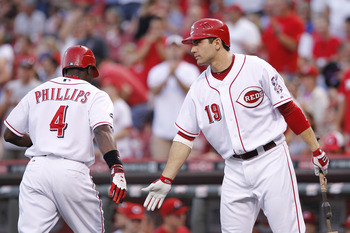 Joe Robbins/Getty Images
Projected Lineup
Brandon Phillips, 2B
Zack Cozart, SS
Joey Votto, 1B
Jay Bruce, RF
Scott Rolen, 3B
Chris Heisey, LF
Drew Stubbs, CF
Ryan Hanigan, C
Pitcher
With Joey Votto locked up for the next decade, the Cincinnati Reds may have something special going for quite some time.
Votto and right fielder Jay Bruce combined for 61 home runs and 200 RBI in 2011, making them a dynamic duo in the heart of the Reds lineup.
They feature one of the most powerful leadoff men in Brandon Phillips—who hit .300 and launched 18 homers into the stands—and even got 15 home runs out of Drew Stubbs towards the bottom of their lineup.
With Pujols and Fielder out of the NL Central, this is the time for the Reds to make a move in 2012.
5. Boston Red Sox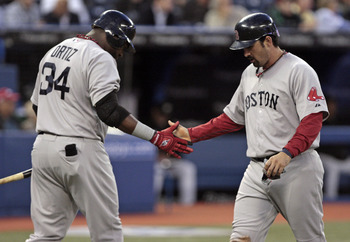 Abelimages/Getty Images
Projected Lineup
Jacoby Ellsbury, CF
Dustin Pedroia, 2B
Adrian Gonzalez, 1B
Kevin Youkilis, 3B
David Ortiz, DH
Cody Ross, RF
Jarrod Saltalamacchia, C
Ryan Sweeney, LF
Mike Aviles, SS
After one of the biggest collapses in the history of professional sports, the Boston Red Sox don't have too much of a different look from 2011.
That's not necessarily a bad thing, as the Sox ranked No. 1 in the MLB last season in runs, on-base percentage and slugging percentage.
Boston fans know Adrian Gonzalez, David Ortiz and Dustin Pedroia's numbers will be there come September, but what about Kevin Youkilis and Jacoby Ellsbury?
Youkilis has been susceptible to injury his entire career and Ellsbury played out of his mind last season, making it all the more difficult to top it in 2012.
Regardless, the Sox lineup looks concrete this season.
4. Los Angeles Angels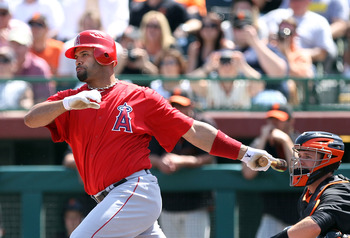 Christian Petersen/Getty Images
Projected Lineup
Erick Aybar, SS
Kendrys Morales, DH
Albert Pujols, 1B
Torii Hunter, RF
Howie Kendrick, 2B
Alberto Callaspo, 3B
Vernon Wells, LF
Chris Iannetta, C
Peter Bourjos, CF
The Los Angeles Angels offense ranked in the middle of the pack in 2011 when referring to runs and batting average, but obtaining Albert Pujols from the St. Louis Cardinals should help.
To the Angels, Pujols brings veteran leadership and a World Series ring, something that Angels have been chasing for years.
Los Angeles lacked substantial offensive production last season, as no member of the Angels drove in more than 87 runs or posted a better average than .288.
Hitting behind Pujols, Torrii Hunter should have a bounce-back year, after he hit just .262 and drove in 82 runs in 2011.
If Chris Iannetta and Peter Bourjos are average this season, the Angels will be much improved from last season.
3. Detroit Tigers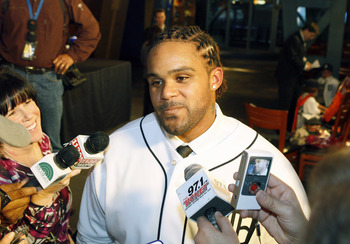 Jorge Lemus/Getty Images
Projected Lineup
Austin Jackson, CF
Brennan Boesch, RF
Miguel Cabrera, 3B
Prince Fielder, 1B
Delmon Young, DH
Alex Avila, C
Jhonny Peralta, SS
Andy Dirks, LF
Ryan Raburn, 2B
Who wants to face Miguel Cabrera and Prince Fielder back-to-back?
Fielder was successful in Milwaukee where he had a great hitter in Ryan Braun hitting before him, and the same goes for Detroit.
For Fielder, he'll need Delmon Young to contribute so teams don't pitch around Prince to get to Young.
Cabrera, Jhonny Peralta and Alex Avila all hit at least .295 last season with 82 or more RBI, and you can expect the same this season with Fielder in the cleanup position.
Detroit ranked fourth in runs scored and third in batting average in 2011, and with the addition of Fielder, could improve those numbers in 2012.
2. New York Yankees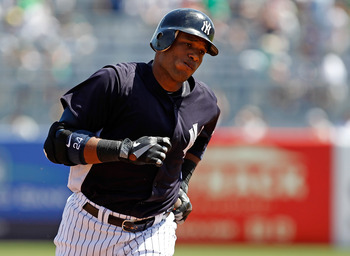 J. Meric/Getty Images
Projected Lineup
Derek Jeter, SS
Curtis Granderson, CF
Robinson Cano, 2B
Alex Rodriguez, 3B
Mark Teixeira, 1B
Nick Swisher, RF
Russell Martin, C
Raul Ibanez, DH
Brett Gardner, LF
The New York Yankees are returning every 2011 starter in the lineup except for Jorge Posada, who they replaced with Raul Ibanez.
While I think that Gardner should be the leadoff hitter and Jeter should be back into his accustomed No. 2 hole, the Yankees lineup looks better than the one that ranked second in runs scored in all of the MLB last season.
Inserting Robinson Cano into the No. 3 spot should boost his numbers, especially hitting between Curtis Granderson—who had a monster 2011 campaign—and Alex Rodriguez—who traveled to Germany this offseason to have the same type of procedure that Kobe Bryant had.
Swisher, Martin and Ibanez will provide enough power at the bottom of the lineup to product runs and Brett Gardner offers speed and a solid bat at the very bottom.
They may be aging, but the Yankees still sport a deadly lineup from top to bottom.
1. Texas Rangers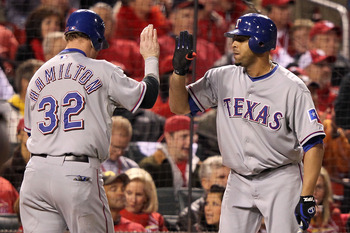 Jamie Squire/Getty Images
Projected Lineup
Ian Kinsler, 2B
Elvis Andrus, SS
Josh Hamilton, CF
Adrian Beltre, 3B
Michael Young, DH
Nelson Cruz, RF
Mike Napoli, C
David Murphy, LF
Mitch Moreland, 1B
The Texas Rangers offense ranked in the top five in the MLB in runs, batting average. on-base and slugging percentage in 2011, and that won't change in 2012.
They got 32 home runs out of Ian Kinsler in the leadoff spot and 30 homers from their catcher, Mike Napoli, towards the bottom of the lineup.
Of course, the middle features Josh Hamilton, Adrian Beltre, Michael Young and Nelson Cruz, all who drove in at least 87 runs in 2011.
Even their No. 9 hitter drilled 16 homers in 2011.
How could they not be the best lineup in baseball?
Follow Pete Schauer on Twitter @Pete_Schauer
Keep Reading