Ubaldo Jimenez: Cleveland's Ace Should Be Suspended for Hitting Troy Tulowitzki
April 2, 2012

Brian Kersey/Getty Images
Five years ago, Ubaldo Jimenez and Troy Tulowitzki were two of the Rockies top prospects. Both players appeared destined to become MLB stars in the future, but found themselves thrown into a historic playoff race.
The Rockies defied all odds and were able to earn a tie for the Wild Card thanks in large part to Tulowitzki's 26 RBI's and an effective start from Jimenez against Arizona at the end of the season that helped the Rockies tie the Padres in the standings.
After getting the Rockies into the World Series, both players continued their development toward stardom. Tulowitzki won two Gold Gloves, two Silver Sluggers and was nominated for two All-Star Games. Jimenez started the 2010 All-Star Game and was one of the most dominant pitchers in the game.
But, after Tulowitzki and Carlos Gonzalez were both able to earn contract extensions, Jimenez found himself as the odd man out of a major contract and was traded to Cleveland during last year's trading deadline.
Earlier this spring, Jimenez responded to what happened with Rockies by saying, "Of course I was mad. I mean, I'm a human being."
Yesterday, Jimenez took out his frustration over how his time in Colorado ended by hitting Tulowitzki on the elbow on the first pitch of his at bat.
With the ball still rolling after making impact with Tulowitzki's body, Jimenez took off his glove and motioned for his former teammate to move towards him, causing both benches to clear.
Jimenez was not ejected from the game, but still had another unproductive outing, giving up six runs in just over four innings of work. Tulowitzki went to the hospital, where his x-rays were negative.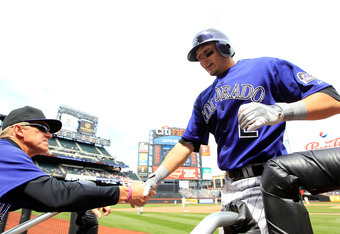 Chris Trotman/Getty Images
After the game, Jimenez claimed that the pitch slipped from his hands, while Tulowitzki was surprised that he got hit.
Rockies manager Jim Tracy was the most vocal person on this manner, saying, 
"It's the most gutless act I have seen in 35 years of professional baseball... I have lost all respect for him. He intentionally threw at him. He should be suspended. I am going to be very disappointed if he doesn't get suspended... I have lost respect for him and that's a very difficult thing for me to say."
While watching the video of the incident or looking at some of the photos of the incident, Jimenez is the clear instigator in this manner.
The video makes it appear that Jimenez was prepared to fight Tulowitzki before the shortstop even left the batter box. Tulowitzki never did charge the mound, but Jimenez did charge the batters box.
Tulowitzki said of the incident, "From my take, as soon as he hit me, it seemed like he wanted a little more...That's when the confrontation kind of took place."
Both players did exchange words, According to Jimenez, "He [Tulowitzki] was calling me names... He was calling me a chicken, but I'm not a chicken."
Probably the most telling sign that showed Jimenez being the agitator in this incident was that he charged the batter and needed to be restrained. It is rare to see a pitcher ever get into a position, like this, where he is the clear agitator.
Right now, Jimenez is not going through the best time of his career and appears in a way to be "washed up," which rarely happens to a 28-year-old.
Jimenez should get a suspension for his actions, because he was the clear agitator in this case. He clearly went after Tulowitzki and based on what happened two years ago with the contract situation that Jimenez was in with the Rockies, he clearly wants to get back at his old team.