2012 NFL Mock Draft: Ryan Tannehill and 1st-Round Disasters Waiting to Happen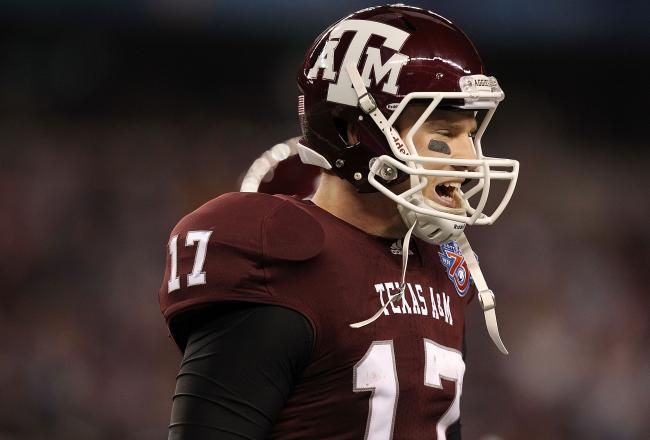 Ronald Martinez/Getty Images
Texas A&M quarterback Ryan Tannehill is not a first-round prospect, but teams will reach for him in the first round of the 2012 NFL draft because of need.
We saw it last year when the Minnesota Vikings took Christian Ponder, and we'll see it again.
This year's class is filled with a bunch of studs, but there are still a few potential first-round picks that would be disastrous for their respective teams.
Here's my latest first-round mock draft, highlighting a few horrible picks that would lead to disaster:
1. Indianapolis Colts: Andrew Luck, QB, Stanford
I do not foresee a disaster with Luck in Indianapolis. That being said, the first year or two may be tough.

2. Washington Redskins: Robert Griffin III, QB, Baylor
The Redskins become contenders to win the NFC East with this pick. Finally, a franchise quarterback.

3. Minnesota Vikings: Matt Kalil, OT, USC
The Vikings can't go wrong with Kalil. He's as solid as they come.

Who Should Browns Take At No. 4?
4. Cleveland Browns: Trent Richardson, RB, Alabama
The Browns need to get some offensive firepower, and Richardson is the best back to come out we've seen in a very long time.

5. Tampa Bay Buccaneers: Morris Claiborne, CB, LSU
Claiborne will not be a bust. In fact, he'll be a shutdown corner for a long time.
6. St. Louis Rams: Justin Blackmon, WR, Oklahoma State
The Rams need Blackmon after letting go of Brandon Lloyd in free agency. This is a must-have pick for them.

7. Jacksonville Jaguars: Nick Perry, DE, USC
Perry is athletic and quick, and he'll be very troublesome at the next level. Great pick here by the Jags.

8. Miami Dolphins: Ryan Tannehill, QB, Texas A&M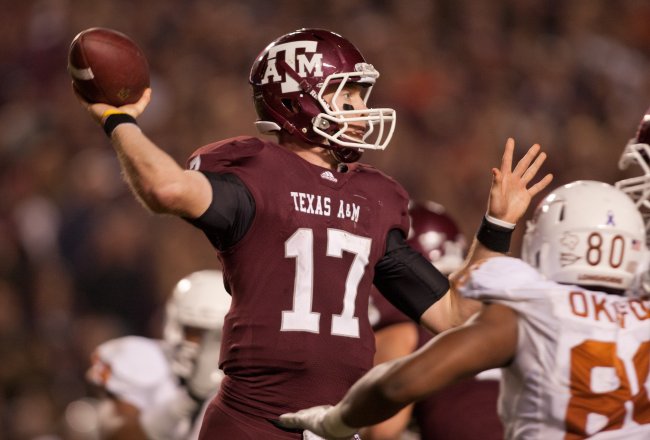 Darren Carroll/Getty Images
I hate this pick, but the more I think about it, the more it makes sense. As I said before, Tannehill is not a first-round quarterback. In fact, I would hesitate to call him a second-round quarterback.
That said, the Dolphins struck out miserably trying to find a quarterback in free agency, and Tannehill's stock has been rising—ESPN's Todd McShay has him as a top-10 pick.
This is going to be a disastrous move for the Dolphins.
Tannehill doesn't have any characteristics that would cause me to believe in his potential success as an NFL quarterback, but the Dolphins are quarterback hungry, and they can't take the chance of waiting until Round 2. He may not be there.
9. Carolina Panthers: Dontari Poe, DT, Memphis
Poe is a big body that can get in the backfield. Good pick here for the Panthers.

10. Buffalo Bills: Riley Reiff, LT, Iowa
Reiff is as solid as the Bills could get at left tackle. They won't regret this pick.

11. Kansas City Chiefs: David DeCastro, OG, Stanford
If you've been following my mocks, then you know how much I love DeCastro as an overall player. He's a steal at No. 11.

12. Seattle Seahawks: Melvin Ingram, DE, South Carolina
I love Ingram's speed and athleticism coming off the edge on this Seattle defense.

13. Arizona Cardinals: Dont'a Hightower, ILB, Alabama
Hightower is the best inside linebacker prospect in this draft. He plays strong and has a knack of getting behind the line of scrimmage. He'll be a star on this defense.

14. Dallas Cowboys: Michael Brockers, DT, LSU
Brockers has all the intangibles to be a star. Now, the Cowboys just need to put him in the position to do so.

15. Philadelphia Eagles: Luke Kuechly, ILB, Boston College
This is a great pick by an Eagles team that needs help tackling. Kuechly has a nose for the ball.

16. New York Jets: Michael Floyd, WR, Notre Dame
Floyd could end up being the steal of the draft, especially if he truly becomes a deep threat for the Jets offense.
17. Cincinnati Bengals: Kendall Wright, WR, Baylor
Wright is speedy and can make things happen after the catch. He's a great pickup for this offense.

18. San Diego Chargers: Courtney Upshaw, LB/DE Alabama
Upshaw is versatile enough to play either end or outside linebacker. The Chargers will fit him in where they need him the most.

19. Chicago Bears: Cordy Glenn, OT/G, Georgia
Glenn can play either guard or tackle, but I see the Bears taking him to be their left tackle now and into the future. He's big, fast and athletic, which makes him a great pickup here at No. 19.

20. Tennessee Titans: Quinton Coples, DE, North Carolina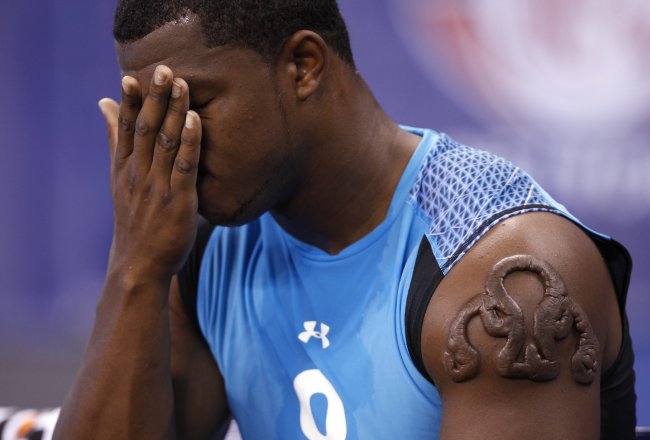 Joe Robbins/Getty Images
I don't like Coples as a first-round pick, but he's got first-round hype about him. This is going to end up being a disappointing pickup for the Titans, which is unfortunate for a team that could really use a stud.
Coples' biggest issue leading up to the draft has been inconsistencies and work ethic, and that's not something I see improving overnight. You can't succeed in this league unless you have the will to be the best.
As a second- or third-rounder, it's OK to be mediocre, but that's a disaster scenario for a first-round pick.
21. Cincinnati Bengals: Stephon Gilmore, CB, South Carolina
Gilmore is an underrated pick that will really solidify the Bengals backfield.

22. Cleveland Browns: Alshon Jeffery, WR, South Carolina
The more weapons Colt McCoy gets on offense, the better. Jeffery has the raw potential to be the next big deep threat in the NFL. This is an excellent pickup.
23. Detroit Lions: Janoris Jenkins, CB, North Alabama
The Lions can't pass up on a top-15 talent at cornerback, no matter his issues. They have been known to go best available as of late, so this makes the most sense.

24. Pittsburgh Steelers: Mike Adams, LT, Ohio State
Adams is a huge left tackle prospect that will fit in well with this team.

25. Denver Broncos: Fletcher Cox, DT, Mississippi State
Cox is a very versatile player and will be dangerous on the inside or outside of the Broncos line.
26. Houston Texans: Stephen Hill, WR, Georgia Tech
Hill is very tall and fast. Projecting him across from Andre Johnson is a dream scenario for an offense that is already very good.

27. New England Patriots (via Saints): Whitney Mercilus, LB, Illinois
The Patriots need a pass-rusher, and Mercilus is a specialist in that department.

28. Green Bay Packers: Chandler Jones, DE, Syracuse

Green Bay's biggest need is at pass-rush, but with Merciulus off the board—who would translate well into a 3-4 OLB—they will take Jones as a five-tech with the hopes that he can put some pressure on the quarterback.
29. Baltimore Ravens: Mohamed Sanu, WR, Rutgers
This offense needs a deep threat, and that's something Sanu can bring to the table.

30. San Francisco 49ers: Kelechi Osemele, G, Iowa State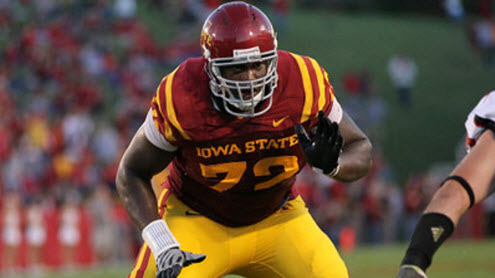 Via giantsgab.com
Osemele is going to be a horrible pick, but he fits the biggest need the 49ers have in the first round of this draft. He's big at 6'5'' and 333 pounds, but he's got slow feet, bad footwork and sub-par talent.
At best, the 49ers can hope to turn him into a plow and just ask him to go forward and get in the way.
I'm not a fan of Osemele, and the 49ers will end up disappointed.
31. New England Patriots: Jerel Worthy, DT, Michigan State
Great pick by the Patriots, assuming they stay here. Worthy is a tenacious defender.

32: New York Giants: Chris Polk, RB, Washington
Polk will serve as the replacement to Brandon Jacobs. The kicker is, he's more talented. Good pick by the defending world champions.
This article is
What is the duplicate article?
Why is this article offensive?
Where is this article plagiarized from?
Why is this article poorly edited?