2012 NFL Draft: 5 Players Who Will Be Drafted Too Low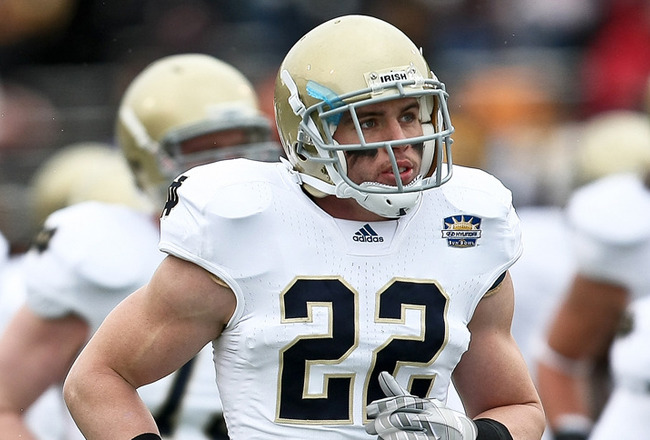 Every year there are several players that dramatically out-perform their draft position.
After being the 252nd player selected in the 2006 draft, Marques Colston caught 70 passes for over 1,000 yards and 8 touchdowns as a little-known rookie out of Hofstra.
A first-round pick in 2005, Chad Greenway has been far better than A.J. Hawk, a player considered by some to be perhaps the "safest pick in the draft." Greenway was taken 17th by the Minnesota Vikings but missed his entire rookie season due to injury, whereas Hawk was the 5th overall pick by the Packers. If the Packers were given another chance to choose between the two linebackers, Green Bay would almost certainly go with Greenway.
Anquan Boldin was the 54th pick in 2003 and instantly became a stud in the NFL. In his very first professional game, he set a rookie record with 217 receiving yards. Despite being drafted after the likes of Charles Rogers, Taylor Jacobs and Bethel Johnson, Boldin was named Rookie of the Year after racking up 101 catches, 1,377 yards and 8 touchdowns in his first season.
Whether it's a fairy tale like Colston's in which a late-round pick defies all odds and becomes an NFL star, or a second-round pick like Boldin who puts players drafted in front of him to shame, there are always players that make you wonder, "Why wasn't this guy picked higher?"
Let's take a look at a handful of guys in the 2012 NFL Draft that could out-perform their draft selection.
WR T.Y. Hilton (Florida International)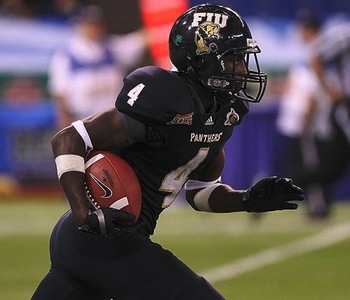 Height: 5'10''
Weight: 183 lbs.
Draft projection: Mid to late 4th round
Should be taken: Early 3rd round
T.Y. Hilton projects well into a Wes Welker-type role as a slot receiver, but he'll likely be overlooked due to his size. Hilton was measured at 5' 9.5" at the NFL Scouting Combine, which is pretty short by NFL standards. However, he's only a millimeter shorter than DeSean Jackson was at the 2008 combine.
Hilton didn't work out at the combine due to a quad injury, but he put those concerns to rest by running a 4.34 in the 40-yard dash at his pro day on March 9th.
Production certainly isn't a question mark for Hilton, as he caught 229 passes in college. During his four-year career at FIU, he went over 1,000 receiving yards twice, carried the ball 69 times, and recorded six touchdowns in the return game.
Due to his small stature and being a small-school product, Hilton will likely be drafted in the middle rounds. Don't be surprised if this guy sticks around on a roster and becomes a difference maker for an NFL team.
CB Trumaine Johnson (Montana)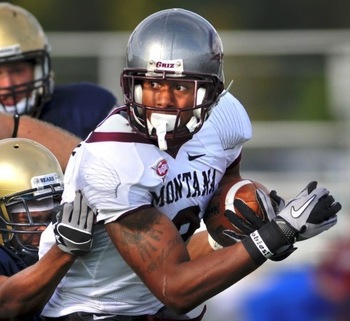 Height: 6'2''
Weight: 204 lbs.
Draft projection: Early to mid 3rd round
Should be taken: Early 2nd round
Since the toughest one-on-one matchups in the NFL are against athletic tight ends and long wide receivers, teams have a huge need for big cover men.
Trumaine Johnson is a physical cornerback who some teams may project as a safety, and his 6' 2" frame makes him capable of matching up with superior athletes. A four-year starter at Montana, Johnson intercepted 15 passes and deflected 36 in his 45 career starts for the Grizzlies.
Johnson was recruited as a wide receiver after playing quarterback as a high school senior, so you won't hear many people question his athleticism. But between ineligibility issues and being tased by police at a party last October, he comes with warranted character concerns.
If Johnson can stay out of trouble, one NFL team will be very happy with its 2nd or 3rd round pick.
RB Doug Martin (Boise State)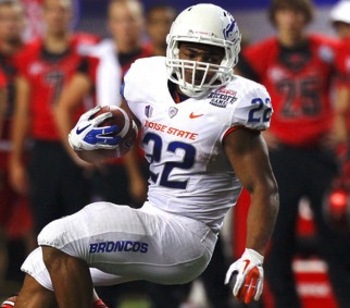 Height: 5'9''
Weight: 223 lbs.
Draft projection: Mid 2nd round
Should be taken: Late 1st round to early 2nd round
With the NFL dramatically shifting to a passing league, the running back position has been devalued over the past decade. With a handful of elite exceptions, running backs come a dime a dozen and generally aren't worth a first-round selection.
Martin may be an exception. Most college programs don't ask for much from their running backs in the passing game, but Martin caught 28 passes in each of his last two seasons at Boise State. On top of being an above-average receiving threat, Martin totaled 2,559 rushing yards and 32 total touchdowns during his two years as the full-time starter.
Built like a bowling ball, Martin certainly looks like he could be the next Ray Rice. At the combine, he ran a 4.55 official forty and managed an eye-popping 28 reps on the 225 bench press.
Since I personally don't think running backs should be first-round picks unless they're an elite talent like Trent Richardson, I think Martin will be drafted pretty close to where he should be. However, I think we'll look back at this draft and see Martin as one of the most productive players to emerge.
S Harrison Smith (Notre Dame)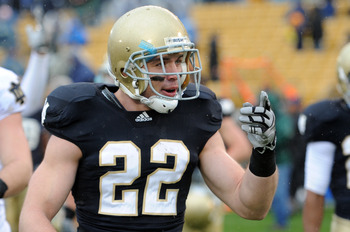 Height: 6'2''
Weight: 213 lbs.
Draft projection: Mid 2nd round
Should be taken: Late 1st round
Like Trumaine Johnson, Smith fits the bill as a big and athletic defensive back capable of matching up with bigger receivers and tight ends.
Nowadays, it seems like white players are only compared to other white players. That being said, I'm sure several analysts will throw out an Eric Weddle comparison once Smith is selected on draft day.
As a freshman at Notre Dame, Smith was thrown into the fire as an undersized outside linebacker because both safety positions were locked up by Kyle McCarthy and David Bruton. Smith led the team in tackles for loss, tied for the team-lead in sacks, and was fourth in total tackles as a freshman linebacker. His sophomore year wasn't as impressive as he struggled transitioning between linebacker and safety.
However, entering this year's draft, Smith's experience in the box will not be overlooked. Teams will view him as their counter-attack to matchup nightmares with the likes of Rob Gronkowski, Jimmy Graham and Jermichael Finley.
Most view this draft as a weak safety class behind Mark Barron, but I think Smith may end up being just as good, if not better, than Barron.
OLB Lavonte David (Nebraska)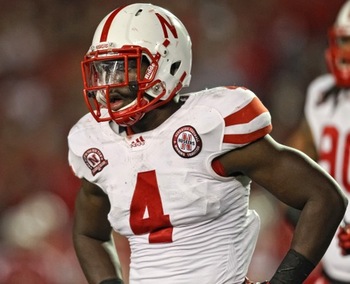 Height: 6'1''
Weight: 233 lbs.
Draft projection: Early to mid 2nd round
Should be taken: Late 1st round
Lavonte David is a perfect example of someone being overlooked due to questions about his natural NFL position. Some see him as an in-the-box strong safety, while others see him as a sideline-to-sideline weakside linebacker in a 4-3.
With some concerns about his lack of bulk, many people were pleasantly surprised to see David weigh in at 233 at the combine. He also showcased his athleticism by recording a 4.65 in the 40-yard dash and a 36.5" in the vertical jump.
As a junior college transfer, David instantly made his presence felt for the Huskers, amassing a Nebraska-record 152 tackles and averaged 10.9 per game.
I believe the Cleveland Browns should consider him with the 22nd pick, and the Giants should consider him if he's there at 32 despite already having a similar player in Michael Boley.
His height and weight are still on the low end by NFL linebacker standards, but they are more than adequate if he lands in the right scheme.
Keep Reading