Andrew Luck, Blaine Gabbert and Jake Locker: Busts or Stars by End of Year 2?
March 27, 2012

Andy Lyons/Getty Images
The AFC South is a hotbed of young quarterback talent. Between Jake Locker of the Titans, Blaine Gabbert of the Jaguars and Andrew Luck (soon to be) of the Colts, the division has some outstanding prospects. Given the high expectations placed on all three players, how soon can their teams know if they've made a wise investment in their No. 1 picks?
Sooner than you might think.
By the end of their second year, teams should have a good idea if they've drafted a star or a bust.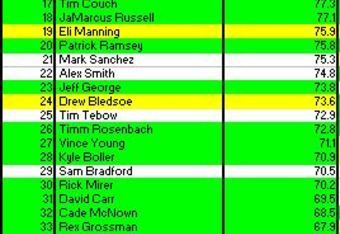 Since 1990, there have been 53 quarterbacks drafted in the first round. Twelve of those have gone on to be stars. I've loosely defined those players as: Peyton and Eli Manning, Stafford, Vick, McNabb, Rodgers, Bledsoe, Palmer, McNair, Roethlisberger, Culpepper and Rivers.
There are 16 that fall into the category of "competent veteran" or are too young to judge. Among them are Cutler, Flacco, Ryan, Gabbert, Ponder, Newton, Freeman, Collins, Alex Smith, Dilfer, Sanchez, Leftwich, Bradford, Pennington, Locker, Sanchez and Tebow.
The other 25 quarterbacks qualify as abject busts.
As you look over the career of these picks, many of the busts fall by the wayside quickly. In fact, the general myth that quarterbacks often develop slowly simply isn't true. Ranked by their rookie year passer rating, only one of the top 13 first-round picks ended up as a bust (Todd Marinovich) and four ended up as stars.
Looking at the bottom of the list is revealing as well. Of the bottom 15 quarterbacks, 10 were busts and just two went on to become stars (Aaron Rodgers and Eli Manning, who both rode the bench for much of their rookie years).
By Year 2, the list becomes more settled. Several of the quarterbacks were no longer in the league or didn't play at all, which thins the herd. More importantly none of the top 15 first-round quarterbacks ranked by their second-season passer rating were busts. Eight of them classify as stars.
Of the bottom 20 in second-year passer rating, the only two that qualify as stars are Rodgers and Philip Rivers, neither of whom saw the field much in their second years. Of the bottom 20, the only two others that don't qualify as total busts are Sam Bradford and Trent Dilfer.
Only about half of the first-round quarterbacks turn out to be viable starters, and it's fairly easy to identify them early. The two that struggled the most in their first two years but later achieved stardom were Eli Manning and Drew Bledsoe, both of whom were the top overall picks. It took Bledsoe four years to fully mature, and Eli battled inconsistency through his fourth year as well.
Blaine Gabbert played more than Jake Locker in Year 1, landing just about in the middle of the list. Locker played well in limited action and had the fourth-best rookie score among players measured.
While they gained valuable experience in Year 1, it will be their second year that will tell the story. If they can't post passer ratings in the high-70s in their second year, it becomes increasingly unlikely they will become NFL stars.
Andrew Luck will be in the same boat. He will get a pass for his rookie year as several future stars struggled to post ratings better than 65. By Year 2, however, he needs to show the franchise that it made the right call in investing in his future.