The Way We Should Classify NFL Draft Picks....Edition 2.0
March 27, 2012

Winslow Townson/Getty Images
Last year, my first column for the Bleacher Report was about the NFL draft.  The media coverage about which players turn out great and which bomb is too black and white. 
A player is considered either a hit or a miss, but it's a mistake to shove every one of them into those two narrow categories.  Degrees of success and failure exist in the modern NFL, and sometimes a player's career can be cut short for tragic reasons. 
Back in the pre-Internet era, companies used to publish updated versions of the dictionary.  New words were worked into the English language and there was a need to print annual versions of it.
Well this year, I'm writing the second edition on how fans, media, players, coaches and personnel people should classify NFL draft picks.  A new tier was added to the system this year. 
The way we should classify NFL Draft Picks updated five-tiered system looks like this:
The Winning Lottery Tickets—is the cream of the crop.  This tier is reserved for the players who turned out great regardless of where they were drafted. Over the past 12 years, this group includes Tom Brady, Richard Seymour, Ty Warren, Asante Samuel, Dan Koppen, Vince Wilfork, Logan Mankins, Matt Cassel, Jerod Mayo, Rob Gronkowski, Aaron Hernandez and Nate Solder. 
Normally when a team loses a left tackle as good as Matt Light, panic sets in, but I'm confident the Patriots will keep chugging along.  Nate Solder is a gem.  He started 13 of 16 regular-season games and showed great versatility.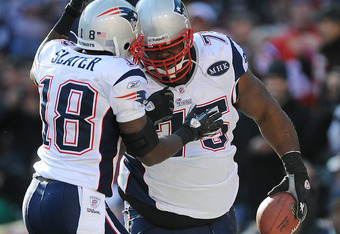 Patrick McDermott/Getty Images
In some of those games he filled in nicely for Sea Bass Vollmer and was occasionally used as an additional tight end.  According to Pro Football Focus, Solder allowed just three sacks and four pressures on 880 snaps. 
Did you know he committed just five penalties in 2011? As Bill Walton might say, that's UNBELIEVABLE!
The Winning Scratch Tickets—This tier is for players that were drafted either late or were rookie free agents. Not much was expected of them, but they turned out to be valuable contributors.
Matt Slater was drafted in the fifth round of the '08 Draft. He hasn't been a prolific receiver, but he became an excellent kick returner and special teams tackler. Julian Edelman was a QB in college and is now a fine punt returner, no. 5 WR and part time defensive back.
BenJarvus Green-Ellis came to Foxborough as an undrafted player fighting to make an NFL roster. He left for the Bengals and is now a quality NFL running back. In four years with the Patriots he carried the ball 510 times for 2,064 yards 4.0 yards per carry, 29 TD and 0 FUMBLES! 
The Slight Misfires—This tier is for players who weren't total disasters, but didn't live up to the expectations their draft position created.  Daniel Graham is the textbook definition of a Slight Misfire. He was supposed to be a stud, but it didn't turn out that way. One of the knocks against him was durability. He never played a full 16-game season while he was a Patriot.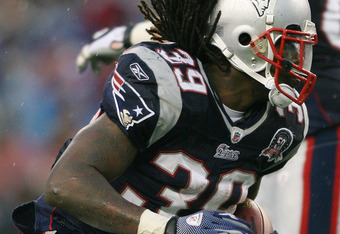 Elsa/Getty Images
In 63 games, he caught 120 balls for 1,393 yards and 17 touchdowns. His stats were good and he could block fairly well, but he always left you wanting more. If Graham were drafted in a lower round, we would think he was a good "value" pick the Patriots love, but since he wasn't he has to be considered a Slight Misfire.
In a way Ben Watson is a carbon copy of Daniel Graham; an excellent athlete who impressed you with his raw talent but disappointed you with so-so production. He spent six years with the Patriots and put up respectable stats; 167 passes for 2,102 yards and 20 touchdowns.  Like Graham, Watson was not a durable player.  He's played in the NFL for eight years now and has missed time in six of them. 
Laurence Maroney is a Slight Misfire. In '06 he teased us with his potential as a runner and kick returner. Corey Dillon was in his final season but he and Maroney made for a nice two-headed rushing attack.  Their combined stats were 375 carries, 1,557 yards 4.1 yards per carry and 19 TD.
In '07 he played pretty well when Sammy Morris suffered a season-ending injury against Dallas.  It wouldn't be fair to say Maroney was a bust, but he was a huge kick in the teeth. He couldn't carry the ball full-time, missed a lot of games with injury and made me sick how many times he fumbled.  
Brandon Meriweather is another Slight Misfire. On the bright side, Mr. VIP on Swole was durable and a vicious hitter. He played in all 64 games, made two Pro Bowls, picked off 12 passes and forced 5 fumbles. That being said, he often went against the coaches' wishes and never made the leap to instinctive safety the team was looking for.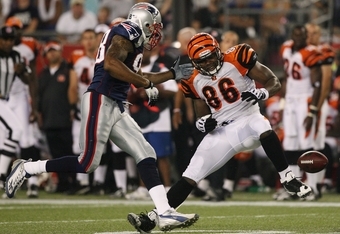 Jim Rogash/Getty Images
He was also somewhat of a dinosaur. If he entered the league in '97 instead of '07, we'd think about him differently. The league's emphasis on player safety and fines for head shots has killed his value. He's a double-edged sword.  He'll demoralize a skill player's will to go over the middle, but those bone-crushing hits he laid on players often resulted in 15-yard penalties. 
The Black Cats—This class is for players whose careers were cut short by injury before they could even get started. Antwoine Womack. Robert Edwards is the most most prominent member of this tier. If he had stayed healthy, I bet he would've made the Pro Bowl.
In '98, he played all 16 games and rushed for 1,115 yards and 9 touchdowns on 291 carries. He also caught 35 passes for 331 yards and 3 TD.
Tyrone McKenzie and Shawn Crable are two more examples of Black Cats. Crable was supposed to be the next great defensive player in Bill Belichick's scheme, but it wasn't meant to be.
In three years, he played in six games and had just four tackles and a sack. He was placed on injured reserve in 2008 and 2009 and was placed on the PUP list in 2010. Tyrone McKenzie tore his ACL and never got going.  
The Lost Causes—the final tier is for players that did absolutely nothing in the NFL. Jeff Marriott, David Nugent, Dave Stachelski, Casey Tisdale, Brock Williams, Jabari Holloway, Hakim Akbar, Leonard Myers, Kliff Kingsbury, Spencer Nead, Ethan Kelley, Dexter Reid, Christian Morton, Ryan Claridge, Andy Stokes, Willie Andrews, Mike Elgin, Bo Ruud and George Bussey belong in this category. 
Usually, teams that lose the Super Bowl go into a tailspin. Just ask the Colts. In '09, they were in the Super Bowl and two years later they were 2-14. But if anyone can snap out of that trend, it's the Patriots. The D was OK in 2011. 
If the Pats can plug the holes on D with proven vets and commit to running the ball more, they'll finally grab that fourth Super Bowl title after two misses.
Who will be the Winning Lottery Tickets, Slight Misfires, Black Cats and Lost Causes of the 2012 NFL Draft?
I can't wait to find out.