2012 NFL Draft: How Morris Claiborne Can Fall to the Carolina Panthers
March 26, 2012

Kevin C. Cox/Getty Images
The perfect 2012 NFL draft scenario for the Carolina Panthers would see them grabbing LSU's Morris Claiborne with the ninth overall selection. Ron Rivera and his coaching staff are in dire need of some kind of big-time presence on defense.
Their two most glaring needs currently lie on the defensive line and in secondary. And being that Claiborne is far and beyond a much better prospect than any defensive lineman, he's certainly the most coveted prospect on Carolina's draft board.
Unfortunately for the Panthers, Claiborne's talent should warrant him a selection within the top six spots of the draft. Carolina may have a difficult time seeing the LSU corner getting past teams who also boast needs in their secondary.
Although Claiborne's pending wrist surgery may present a red flag, it still remains likely that he'll be taken by either Cleveland, Tampa Bay or St. Louis.
However, I'm here to tell you that this connection can happen—the Carolina Panthers can end up with the best defensive player in this draft despite having the ninth overall pick.
Is it unlikely? Absolutely.
Is it crazy? Perhaps?
But is it possible? Yes, and here's how.
Minnesota Vikings select Matt Kalil with the third overall pick
Vikings general manager Rick Spielman has been making quite a bit of hoopla lately over the possibility of selecting Claiborne with the third overall pick.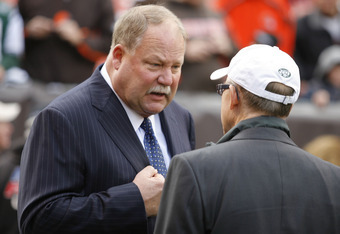 Matt Sullivan/Getty Images
But guess what? It's just a ploy.
Spielman's job as Minnesota's general manager is to seek out the best possible prospects for his team. Right now, the Vikings believe it is best to ship away the third overall selection in exchange for handful of others.
The Vikings brass is simply creating a smokescreen by claiming their preference of Claiborne over the obvious pick here, USC's Matt Kalil. The team does have a need that both players can help fill, but given Minnesota's weak offensive line and run-heavy offense, Kalil makes much more sense for them.
So their targets for a potential trade, you ask? That would be none other than the Miami Dolphins.
With Andrew Luck and Robert Griffin assured to go at No. 1 and No. 2, the next best quarterback prospect on the board would be Texas A&M's Ryan Tannehill. Miami currently holds the eighth overall selection and would undoubtedly take a chance on Tannehill.
The only problem standing in the Dolphins' way is the decent chance of the Cleveland Browns taking the Texas A&M product with the fourth selection.
If Miami really wants Tannehill and believes Cleveland may snatch him up before it gets a shot at him, perhaps it makes a deal with Minnesota.
This is what the Vikings are hoping for, but it'll probably not happen. So for now, Minnesota takes Kalil.
Cleveland Browns select Ryan Tannehill with the fourth overall pick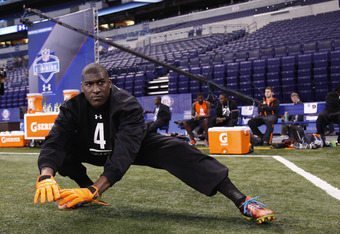 Joe Robbins/Getty Images
As I just stated, Cleveland's interest in Tannehill appears to be growing by the day. Mike Holmgren may have already given the team's current quarterback, Colt McCoy, a vote of confidence, but we all know how those end up.
After missing out on a trade opportunity with St. Louis to move up for Robert Griffin, the Browns are still on the lookout for a franchise guy to throw under center.
And if it's anything we know about the NFL draft, it's that quarterbacks always go much higher than they're supposed to. Franchise quarterbacks are a premium in this league and teams would do pretty much anything, as exhibited by Washington's trade for the No. 2 pick, to obtain one.
So after taking Tannehill, the Cleveland Browns end up shunning Claiborne here. They could pair him up with Joe Haden to make for a scary cornerback duo, but their need for a play-caller could end up trumping that.
Tampa Bay Buccaneers select Trent Richardson with the fifth overall pick
Another guy the Browns would end up shunning if they do go with Tannehill is Alabama's Trent Richardson. So if that is indeed the case, the Tampa Bay Buccaneers's fifth overall selection would come down to Claiborne and Richardson.
I'm not just saying this for the sake of my article, but I would definitely go with Richardson if I were in Tampa's front office.
Yes, the Bucs do have a need at the corner spot. Ronde Barber is entering what is likely his last NFL season and Aquib Talib's status is still in question. However, after foolishly spending $37.5 million on cornerback Eric Wright, should the Bucs really take another one with their first-rounder?
I certainly wouldn't. If the race between Richardson and Claiborne is that close, the team's recent free-agent signings should tip the scales in favor of the Crimson Tide running back. In addition to throwing some cash at Wright, the front office also inked wideout Vincent Jackson and guard Carl Nicks to big deals.
Adding Richardson would be the final complement to a much-improved offense. They'd have a franchise guy in Josh Freeman, a better line with Nicks, a legitimate No. 1 in Jackson and a dangerous running back combo with Richardson and LaGarrette Blount.
St. Louis Rams select Justin Blackmon with the sixth overall pick
Now for the next test, St. Louis. Even before shipping away their second overall selection, the Rams brass did express some interest in Claiborne during the combine.
New head coach Jeff Fisher loves to build up his defenses and Claiborne would help him do exactly that. 
The larger concern for the Rams, however, should be the state of their first overall selection from two years ago, quarterback Sam Bradford. After turning in a very impressive 2010 rookie season, Bradford was just plain flat in his sophomore year.
In 10 games, Bradford threw a laughable six touchdowns along with six interceptions and 2,164 yards. One possible reason for his dud of a year may have been the fact that the only legitimate target he had was Brandon Lloyd.
Unfortunately for Bradford, Lloyd has packed his bags and moved on to New England. 
So in order to help out their huge investment in Bradford, the Rams could opt for Oklahoma State's Justin Blackmon. The two-time Biletnikoff Award winner is widely regarded as the draft's top wideout and would instantly give Bradford a true No. 1 in a very underwhelming receiving corps.
Jacksonville Jaguars select Melvin Ingram/Michael Floyd with the seventh overall pick
Here's another team that could call up Claiborne on draft day. The Jacksonville Jaguars do have a need at corner and may be very intrigued at the prospect of snatching up the LSU corner.
However, just as the team that picked before them, the Jags may choose to help out their struggling young quarterback by taking a wideout. If so, Notre Dame's Michael Floyd could be the pick.
Sure, general manager Gene Smith has had a history of passing up players with questionable attitudes, but he also has an even more notorious history of reaching for need in the first round. 
And since new head coach Mike Mularkey loves to surround his quarterbacks with talent, I certainly wouldn't count out Floyd as the pick. 
Melvin Ingram of South Carolina could be an option as well. The Jags need to add another pass-rusher and Ingram would fit the bill.
In fact, Walter Cherepinsky of WalterFootball.com has recently reported that the Jaguars' pick will be between Floyd and Ingram, assuming that Blackmon is already gone.
Miami Dolphins select Quinton Coples/Melvin Ingram/Michael Floyd with the eighth overall pick
If Claiborne gets this far, the Panthers are practically in the clear.
Miami could make use of Claiborne in their secondary, but they have much bigger needs for a pass-rusher and a wide receiver.
After trading away Brandon Marshall to the Chicago Bears, Miami must look into the prospect of selecting Floyd. Even though it doesn't have the franchise quarterback it has been desperately searching for, whoever the current man under center will be needs someone to throw to.
If not, the Dolphins should be going with a defensive end to pair up with Cameron Wake. Ingram and North Carolina's Quinton Coples would be the obvious choices here.
So if all of that were to go down, then we may see the...
Carolina Panthers selecting Morris Claiborne with the ninth overall pick
If Claiborne somehow ends up in Charlotte, the good people of North Carolina should subsequently throw a party. It'll easily be the biggest steal of the draft and would be another momentous step towards the postseason for this young and talented Carolina Panthers team.
Hey, you never know.