Detroit Lions: Martin Mayhew Should Ignore the Baggage and Draft Janoris Jenkins
March 26, 2012

As far as the NFL draft goes, every team's draft board is as elusive as Bigfoot—there are never any legitimate sightings.
The Detroit Lions are no different. Martin Mayhew's board is kept under lock and key. No one really knows what he will do.
That is the way he wants it. It certainly benefits the team to keep everyone guessing but it sure drives fans crazy.
For this reason we have hordes of prognosticators trying to guess what road Mayhew will lead the Lions down on draft day. Will he draft an offensive lineman, a linebacker or a corner? Or will he shock everyone and draft another defensive lineman in the first round?
Mayhew's mantra has always been draft the best player available and while I trust this philosophy and believe it to be true, I also find it hard to believe that "need" will not come into play.
For that reason, I believe the Lions will draft a cornerback in the first round. The cornerback position is their biggest need after losing starter Eric Wright to free agency.
Russ Lande, NFL Draft expert, currently has the Lions selecting Brandon Boykin out of the University of Georgia with their first pick. Mel Kiper predicts that the Lions will draft Stephon Gilmore from South Carolina.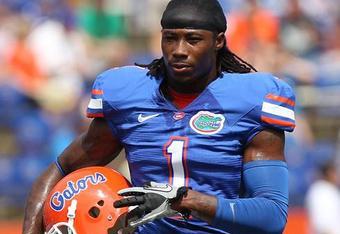 While those guys would certainly be good picks and fulfill a need, there might be a player still available at No. 23 who is rated the second overall cornerback in the draft by Scouts Inc. and ESPN's Todd McShay. That player is Janoris Jenkins.
Many a mock draft has predicted the Lions will select Jenkins, but just as many predict he will fall out of the first round.
What everyone does agree on is that Jenkins has baggage. The kind of baggage that makes him a risky pick.
This article from Yahoo.com sums up his checkered past: a bar fight arrest, two drug related arrests, a failed drug test, dismissed from the University of Florida's football team and fathered four children from three different women.
Those are enough red flags for many NFL teams to take him off their draft boards completely. He is too much of a risk.
Three years ago, I would agree with that sentiment. Back then the Lions were a rudderless ship. There was no leadership, no accountability and the losing culture permeated every fabric of the franchise.
The losing record speaks for itself.
Bringing a player like Jenkins into the fold would have been like throwing a stick of dynamite into a room full of candles and waiting for the boom.
Things are different now. It is still early, the Lions have only one winning season under their belts, but everyone knows it is different now.
The leadership, starting with Mayhew and coach Jim Schwartz, is intelligent and sends the right message. The players have responded. They play harder and police themselves. Lions veterans like Kyle Vanden Bosch, Dominic Raiola and Calvin Johnson keep people in line.
This is the type of environment that Jenkins needs to flourish.
Of course it is possible that the baggage he carries with him could derail his NFL career. No one likes wasting a first-round pick, but the risk is worth the reward.
The new rookie salary cap makes the financial burden manageable in signing a player like Jenkins. In fact, because of his off-field concerns, the price tag might be at rock bottom.
Kiper predicts that the New England Patriots will take Jenkins at No. 31 and sights Bill Belichick's influence and a strong locker room as the reason.
I say, let's not do the Patriots any favors. The Lions locker room is now just as strong as the Patriots. Jenkins could be the steal of the draft.
I do not pretend to know where Mayhew has Jenkins on his mythical draft board. I do know this: his baggage should not scare the Lions away.