2012 NFL Draft: Ranking the Top 10 Prospects with Character Issues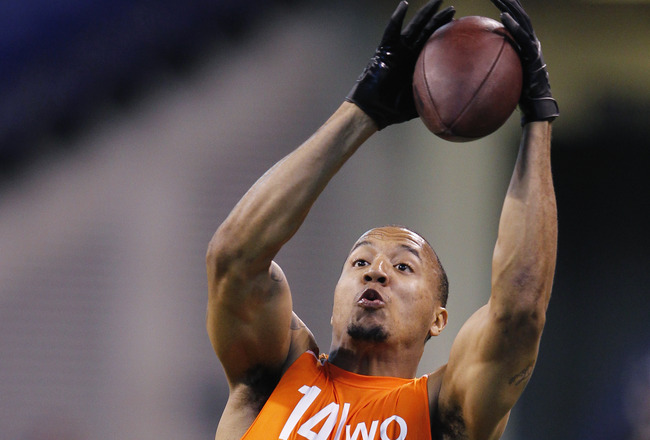 Michael Floyd ranks as the second-best wideout in the draft, but where does he rank in this list?
Joe Robbins/Getty Images
The NFL draft prospects for any given player can change more rapidly than the stock market. One day you're up, the next day you're down. And a lot of that has to do with off-field issues.
The players listed in this article are all talented; in fact, were it not for the character flaws that each is perceived to have, they would all be high first-round picks.
Instead, issues like drugs, work ethic and the like all combine to make or break a player's prospects. After all, there is an abundance of talent in college, and often it is the makeup of a player that determines his success in the NFL.
That said, players do have the opportunity to talk about past failures and make a positive impression on front office executives. What they say can often be as important as how high they jump or how fast they run.
You can measure things like height but you can't measure heart, desire and character. Yet the latter is extremely important, especially to early round candidates.
In the later rounds, teams are far more apt to take risks, But in the first two rounds, teams can't afford to make a mistake.
So let's take a look at the best prospects whose draft stock may be influenced more by their off-field problems than their on-field ability.
10. Chris Rainey, RB/WR, Florida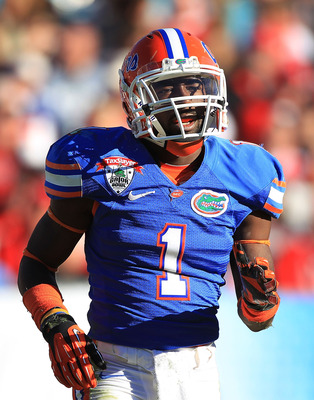 Scott Halleran/Getty Images
What, a Florida player in trouble? That has never happened! All sarcasm aside, Rainey may not be nearly as well known as the others on this list, but he's had to answer questions about a domestic dispute that resulted in a stalking charge.
He reportedly texted the words "Time to die [expletive]" to his girlfriend, according to this report in the Orlando Sentinel.
Rainey eventually accepted a plea deal, which kept him out of jail. But, despite blazing speed, he is currently projected to be a third-round pick.
9. Justin Blackmon, WR, Oklahoma State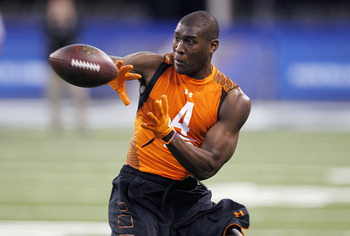 Joe Robbins/Getty Images
Blackmon is still considered the top wide receiver in the draft, so the off-field concerns haven't hurt him much. Therefore, he ranks far down on this list.
Still, he's had to answer questions about his DUI arrest back in October of 2010. Blackmon was 20 years old when he was pulled over at 3:45 a.m. for driving 32 miles per hour over the speed limit.
That seems to have long been forgotten, however. Still, it is mentioned here because it is an issue and he is such a high profile prospect.
Blackmon will go in the top 10 picks in the draft.
8. Mike Adams, OT, Ohio State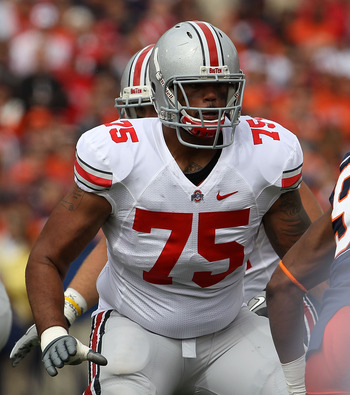 Jonathan Daniel/Getty Images
Adams has found himself in some trouble throughout his career. He was one of the players suspended in the tattoo incident that cost Jim Tressel his job. In 2009 he was suspended for two games for violating team rules. He was stopped by police that same year and charged with possession of drug paraphernalia, though those charges were eventually dropped.
The issues aren't as severe as some, but since he's on the bottom half of the first round in terms of grades anyway, these issues could be what forces him out of the first round.
7, Dre Kirkpatrick, CB, Alabama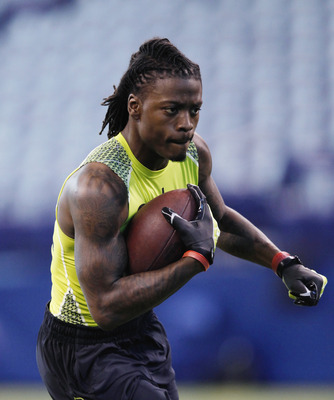 Joe Robbins/Getty Images
Dre Kirkpatrick is the second-rated cornerback in the draft, but it is his off-field concerns that had him talking at the combine.
While he had an All-America career at Alabama, he has opened himself up to scrutiny by being arrested for marijuana possession.
I still expect Kirkpatrick to be taken in the mid-first round, but his misdemeanor arrest didn't exactly help him. It will make teams have to "weed" out the information and decide how big of a deal it is.
6. Vontaze Burfict, LB, Arizona State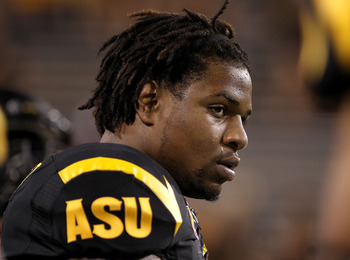 Christian Petersen/Getty Images
Burfict's strong when he's able to line up a ball carrier on the field, but some bad tape and a lot of personal fouls (resulting in a few trips to the bench provided by former Arizona State coach Dennis Erickson) will have teams trying to figure out if Burfict can make it in the NFL.
Unlike the others on this list, Burfict has stayed out of criminal trouble. His problem, though, is his attitude. You want players to have a mean streak—especially on defense. The problem is, though, that his mean streak can cause him to entirely lose control at times.
Burfict had a very bad combine. He was unimpressive in drills, and reportedly didn't interview well. He could drop as low as the fourth or fifth round as a result. Million-dollar talent but a 10-cent head.
5. Quinton Coples, DE, North Carolina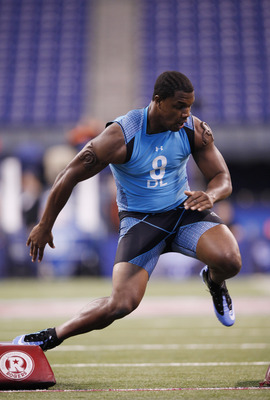 Joe Robbins/Getty Images
No prospect this year has more character concerns than Quinton Coples from the North Carolina Tar Heels.
His issues start with an NCAA investigation into a post-draft party. They continued with reports that Coples didn't try very hard his senior season.
Few prospects have dropped as far as Coples has this year, and it is all due to concerns with his character.
4. Bruce Irvin, DE/OLB, West Virginia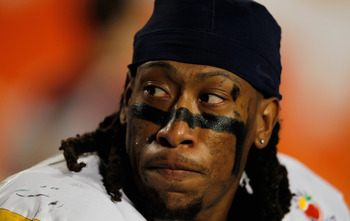 Streeter Lecka/Getty Images
Irvin has a strong pass-rushing ability and solid athleticism. But his production comes with some baggage apparently. However, since his brush with the law occurred before he was enrolled in college, his offense may be considered more forgivable than some of the players on this list.
That said, the nature of Irvin's past indiscretions, which include drug dealing and robbery, are as egregious as any. Irvin looks good in drills, but has had to look even better in the interview process.
But last Saturday night, he once again got into trouble. He was arrested at a Jimmy John's sandwich shop in Morgantown for destruction of property, according to WVMetroNews.com. He allegedly broke a sign.
Irvin hopes this doesn't overshadow his outstanding performance at the combine.
3. Michael Floyd, WR, Notre Dame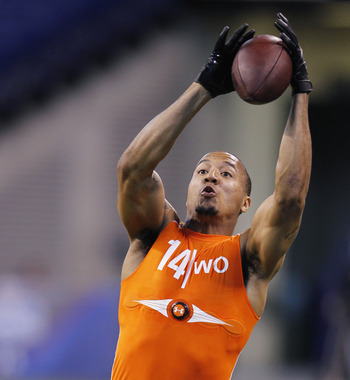 Joe Robbins/Getty Images
The only reason why I don't have Floyd listed higher is that his off-field issues seemingly haven't affected his draft stock. After an impressive showing at the NFL combine, he is expected to be taken in the top 15 picks.
That said, there are significant challenges that each team who are interested in drafting Floyd must consider. He has had three separate alcohol-related incidents though he insists that is all behind him now.
Floyd spent much of his time at the combine explaining his multiple alcohol-related arrests. He seemingly did well, and he owned up to his mistakes, as this quote from SI.com indicates.
"I went out less, and just kind of changed the whole environment around me, friends, just guys that I was going to have to be in that position of having to do things that would potentially put me in a troubled position. "It's a professional sport, and you've got to act like a professional," he said.
Yes, you do, Michael. After you've been selected in the top 15 in the draft, that is.
2. Cliff Harris, CB, Oregon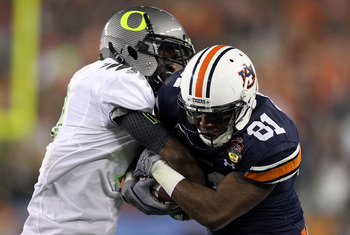 Christian Petersen/Getty Images
First, he was suspended for the season-opener after being cited for driving 118 miles per hour. Later he was caught driving with a suspended license, without a seat belt and without insurance. That got him first suspended and then dismissed from the team with seven games remaining.
He was also cited for marijuana possession. That's a lot of baggage for any player to overcome, and he didn't help himself at the combine by not running particularly fast for his position.
1. Janoris Jenkins, CB, North Alabama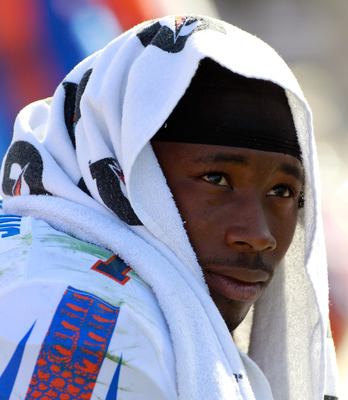 Sam Greenwood/Getty Images
Jenkins has off-field issues which are more well known than any prospect, which is why he makes it to the top of this list. It is a dubious honor indeed.
Multiple arrests for marijuana possession and the resulting transfer from Florida (where he was an All-SEC corner) to Division II North Alabama all have had to be addressed by Jenkins, who has early first-round talent.
In 2009, he was Tasered after he was involved in a bar fight, and last year he was cited twice in three months for possession of marijuana and eventually dismissed from the team. In January 2011, police officers observed Jenkins rolling a marijuana cigarette in the bathroom of a nightclub, and in April he was spotted smoking marijuana in a car.
Dave Birkett of the Detroit Free Press had an interesting quote from Jenkins. "And he said he has give up marijuana for good ("I'm done with it forever, man. I can't do it. I can't let myself do it again," he said) and motivated by his children Janoris Jr., Legend, Janorion and Paris, who range in age from 3 years to 3 months."
Jenkins' story is the one that is getting the most coverage so far, and there is no surprise in that—it's a good one. He had some personal issues as well—namely he has four kids with three different women. That's not necessarily an issue in and of itself, but when combined with the discipline issues, it is another cause for concern.
Keep Reading