Peyton Manning's Move: A Sign of the Times? a Fan's Love for One-Team Athletes
March 22, 2012

Doug Pensinger/Getty Images
In the wake of the stunning announcement that the future Hall of Famer and Indianapolis Colts fixture Peyton Manning is heading to the Mile High City, I am once again filled with melancholy and find myself longing for the good old days in sports.
It used to be safe to purchase a poster, or dare I say jersey, of a particular player without the daunting specter of having those items rendered obsolete by the ugly phenomenon in professional sports that has transformed lifelong love affairs between fans and their idols into transitory dalliances marred by the ruthless, callous side of the business.
I can still recall fondly sitting on my bedroom floor as a kid, surrounded by a cluster of threadbare shoeboxes, each overflowing with baseball cards from a variety of years, overwhelmed at times by the sheer magnitude of my collection.
Although the volume of cards posed a real challenge for someone my age, it was always easy enough to eventually sort and organize my favorite players because every one of them had a place—a home that was universally acknowledged.
Stan the Man was a redbird. Mantle and Maris wore pinstripes. Johnny Bench, Pete Rose and Joe Morgan belonged to the Big Red Machine. Steve Garvey, Davey Lopes and Ron Cey all bled Dodger blue, and Fenway Park was home to Yaz, Carlton Fisk and Jim Rice. Willie Stargell was only "Pops" in Pittsburgh, and Robin Yount was the face of the Brew Crew.
It just made sense.
Even as my beloved Mets blundered through the decade of the '70s, and some of my friends who were equally masochistic in their allegiance to the blue and orange tantalized each other with "what if" scenarios including players like Mike Schmidt and George Brett, I remained steadfast in my beliefs. Sure, players of that caliber would certainly have been a welcome addition to the feckless Metropolitans, but somewhere in my very core, I just knew that it was wrong.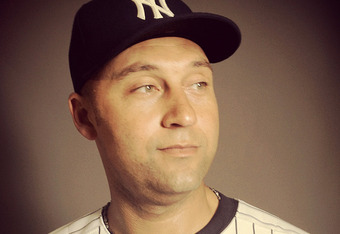 Nick Laham/Getty Images
Certain players simply belonged on certain teams. Sure, some of these aforementioned players moved on to different teams at the end of their careers for a variety of reasons, but there was a whole new group just waiting in the wings that would attempt to carry the torch of fidelity.
Ryne Sandberg thrilled the Wrigley faithful for years, and Tony Gwynn became and remains to this day Mr. Padre.
And, of course, Cal Ripken, arguably the player most synonymous with one team, is as much a part of Baltimore as the beautiful waterfront. But, with deference to Derek Jeter and a couple of other aging Yankees, it seems as though the epoch of following the career of a player in just one city has passed us by.
It should be no shock, I suppose, but I'm a traditionalist, and old habits die hard. Still, I should have seen this coming and prepared myself. The seeds for this unholy metamorphosis have been sown for quite some time—in all sports.
Tom Seaver, dubbed "The Franchise" by the New York Mets, was jettisoned unceremoniously to the Cincinnati Reds in perhaps the worst trade in baseball history. Still haunts me!
The "Great Gretzky," ambassador of the game and undisputed hockey icon, wasn't great enough to remain in Edmonton his entire career.
And if Brett Favre can wear purple in Minnesota, and LeBron James can rebuke the city that anointed him king, then anything is possible.
I suppose it's why nobody even blinked when earlier this year Albert Pujols said goodbye to St. Louis and Prince Fielder packed his bags for the Motor City. And now Peyton Manning is a Bronco.
Okay. No big deal. Times change. I get it. Turn, turn, turn.  
Besides, there is plenty of room on the discount rack for all those No. 18 jerseys.