2012 NFL Draft: 4 Players the New Orleans Saints Could Trade Up for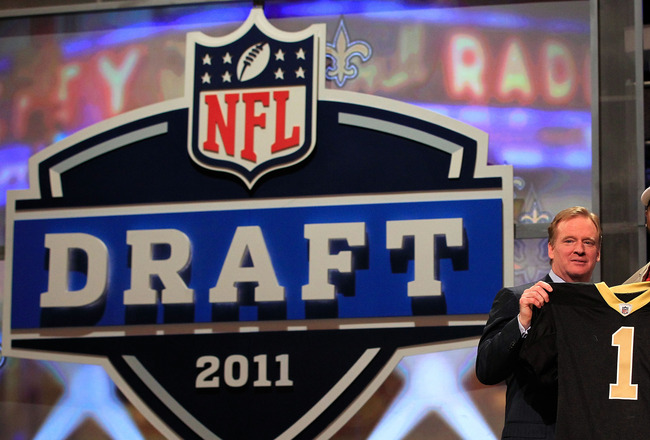 Chris Trotman/Getty Images
The New Orleans Saints have been known to not shy away from trading up in April's annual draft. The last three times that the Saints have traded at all in the first round has been to go upward.
In 2008, Mickey Loomis jumped past Cincinnati and took Sedrick Ellis out of U.S.C. This move also had New England receiving a third rounder and giving New Orleans a fifth rounder. The Patriots turned those two picks into Jerod Mayo (first round) and Shawn Crable (third round). Mayo turned into a Pro-Bowler and Crable became a Sacramento Mountain Lion.
The New Orleans end of that deal gave the Saints a fringe Pro-Bowler when healthy in Ellis, and the best offensive guard in the league, Carl Nicks, who just signed with division foe Tampa Bay.
Trading up in that case worked out well for Who Dat Nation, but for every trade that is a hit, there is a Jonathan Sullivan disaster waiting in the wings.
In the case that the NFL doesn't take their second-round pick for the Bountygate findings, I take a look at the best prospects that New Orleans could realistically trade up for and not sell the farm for.
The Saints could trade up into the upper part of the second round and not give up much to do so. If a fringe first-round prospect is still on the board that they are enamored with, I could see them trading up with St. Louis, who has an extra second rounder from Washington.
There are five prospects that would be worth the Saints moving up for, and, go figure, they are all on the defensive front seven.
Zach Brown, OLB, UNC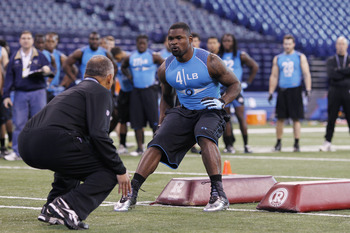 Joe Robbins/Getty Images
Zach Brown is the kind of freakishly talented linebacker that the Saints would love to have playing on the weak side of their defense. He would instantly be an upgrade at the position over the aging Scott Shanle.
It would give the Saints one of the best young duos at outside linebacker in Brown and Martez Wilson, the team's third-round pick last year. Wilson is a freak of nature himself, and he started coming into his own late in the season on the strong side.
Brown (6'1" 244 lbs.) runs between a 4.4 and a 4.5 in the 40-yard dash, and has great straight-line speed for a player of his size. He takes good angles in the run game, and uses his athleticism to shed or sneak by blockers instead of taking them on. He is a magnet for the ball, and he can make things happen when the ball is in his hands.
The knock on him is that he is still a raw athlete, and can be a liability in the passing game. He has been gradually getting better on that front, and has the speed to make up for any times when he gets sucked in by the play-action.
The Saints took a chance on Wilson last year, and that move could be paying off huge dividends this year. Everything being said about Brown's game this year was being said about Wilson's game last year.
New Orleans has a great linebacking coach in Joe Vitt, who did wonders for Martez, and could do the same for the former Tar Heel.
Chandler Jones, DE, Syracuse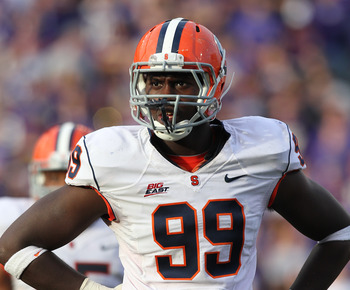 Otto Greule Jr/Getty Images
The Saints defense is going to need quality defensive end depth for them to thrive in Steve Spagnuolo's new defense. He rotates ends in and out frequently. He also brings out the best in defensive ends. The more effective at the run those ends are, the better, because the scheme is going to create pressure for the linemen.
What the Saints need is young depth at the position to rotate in with Will Smith, whose career could be stretched out by being brought in strictly on passing downs. New Orleans started this trend by picking up Cameron Jordan with the 24th pick in last year's draft. He seems ready to have a breakout season with a full offseason under his belt this year.
Chandler Jones, out of Syracuse, would be a huge get in the top part of the second round. The 6'5" 265-lb Orangemen plays the run very well and has upside in the pass rushing department. Jones flashed the potential to be an elite pass-rusher and has a prototypical frame, but remains inconsistent in putting it all together for periods at a time.
He could rotate in with Smith and, eventually, replace him.
Has all the tools to be a Pro Bowl-type player, but had only 10 sacks in 33 career games played. Hopefully, Jones brings his athletic bloodlines with him (two brothers; one, Arthur, plays for the Baltimore Ravens and the other, Jon, is the UFC light-heavyweight champion) and can be coached up to improve upon his lack of production in the passing game.
He wouldn't require as much to go up and get. He looks like a mid second-round prospect to me. He could even fall into the Saints laps at No. 59.
Alameda Ta' Amu, NT/DT, Washington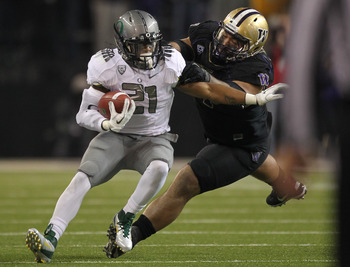 Otto Greule Jr/Getty Images
The Saints run defense has been terrible for years.
They have relied on a "bend, but break plenty of times" policy for a while, and could really use that anchor in the middle that will collapse the pocket and move the line of scrimmage back a few yards. Having a guy like that would open up Sedrick Ellis on the inside and all of the ends that Spags would be sending stunting and flying around the outside.
Alameda Ta'amu from Washington is an excellent candidate for that position.
His 6' 3" 348-lb frame is well-equipped to handle double teams and collapse the interior of the line. He is a stout run defender who has a great motor for a guy his size. He excels in bull rushing opponents and has a great initial burst that helps him penetrate into an opponent's backfield.
His downside is his pass rushing ability and his fluctuating weight.
His inability to get by opponents after an initial good burst is questionable considering his lack of elite lateral movement. He depends on the bull rush too much, and that is ineffective against double teams. His weight has fluctuated in the past and has hit 390 before. He has gotten it down, but can he keep it down and play effectively?
The payoff for that question could be huge if Ta'amu reaches his potential and becomes the All-Pro nose tackle he can be.
Andre Branch, DE, Clemson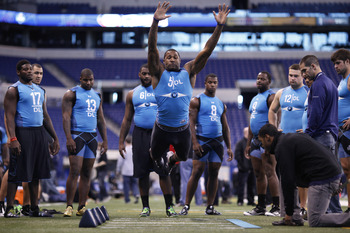 Joe Robbins/Getty Images
The Saints pass rush woes have been well documented. They haven't had a true elite pass-rusher from the defensive end since Joe Johnson was roaming the Dome. Will Smith had good years, but he was never a terror like the 2000 NFL's Comeback Player of the Year was in his heyday.
The Saints could look to find a player who could fulfill a need at defensive end, but can also drop back in coverage and be that hybrid (Mathias) Kiwanuka-type of defensive end/linebacker.
Andre Branch could fit that role if he were to drop past the first round. He would be an interesting pickup for the Saints. He could swap between positions and give New Orleans more pass rushing ability on the field. He is a bit raw and undersized, but has a frame that could put on another 10 lbs. and still be an elite pass-rusher.
He could be a liability in the running game, but has been improving his coverage ability in case he's asked to man the weak side OLB position. He is 6' 4", 260 lbs., and has the speed to make up for any inefficiencies he may encounter.
Keep Reading

New Orleans Saints: Like this team?