New England Patriots: Projecting the 2012 Roster at Wide Receiver
March 20, 2012

Patrick McDermott/Getty Images
In the past, the Patriots have traditionally carried six receivers on their roster. At the moment, the Patriots have eight under contract, not including free agents Deion Branch and Wes Welker, who has yet to sign his franchise tender. It also doesn't include any wide receivers the Patriots might draft.
Which wide receivers are likely to make the roster, and which ones are likely to get cut?
Wes Welker
While nothing is guaranteed, Wes Welker is all but a given to make the roster for 2012. After being tagged, he tweeted, "Glad that I will be a Patriot in 2012. and hopefully '13,'14,'15,'16,'17,'18.........." It's possible that he'll play hardball and hold out, or that a team will make an insane offer for him, but neither of those seem likely.
Likelihood of making the roster: Nearly 100 percent
Brandon Lloyd
Brandon Lloyd just signed a three-year deal for $12 million. Given that he actually had experience with Josh McDaniels' system, it's hard to see him flaming out in Foxboro.
Likelihood of making the roster: Nearly 100 percent
Matthew Slater 
Matthew Slater will make the roster, though, strictly speaking, it won't be because of his WR prowess, but rather his play on special teams, for which he was voted to the Pro Bowl in 2011.
Like Welker, he was a free agent—the Pats signed him to a three-year deal worth $5.4 million.
Likelihood of making the roster: Nearly 100 percent
Julian Edelman 
Edelman is a jack-of-all-trades. His playing time at WR decreased in 2010 and 2011 largely because Rob Gronkowski and Aaron Hernandez are much better receivers than were Chris Baker and Benjamin Watson (the Patriots' tight ends in Edelman's rookie season).
But he's still the best punt returner the Pats have ever had, and he can at least hold his own at defensive back.  
Likelihood of making the roster: 90 percent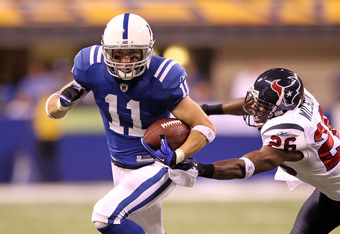 Andy Lyons/Getty Images
Donte' Stallworth
Out of the blue, the Patriots brought back Donte' Stallworth, who had started the 2007 season as one of the Pats' starting receivers, as part of a three-headed monster with Welker and Randy Moss.
Down the stretch, his catches dropped as Jabar Gaffney's increased. The Pats had signed Stallworth to a six-year deal that gave them an out after the 2007 season. The Pats released Stallworth, who has been searching for stability since then. He's familiar with Brady, so this is a low-risk, high-reward signing.
Likelihood of making the roster: 70 percent
Deion Branch
Deion Branch is not currently on the roster, but the Pats rejuvenated his career, which had stalled in Seattle as a result of injuries and the fact that he couldn't develop the chemistry in Seattle that he had with Brady. 
When the Patriots traded for him in 2010, he quickly renegotiated his deal so his salary would be the same as Welker's, so he's not above signing a team-friendly deal.
So the real question here is if both sides think it makes sense for him to return. It hasn't happened yet, but it might.
Likelihood of making the roster: 50 percent, if he re-signs
Anthony Gonzalez 
Anthony Gonzalez had 37 catches as a rookie for the Colts, but his career has been a nightmare since then. He's had only five catches in the past three seasons as a result of numerous injuries.
The Pats signed him to a one-year vet-minimum deal that carries a split salary (which means that he gets paid less if he ends up on injured reserve). He'll compete for a roster spot, but given his past history, it seems unlikely he'll make the final 53.
Likelihood of making the roster: 30 percent
Tiquan Underwood and Britt Davis
Underwood made the roster last year, only to be cut on the eve of the Super Bowl; he had three receptions all season. Britt Davis was a practice squad player. At this point, they seem to be depth only.
Likelihood of making the roster: less than 10 percent each
Chad Ochocinco
The most difficult call, though, is certainly Chad Ochocinco.
The Patriots, in a surprising move, traded low-round picks in 2012 and 2013 to acquire Ochocinco, and then gave him a three-year deal that paid him $6 million in 2011. Ochocinco disappointed on the field, scoring just one touchdown all season.
That said, the Patriots did not cut him, as they did underachieving DL Albert Haynesworth—they also felt it was better to keep him than it was to keep 2010 draft pick Taylor Price.
Moreover, they've generally praised his character and work ethic. All in all, it seems he'll be given a chance to earn his roster spot. If he works hard, he'll make it—if he doesn't, he'll be gone.
Final Analysis
Assuming the Patriots carry six roster spots, it looks like there are three near-locks: Wes Welker and Brandon Lloyd, who should be the starters in the Pats' two-WR, two-TE sets, and Matt Slater, who's a depth receiver but an ST starter.
Julian Edelman's abilities as a PR and situational backup on O and D should earn him a roster spot as well.
So that leaves two spots for the remaining players: Ochocinco, Stallworth, Gonzalez, Branch, Underwood and Davis (plus any rookies the Pats might sign). At the moment, the two most likely candidates seem to be Chad Ochocinco and Donte' Stallworth.