The Phillies and Chase Utley Should Explore Non-Traditional Surgery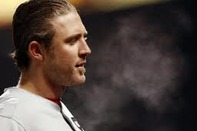 Note: This article was written last spring when news first circulated about Chase Utley's injury. I chose not to publish it as it seemed as though the Phillies and Utley had figured out a course of action and probably my own foolish optimism.
Twelve months later, with no progress and apparent issues now in both knees, this article seems especially relevant. For sake of continuity I have changed little about the article aside from pertinent facts about Chase Utley and the status of his injury. All edits are in italics throughout the article.
Chase Utley's knee has become the talk of Philadelphia sports. Forget the rising crime right across the river in Camden, the losing skid of the Villanova Wildcats or the surprising play of the Philadelphia Sixers; it would appear the happiness of Philadelphians is contingent on the knees of their baseball team's second basemen.
There are more than a few potential remedies for patellar tendonitis, which has sidelined Utley for the entirety of this spring training and much of last season, but none appear to be an answer. Now Utley and Phillies are in the unenviable position of making a decision for which there appears to be little upside.
Working in the healthcare industry, I've come upon countless cases of tendonitis and in only a very few of those cases have doctors determined that surgery is the best decision.
So why would the Phillies consider surgery in this case?
Utley has experienced chronic patellar pain for an estimated 30 months, and one can assume most conservative approaches to treatment have been exhausted. The knee has not responded well to cortisone injections, and the Phillies trainers seem to have run out of options.
The problem with surgery and the reason Chase Utley and the Phillies should use it only as a last resort is two-fold.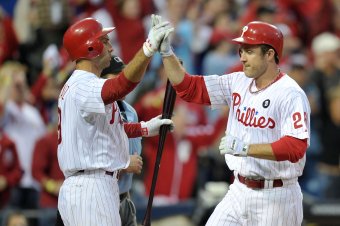 Drew Hallowell/Getty Images
Surgery is typically reserved for patients with debilitating tendonitis. That is to say, when a person can no longer walk, then and only then is surgery a truly viable option. However, athletes often consider surgery when their professional livelihood is at stake, which the Phillies and their 33 year-old second basemen must feel is the case.
Still, surgery should not be the only option they are exploring for the simple fact that surgery is not a sure thing.
The standard procedure for relieving the pain of patellar tendonitis in the U.S. (and the one the Phillies are deliberating) is knee debridement, a relatively non-invasive procedure where the surgeon cleans out (shaves) the myxoid degeneration of the knee. Within weeks, patients can be back on their feet but by and large, the condition shows itself again within several months (or even less for athletes).
In short, the knee debridement surgery is only a band aid and not a very effective one.
In fact, a doctor in New York, who was nice enough to humor me (on the condition that I didn't mention him by name), said me that he'd recommend athletes never consider this procedure because it is only a "very temporary solution that typically leads to follow-up after follow-up repeat debridement procedures" and normally leads to a worsened condition of tendonitis due to the constant exposure of the knee.
Normally, the doctor said, debridement is about 60% successful for a patient who has the surgery and follows it up with well monitored physical therapy. However, for an athlete, he wouldn't even offer a success rate. His only advice was, "I would not recommend it."
This must be where the Phillies are—between a rock and a hard place. So I asked the same doctor at this New York surgical hospital, "What would you recommend?" He suggested among other things, orthotics (to support the arch and absorb more of the shock usually put on the knee), extracorporeal shock wave therapy (a method of sending shock waves to heal and strengthen tendons) and the always popular but, in Utley's case, ineffective cortisone shots.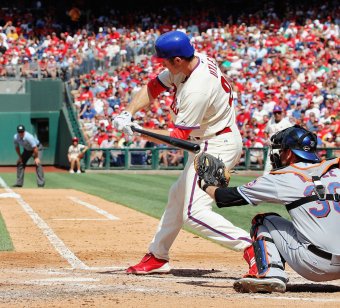 Len Redkoles/Getty Images
It can be assumed the Phillies training staff (ranked among the best in MLB) has considered these alternatives, so I pushed the doctor further and asked if Carmelo Anthony, the (then) new star forward for the Knicks and noted sufferer of patellar tendonitis, had exhausted all the options available to him, what would he suggest? (I assumed he'd rack his brain for good advice in the case of a hometown player.)
He suggested a less traditional surgery (that has been very successful and growing in popularity) practiced in England by a Dr. David P. Johnson at the Bristol Orthopaedic & Sports Injury Clinic. The doctor has performed this surgery on about a dozen or so professional European soccer players and about 30 other patients with a 90% success rate.
The procedure in short, from the Bristol Clinic's website:
The technique included elevation and partial excision of the superior central part of the fat pad to reveal the bare area of the patella. Elevation of the patella tendon fibres from the anterior 5 millimetre surface of the inferior pole of the patella, and excision of the exposed inferior pole.
The procedure practiced by Dr. Johnson (the European equivalent to Dr. James Andrews in Mississippi) is a same-day surgery with a nine-week recovery time and, in the case of his athletes, a return to action in 13 weeks. Dr. Johnson is not the only doctor to utilize this procedure but apparently has had the greatest amount of successful cases.
This surgery is not ideal since it would put Chase Utley on the shelf for essentially the entire 2012 season. Of course, 90% success means that 10% are unsuccessful, but the Phillies, Utley and the fans need to understand that tendonitis does NOT go away and will only worsen.
However, if it works on athletes who run on a 110-yard field for 90 minutes at a time for nine months out of the year through the blistering heat of Southern Hemisphere summers and bitter cold of northern England winters, it would seem to be a great solution for a baseball player.
Additionally, to get a 100% healthy Chase Utley back at 34 years-old with a fresh knee and a year of rest is a sacrifice the Phillies may need to consider in their long-term plans for success.
This article is
What is the duplicate article?
Why is this article offensive?
Where is this article plagiarized from?
Why is this article poorly edited?

Philadelphia Phillies: Like this team?