NFL Draft 2012: 7 Scenarios for the Cleveland Browns at Picks 22 and 37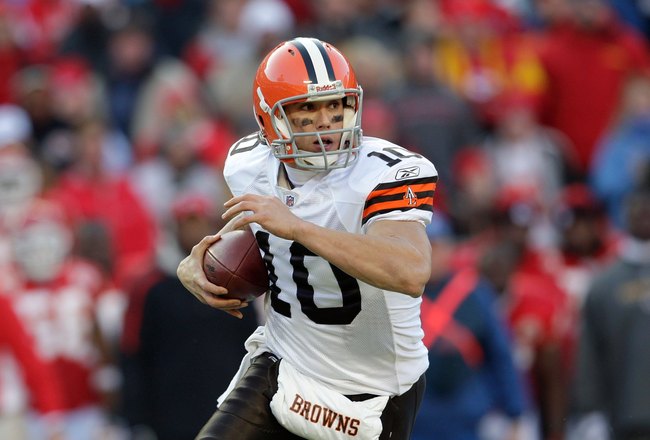 The Browns traded up with Dallas to acquire Brady Quinn at number 22 in 2007.
Jamie Squire/Getty Images
"Better a diamond with a flaw, than a pebble without." -Confucius

RG III. Trent Richardson. Morris Claiborne. Justin Blackmon. Et cetera, et cetera.

We've heard it all about how the Cleveland Browns might utilize their No. 4 pick in the 2012 NFL Draft, now it's time to speculate on the Browns' additional first-round pick as well as their virtual first-round pick at 37th overall.

Obviously what the Browns accomplish with their fourth pick will snag the big headlines and substantially influence their approach with their later selections. Still, as the purpose of this website remains to propagate rumor, discussion and hearsay, this type of speculation probably keeps you coming back.

Happy St. Paddy's from exile in Boston, Browns Backers!

You can follow me on Twitter @StepanekButton
Right Tackle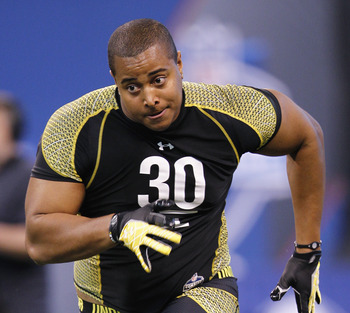 Stanford's Jonathan Martin: the Browns' next right tackle?
Joe Robbins/Getty Images
By waiving Tony Pashos and signing two fill-in offensive linemen in John Greco and Oniel Cousins, the Browns have all but declared they're after a long-term starter at right tackle. Iowa's Riley Reiff and USC's Matt Kalil likely won't be an option later in the first round or early in the second round, but if the Browns take either with their first pick, these projections are moot.
Potential Options:
Jonathan Martin, Stanford
Martin protected Andrew Luck's blind side this season—likely a product of Martin's status as the team's most gifted tackle as opposed to a statement about his NFL future. His pugnacity in the run game would fit precisely what the Browns need out of their right tackle in a smash-mouth division.
Mike Adams, Ohio State

Adams' 19 bench press reps should cause concern, as well as his involvement in Tattoo-gate at OSU. Adams may develop into a Pro Bowl tackle, but has given scouts and media every reason to doubt his commitment to his own cause.
Bobby Massie, Ole Miss
The Browns may wait on Massie until the third round if they think he's available, but the Ole Miss tackle has generated some serious buzz in recent weeks. The massive (6'6", 316 lbs) offensive tackle reportedly dominated defenders in the run game over long stretches and his physicality could prove an ideal fit for the Browns at right tackle.
Guard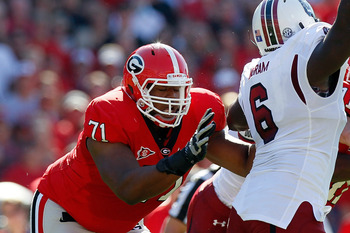 Can Georgia's Cordy Glenn handle Ray Lewis?
Kevin C. Cox/Getty Images
We've pontificated at length about the importance of a strong interior offensive line particularly in the AFC North, but also in the NFL at large. Here—unsurprisingly—the Browns have historically struggled, despite quality individual performers like Eric Steinbach and Alex Mack. The Browns would be wise to invest an earlier draft pick in the guard position to build for the future.
Potential Options
Cordy Glenn, Georgia

Glenn started at both guards and tackle for the Bulldogs as a four-year starter. At 6'5", 345 pounds, Glenn played his best football in 2010 at left guard and would constitute precisely the presence the Browns need to improve their running game.
David DeCastro, Stanford

DeCastro may leave the board higher than 22, but if he falls to the Browns' second pick, expect them to pounce. DeCastro may be the best run-blocking and overall guard in the draft and would be an absolute steal at 22.
Kelechi Osemele, Iowa State
Like Glenn, Osemele has experience playing tackle and guard. Osemele is a physical specimen at 6'6", 333 lbs—an un-coachable feature. Osemele's pass-blocking and run-blocking credentials could even fit him at right tackle—that's the kind of raw ability the Browns could use up front and Osemele may come at a great price.
Running Back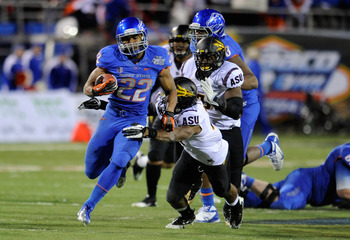 Boise State's Doug Martin: the real deal?
Ethan Miller/Getty Images
Yes, if the Browns select Richardson at No. 4 they won't be looking at these guys. Consider this the "in-case-we-trade-down-or-take-Blackmon," list.
Potential Options
David Wilson, Virginia Tech
Wilson demonstrated his explosiveness in the jumping tests while convincing scouts of his abilities in the passing game and greatly solidifying his stock at the NFL Combine. Wilson may have launched himself past the Browns' No. 22 spot with his combine performance, whereas several weeks ago many projected Wilson to be available in the second round.
Doug Martin, Boise State
Martin also thoroughly impressed scouts with his 4.47 40-yard dash and top-billing 28 bench press reps at the NFL Combine. His spark-plug quickness, steady hands, compact strength and 5'9" frame remind me of Ray Rice and Maurice Jones-Drew.
Lamar Miller, Miami
Wilson's success has proven to be Miller's detriment. The explosive redshirt sophomore has watched his stock slip in recent weeks in no small part due to Martin and Wilson's respective popularity. Miller compiled one of the best individual seasons ever by a 'Canes running back, and his 79-yard TD run against BC was the U's longest in years, according to the Sun Sentinel.
Wide Receiver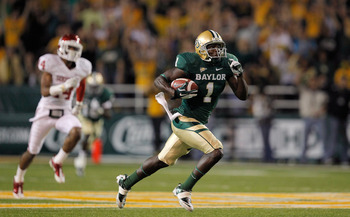 Baylor's Kendall Wright could take some pressure off Greg Little.
Sarah Glenn/Getty Images
Hypocritical NCAA or not, Greg Little entered a tough situation with the Browns as a rookie wide receiver in 2011. He found himself working with a virtual rookie in Colt McCoy at quarterback, an offensive line which never protected McCoy long enough for Little to get downfield and no semblance of a threat opposite him to alleviate pressure from the safeties.
Compound that with the reality that the 22-year-old Little hadn't played football in around 20 months, and we have ourselves an issue at wide receiver.

Oklahoma State's Justin Blackmon (perhaps by the Browns) and Notre Dame's Michael Floyd will have likely found a home by the time the Browns come up at 22, but interesting options remain.
Kendall Wright, Baylor
Wright's prolific numbers in 2011—108 catches, 1,663 yards and 14 touchdowns—demonstrate he can beat double teams and best even those defenses committed to stopping him. The Browns may have missed on RG III, but his favorite weapon could vastly improve the Browns' receiving corps.
Stephen Hill, Georgia Tech
Hill's size at 6'4" drew scouts' attention. His blazing fast 4.36 40-time at the NFL Combine retained it. The Browns could pull off a serious steal with this physical specimen who averaged nearly 30 yards a catch last season as a Yellow Jacket.
Outside Linebacker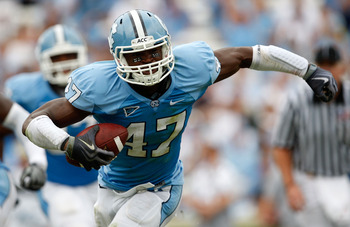 UNC's Zach Brown could be just what the doctor ordered at OLB.
Streeter Lecka/Getty Images
The Browns will eventually need to replace Scott Fujita, who will be 33 this season, at strong-side outside linebacker. In the black and blue AFC North, run-stopping credentials always help. The relatively thin crop for quality 4-3 outside linebackers makes UNC's Zach Brown a hot item.
Zach Brown, UNC
Brown's raw athleticism and proven penchant for elevating his level of play to the stage has scouts drooling. He wouldn't be a Butch Davis recruit without some character questions, but Brown's sheer ability will make him a prized commodity in the 2012 Draft.
Lavonte David, Nebraska
One of my readers, Brandon Sommers, reminded me David could be just the package of speed and ferocity the Browns are looking for at 37. Though he may never break 240 pounds and that concerns me at linebacker in the AFC North, his prolific career as a two year starter at Nebraska speaks for itself.
Quarterback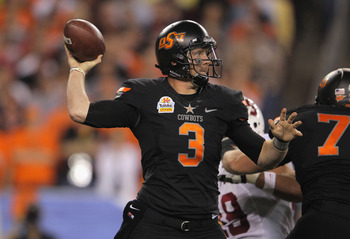 Brandon Weeden: competition for McCoy, or simply a replacement?
Doug Pensinger/Getty Images
The Browns hinted this week that they'll stick with Colt McCoy as their starting quarterback for 2012, but they didn't go down to Oklahoma State's pro day for some nice barbeque in Stillwater. Mike Holmgren insisted this week that the Browns made a play for Robert Griffin III, but were confident in McCoy as the starter. It would still surprise me if the Browns provided only Seneca Wallace as competition for McCoy in training camp, especially given Wallace's contract size.
Ryan Tannehill
The 6'4" Tannehill's big frame and strong arm make him a more prototypical NFL quarterback than the 6'1" Colt McCoy. While Tannehill's arm strength impresses scouts and coaches, he began his career at Texas A&M as a wide receiver.
While many see this deviation as a flag that Tannehill couldn't win the job right away, I consider it evidence of his athleticism (he had a historically successful freshman year at WR) and commitment to his team. Tannehill would be very interesting at 22 or in the early second round, but he could also provide the Browns with ideal trade bait should the time come.
Brandon Weeden
The Oklahoma State product must be tired of addressing his potential status as a 29-year-old rookie. But this remains the single factor front offices continue to question—he's not two or three years too old, he's about four or five too old.
Even if he develops, he'll be 35 by the time he hits his prime. That said, the Browns may swipe him up if he drops to the third round.
Trade Down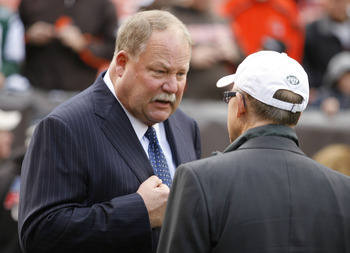 Can Mike Holmgren arm Tom Heckert with additional draft picks?
Matt Sullivan/Getty Images
Tom Heckert proved his ability in Philadelphia to pick up Pro Bowl quality players in the second or third round.
The Browns organization knows firsthand that the 22nd pick can be traded in the right situation, and should the Browns find an adequate partner desperate for a Michael Floyd or Ryan Tannehill at the 22nd spot, they could secure a bounteous haul of second rounders for years to come. Though Browns fans will lament having hosted a draft party for this, such a move would be rather provident come next season.
Keep Reading

Cleveland Browns: Like this team?