NFL Free Agency Rumors: Taking a Look at the Hottest Stories of the Weekend
March 17, 2012

Jonathan Daniel/Getty Images
The first weekend of the 2012 NFL free agency period is upon us. Boy, has it been one wild ride through the four days of this frenzy.
Most headlines are going to be about Peyton Manning—and for good reason. The San Francisco 49ers broke the news Friday that they were finalists to land the future Hall of Fame quarterback.
With that said, let's look at the rumors that are not be getting as much attention as the Manning saga.
Bounty-Gate Resolution
Don Banks at CNNSI reported that the league will resolve Bounty-Gate within the next week. This shouldn't come as much of a surprise considering that the New Orleans Saints need to know what to expect in terms of possible penalties.
We are just over a month from the 2012 NFL Draft and a possible conclusion could lead to a loss of draft picks. Out of fairness, the league needs to give the team a chance to adjust to this possibility.
Brady Quinn at Chiefs
Alex Marvez at FOX Sports reported on Friday that Brady Quinn is set to visit the Kansas City Chiefs. After they got shut out of the whole Manning saga, Kansas City might be looking for another quarterback to challenge Matt Cassel in training camp.
While Quinn has been a bust in the NFL, he could provide much needed competition for Kansas City. The team currently has a mediocre quarterback situation.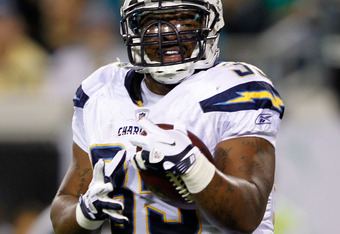 Mike Ehrmann/Getty Images
Mike Tolbert Leaves San Diego
The Union-Tribune San Diego reported that Mike Tolbert is fully prepared to part ways with the San Diego Chargers. The "human bowling ball" has the ability to dominate short yardage runs between the hashes. He could be a great complementary back for a team that wants to add a power running game.
UT San Diego's Kevin Acee has indicated that the Pittsburgh Steelers are interested in Tolbert. This makes a whole lot of sense considering that they have to prepare for the possibility that Rashard Mendenhall could miss substantial time in 2012 due to an ACL tear.
San Diego Signs Atari Bigby
Adam Schefter reported on Friday that the San Diego Chargers have come to a two-year agreement with free-agent strong safety Atari Bigby. He gives them a physical presence in the back end of the secondary and would be a great complement to Eric Weddle as the strong side rush guy.
This is one of those under-the-radar signings that seem to go unnoticed during the free-agent frenzy. Bigby is a pretty solid starting safety.
Oakland Raiders Grab Mike Brisiel
Speaking of under-the-radar signings, the Oakland Raiders hit the free-agent market for the first time yesterday. They signed guard Mike Brisiel, formerly of the Houston Texans. He was one of the most unheralded players in the NFL's best offensive line last season.
Brisiel also fits the Raiders zone-blocking scheme to a tee. He will help them in the running game by blocking for Darren McFadden. The Houston Chronicle reported that the deal is worth $20 million over five seasons—absolutely tremendous value.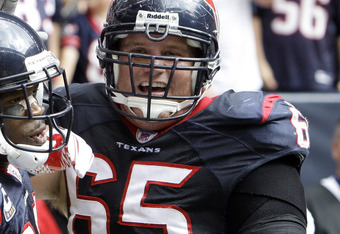 Bob Levey/Getty Images
Vontaze Burfict Continues to Fall
A little bit of draft news here that does directly impact the free-agent market. Vontaze Burfict, who was once considered a top linebacker in the 2012 NFL Draft, has seen his downward fall continue.
Tony Pauline at CNNSI had the following to say about Burfict's Arizona State Pro Day performance.
Word on Vontaze Burfict; not good in position drills (i'm watering that down)...as one scout told me "i actually felt bad for him"
The report went on to say that the talented linebacker might struggle to get drafted in April.
Ouch.
That would be one of the most dramatic falls from grace that I have seen in covering the NFL Draft over the last couple of years.
Manningham and San Francisco?
One report indicated that Mario Manningham was close to a contract with the St. Louis Rams. Within minutes that report was repudiated. That put us back at ground zero in regards to the best remaining receiver on the free-agent market.
The San Francisco 49ers—who seem to be making a lot of news—hosted the New York Giants receiver on Thursday. There are no indications that Manningham has any more visits scheduled, so it could be between the two NFC West rivals.
Chicago Eye Forte and Bush
The Chicago Tribune reported that the Chicago Bears have made no headway in contract negotiations with Matt Forte. The talented running back has indicated that he might hold out rather than sign the franchise tender if the two sides do not come to an agreement on a long-term contract this offseason.
Chicago is interested in Michael Bush, which might indicate that they plan on Forte not being a member of the Bears at the start of the 2012 season.
He received a non-exclusive franchise tender. This means that any team could conceivably surrender two first-round picks for the Pro Bowl back. While that is unlikely, this situation doesn't look like it is going to come to a conclusion anytime soon.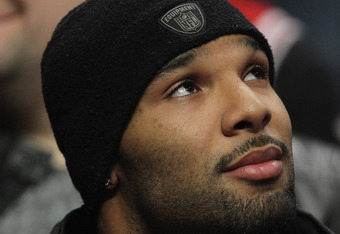 Jonathan Daniel/Getty Images
Flynn an Option for Dolphins
Matt Flynn, who visited with the Seattle Seahawks this week, remains a viable option for the Miami Dolphins.
With that said, Jason Cole at Yahoo! is reporting that the Dolphins are "low-balling" the young signal-caller. I am not sure what this means, but it does indicate that the already weak market for Flynn is even more watered down.
The Cleveland Browns had previously pulled out of the Flynn sweepstakes and are prepared to go with Colt McCoy in 2012 and give him competition via the draft.
Well, that is all from me for now.
Follow me on Twitter @VincentFrankNFL