Dear Peyton Manning: If It's About Winning, It's Gotta Be San Francisco
March 17, 2012

Jim Rogash/Getty Images
Dear Peyton,
We know that you have approached the selection process for your new team as deliberately and exhaustively as you have reviewed film for your upcoming opponents over the last 14 years.
We know that due diligence is as much a part of your makeup as your mile-a-minute, spastic pre-snap chatter.
We know patience is not just a virtue, but it is your virtue.
But, let's cut to the chase and end the great debate.
You would be crazy to pick any team currently pursuing you not named the San Francisco 49ers.
I have two words for you: 8-8. OK, two numbers. The record of the vaunted Denver Broncos you're considering.
I have another two numbers for you: 9-7. The Tennessee Titans' record.
And, I have another two numbers for you: 13-3. That, my friend, is the record of the only team you should even be thinking about joining if winning is what you care most about.
On top of 13-3, the number 13 comes into play one more time for your Niners.
In the 2012 NFC Championship game, your 49ers faced 13 third downs.
They converted one.
So, theoretically, the 49ers were one third-down conversion away from winning the NFC Championship game and playing in the Super Bowl last year.
One play away with a marginal quarterback and nary a deep threat from winning a chance to play in Super Bowl XLVI.
One play away with a punt returner who got the wiggles twice in the second half and overtime, losing your team's lead twice.
Did I say one play away?
The 49ers, if they had a quarterback just a wee bit better than Alex Smith, would have been in Super Bowl XLVI. And they have the best chance of getting to New Orleans next year than just about any team in the league.
Every starter on defense is returning.
You now have Randy Moss, the second-best wide receiver in NFL history, catching passes from you.
You have a new young coach, a former quarterback, who is as intense and as energetic as you are about football.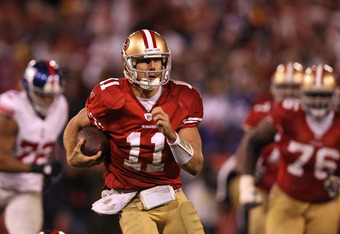 Ezra Shaw/Getty Images
You have a defense that could stifle Edith—and Archie.
You have a tight end who is as cool as the other side of the pillow.
But here's the real kicker, Peyton:
You have two or three good years left—and the Tennessee Titans and Denver Broncos are two or three years away from being Super Bowl contenders—even with you on the field.
Only the 49ers can offer you what you claim to covet the most—another shot at a Super Bowl ring.
So, Peyton, please, stop the drama.
There's no Da Vinci code to break here despite the fact that this latest saga has more red herrings than a Dan Brown novel.
If your last professional contract is truly about the ring—and not the bling—then you will sign with the San Francisco 49ers.
It's a mystery to me and many why you would even consider going anywhere else.