2012 NFL Draft: Ryan Tannehill to Cleveland Browns Is Terrible Move
March 12, 2012

Darren Carroll/Getty Images
Ryan Tannehill has been a huge source of buzz of late, especially in Seattle and Cleveland. After the Washington Redskins traded up to acquire Robert Griffin III, it left Ryan Tannehill as the next-highest mocked quarterback on the board.
Notice how I said that instead of "next best," as that is one thing Tannehill is not. After Luck and Griffin, the No. 3 quarterback in the draft could be one of several, but Tannehill has nonetheless rocketed up draft boards to become not only a first-rounder, but a rather high one at that.
Recent mocks have had the Browns acquiring him at No. 22 before the trade, and since then some have even had the Browns selecting him at No. 4. Drafting Tannehill that high would be the worst possible choice the Browns could make, plain and simple.
No one doubts his athleticism. He's not quite at the level of Griffin, but as a converted wide receiver, he naturally has good footwork and great speed. Then again, Colt McCoy had some good bouts of athleticism as well last year; Colt had 212 rushing yards while Tannehill had 306.
What concerns me somewhat is the one thing that should not concern any quarterback, and that would be his throwing ability. He seems to be best at throwing flat routes towards the sidelines. However, he is not a guy that can be expected to throw the deep ball given his mechanics.
That being said, there are not that many quarterbacks that have to worry about throwing the deep ball frequently in the NFL, and as long as he can make the short to medium plays, then that will be looked past.
The biggest problem for Tannehill, and the reason that I see him as a project at best right now, is his mechanics.
As a converted wide receiver, Tannehill has under two years of college football quarterback experience. Playing in the Big 12 and running rather simple offenses has helped mask this, but if you look at the tape, there's no question that he needs work.
Matt Miller's Scouting Report explains the main problem with his arm mechanics better than I could. In short, he has a delay where he drops his elbow before throwing. College football cornerbacks could look past this, but NFL ones—and defensive linemen for that matter—will be all over it.
That's not to mention that his learning curve is likely the highest of any of the top six quarterbacks in the draft, thanks to playing in a simpler offensive scheme and having less quarterback experience then others.
Everyone speaks about how great his size is, but size means nothing if you can't perform. It's why I had concerns about Blaine Gabbert last year, and look how that's turned out.
Of course, I can talk about film and scouting reports all day long, but what matters is how Tannehill performs on the field. That's why the Browns are considering drafting him and why they drafted McCoy, right?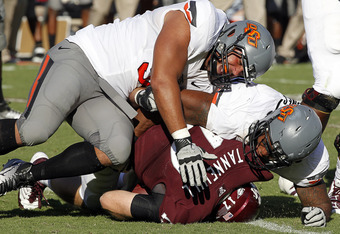 Bob Levey/Getty Images
Unfortunately, Tannehill's weaknesses are exposed here as well. On the surface, 29 TDs and 15 INTs look pretty good, especially along with a 61.6 percent completion and 3,744 yards.
The problems come from a closer look. Away from A&M, he completed under 60 percent of his passes with nine TDs and six INTs. In the second half of games, he completed 58.9 percent of his passes with 10 TDs and nine INTs.
His numbers were also far better when A&M was winning by 14 or fewer points than when they were tied or losing by 14 or fewer. This would naturally be the case for any quarterback, but his completions dip a bit too close to 50 percent for my liking when the team's losing, especially given the conference.
That could be a problem that translates into the NFL. Is Tannehill going to panic and make bad decisions if the Browns start off slow and lose a few games early on (which is likely)? The film, mechanics and stats all say yes.
The above concerns me more than the mechanics. If there's one quarterback the Browns do not need, it's one that will fold when the team goes south.
Most big boards I have read put Tannehill between Nos. 25 and 50, considering him a great project, but no one really believes that he can go from day one. You could compare him to Colin Kaepernick last year, as he's a guy with great athleticism but needs at least one year—perhaps more—of development.
He would be a monstrous bust with the No. 4 pick, and even at No. 22 a team would be overpaying for him. If the Browns want a quarterback that badly, Brandon Weeden at No. 22 is a better bet, since he appears more NFL ready and is a good value despite his age.
If any Browns fans want to finally start winning, then they need to get on the bandwagon and just say no to Tannehill. It's the wrong choice for Cleveland and would cancel out the progress they've made thus far.