Peyton Manning Rumors: Marshall Faulk Says Manning Will Stay in AFC
March 7, 2012

Joey Foley/Getty Images
Peyton Manning is a free agent and can sign with any team in the NFL. However, according to Manning's former teammate in Indianapolis, Marshall Faulk, there is no chance of Peyton going to a team in the NFC. 
NFL Network's Rich Eisen tweeted Faulk's statement saying that the Manning family does not want to blow the chance of a Super Bowl featuring both Manning brothers.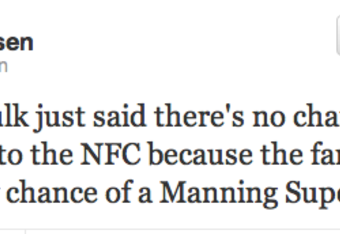 Update: Wednesday, March 7th at 6:15 p.m. 
The Manning family will apparently have a chance to not only have an all Manning Super Bowl, but an all Manning Big Apple. Manish Mehta of the New York Daily News tweeted about the Jets in interest in Peyton.
How about this: The Jets have inquired about Peyton Manning's interest in playing for them, according to a source. Story to come: #nfl

— Manish Mehta(@TheJetsStream) March 7, 2012
It would be a huge shift of culture for Peyton. He'd be going from the sheltered media of Indianapolis to the intrusive storm of media pressure of New York. 
However, the Jets have a good defense and some playmakers on offense. Manning could turn that team into instant contenders, and he'd have a chance to upstage his lil' bro in his own city. 
Earlier in the day, Manning's former head coach Tony Dungy, who won a Super Bowl in Indianapolis with Manning, gave the same notion while speaking on ESPN radio show Mike and Mike in the Morning that Peyton will stay away from signing with an NFC team.
According to Dungy: 
"I don't think he'd want to be in direct competition for a playoff spot against the Giants," Dungy said, adding that he believes Manning can run any style of offense but that "managing the expectations will be the biggest issue" for the quarterback."
There have been a number of NFC teams that have been rumored to be Manning's new team, like the Arizona Cardinals, Washington Redskins and Seattle Seahawks. 
Even Arizona Cardinals defensive tackle Darnell Dockett took to Twitter to let his feelings known about how excited he would be to play with Manning, saying: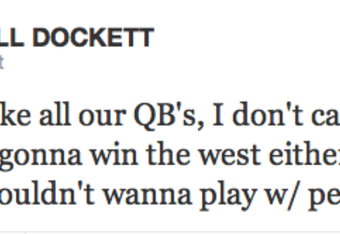 However, from these two reports of Peyton's desire to stay in the AFC it looks like Dockett, or any of the other teams in the NFC, will not get a chance to play with the recently released quarterback. 
For now, it looks like Manning will stay in the same conference that he's played in for his entire career, the AFC.