Green Bay Packers Mock Draft: Version 2.0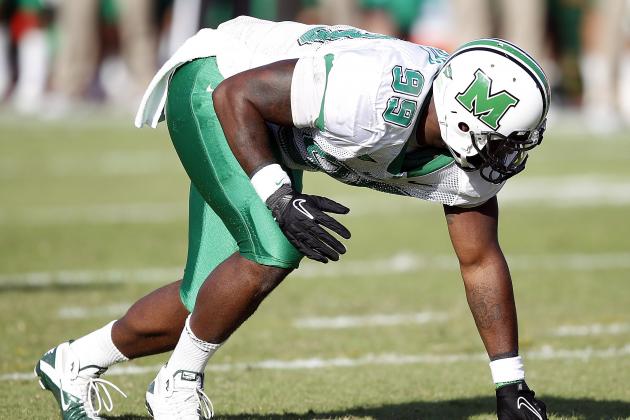 Bob Levey/Getty Images
Could Vinny Curry be the Packers first pick?
Quite a bit has transpired NFL-wide since my mid-February mock draft. In Green Bay alone, tight end Jermichael Finley's contract and the choice to let Flynn walk in free agency have big impacts on the Packers draft strategy.
In addition, it's good to admit when you're wrong.
My choice of Vontaze Burfict, as a first-rounder no less, was a terrible one in hindsight.
Burfict either failed to provide effort or emerged out of shape at the combine, posting an offensive lineman's 40-yard dash time of 5.10. If Burfict's on-field antics weren't enough of a red flag, his poor combine confirms he will plummet, possibly out of the first three rounds entirely.
That said, I wasn't the first to project the ultra-talented ILB that high and thus we move on.
Here's a look at an updated Packers mock draft that takes into account a likely third-round draft pick compensation for last year's lost free agents, without any compensation coming from Flynn until 2013.
It will be interesting to see what effect, if any, the Saints upcoming "Bountygate" punishments have on the NFL draft landscape as well.
For the first round, I've also added a "stand pat, trade-up and trade-down" feature since all three of these options could be possible for Thompson.
Begin Slideshow

»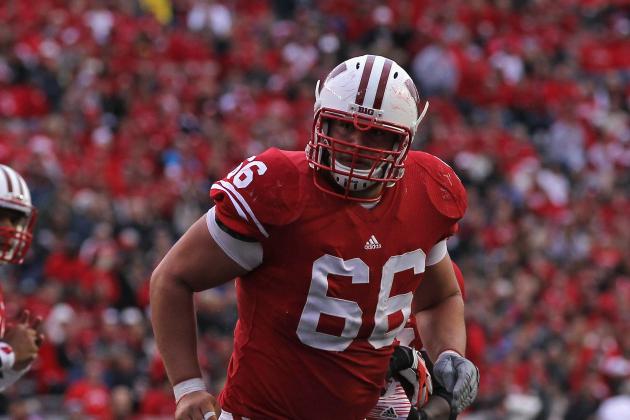 Jonathan Daniel/Getty Images
Peter Konz pulling in Wisconsin's top-tier offense.
Stand Pat at Selection No. 28: Peter Konz, C, Wisconsin
Fans in the Badger state would rejoice as their favorite pro team gets their first ever in-state first-round selection in Konz.
Konz is the unanimous choice as best center in this class and the Packers could start him day-one if Wells is gone and they can't sign an experienced veteran center.
Since the Packers management has had a rough history handling Wells (McCarthy tried to bench him for Jason Spitz even after a great camp from the Wells at one point, not to mention these recent contract negotiation disparities), I expect to see a new face at center.
I know it's not an earth-shattering or surprising pick, but sometimes the logical path proves true even with the unpredictability of General Manager Ted Thompson.
Check out this video of Konz to see what a team-first, classy competitor he is after an emotional Rose Bowl loss this past season.
Trade Up: Dontari Poe, NT, Memphis; Fletcher Cox, DE, Miss. St.; Nick Perry, USC OLB/DE
These three are the best at their respective positions in a 3-4 for this draft class. In Poe's case, he's extremely athletic and the strongest guy at the combine, two talents that are rarely found in combination on a guy who is nearly 350 pounds. For the Packers 3-4, never overlook the importance of the massive nose tackles. With Ryan Pickett getting older and Howard Green entering free agency, the Packers will be extremely thin without some injections of mass, muscle and athleticism into their defensive line.
Get to know Poe in this interview.
Similar to Poe, Cox displayed incredible athletic abilities at the combine, and when you combine that with his play on the football field, he's suddenly the top 3-4 defensive end available.
In these Cox highlights here, the big fella showed some wheels on the fumble recovery, then runs out of gas.
Perry is a talent most mocks have noted as being ideal for the 3-4 OLB role. The problems I see in this are: the transition won't be as smooth for Perry as it was for Clay Mathews and, in connection, the Packers need someone who can actually cover in the linebacking corps.
Perry spent nearly all his time as a DE in USC. The team has a different coach now, which affects NFL projections of talent.
This highlight reel makes Perry look even more impressive, probably due to the heavy metal music. I kid.
Note: Keep in mind, the trading system for draft picks would likely mean the Packers would move up a maximum of 10 picks (3-8 may be most realistic), so the idea is if any of these three fall to 18-25, the Packers would try to jump ahead.
Trade Down: Vinny Curry, OLB Marshall
Another guy who would have to transition from hand-in-the-ground defensive end to 3-4 outside backer. My take is Curry's small-school status puts some risk factor on him being a bona fide first-rounder, and Ted Thompson could take advantage of the value found throughout the second and third rounds by trading down.
Curry's top attribute is pass-rushing ability that the Packers sorely lack currently. Curry would project as a pass-rushing specialist in his first year with the possibility of spending some time in the base defense, depending on his progress in coverage.
No one will like trading down; it just doesn't make a big splash or seem fitting for a 15-1 squad. But I don't see the end of the first round as having a lot of "can't miss" talent that can't be found later.
Here's a Senior Bowl video highlight of Curry getting to the quarterback against NFL-level linemen.

Thompson has a track record of drafting for the long haul, although we have to assume he's also aware of the short window all general managers must recognize for being able to hoist the Lombardi trophy multiple times in a 2-4 year window.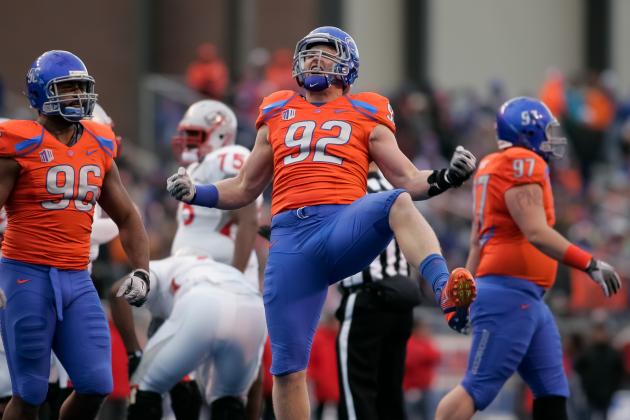 Otto Kitsinger III/Getty Images
McClellin was a relentless member of a Top Five defense this year.
Call me crazy for thinking this, but the value in this round (as well as the third round) and the talent coming out of the Boise State program this year suggests to me the second-rounder will be one of three Boise State guys.
Thompson has some history to suggest he likes how the kids from Boise State are coached, as he drafted both Daryn Colledge and Korey Hall. That's not much to go on, but teams do develop rapport with specific schools, since they begin to learn their coaching staff's style and whether it fits their NFL system.
I keep telling myself to think outside the box of the Boise State prospects, but when you hear reports about how badly the Clemson prospects project from scouts, it gives some credence to program-based picks.
The positive side of it is similar to how many people view Alabama's crop of 3-4 defensive prospects in the first round.
Without further ado, here are the three that could possibly sneak into the second.
My projection: Shea McClellin, OLB/DE, 6'3", 260lbs.

Three-sport star in high school who keeps getting mislabeled as "unathletic" in various mocks. Ran a 4.63 40-yard dash at the combine, tops among defensive linemen (his college position) bunking all belief that he isn't athletic enough.
This could be viewed as a reach pick since many scouts are unsure how he can transition to OLB with his frame and skill set. It's possible the Packers find McClellin in the third round.
That said, this guy screams of "Ted Thompson pick."
Check out this quote from draft insider Frank Cooney on CBS Sports prospect rankings to understand why McClellin fits the character and make-up of a bona fide Packer:
"At Boise State he continued to do whatever was asked and do it well, which was somewhere between defensive end and linebacker. And that's how he enters the NFL, as a hyperactive, efficient DE/OLB who has great field awareness and is as tough as, well, a good old farm boy."
Responds well to coaching? Check. Great motor? Check. Football IQ? Check. Tough, farm boy? Double bonus points (just ask fellow farmhand/wide-receiver Jordy Nelson).
Thompson loves these kinds of guys, and if he gets drafted it won't be surprising to hear Thompson say his favorite post-draft day mantra, "this guy is a real football player" (as if the other 200 prospects aren't football players—but it shows his emphasis on playing the game rather than playing the agent's game or combine game).
Check out this interview (breathless after running a drill) of McClellin here.
This brings up other Boise State alternatives who could be picked by the Packers in the second round...
Since many draft pundits agree the Packers main source of "need" is outside linebacker, the defensive line and safety here are the other second-round candidates for the Packers who spent their college careers in Boise State's second-ranked defense.
George Iloka, S, 6'4", 225 lbs.
CBS Sports' NFL Prospect Rankings list Iloka as the top free safety in the draft class. Though it may be a weak position overall, the possibility of landing Iloka in the second or third rounds would be great for the Packers, regardless of Collins's status. This guy would bring linebacker size with safety speed and instincts to a Packers secondary that lacked an imposing presence on the worst pass-yardage defense.
Iloka was considered an impressive force during senior bowl week, indicating he can translate his college results against elite competition.
Packer fans might cringe at the thought of another Aaron Rouse "safety in LB's clothing" roaming the field, but it stands to reason Iloka has much greater ball skills and is more advanced at his position than Rouse was coming out of Virginia Tech.
His 4.66 combine time won't be viewed as ideal straight-line speed, but Thompson's scout team has a history of viewing "playing speed" as different than combine speed.
You've got to be impressed by the quick, intelligent responses and polite nature of Iloka when interviewed after his combine performance in this video. Another BSU guy who wants to do "whatever the coaches ask of him."
Billy Winn, DL, 6'3", 300 lbs
Like a broken record, one of the first positive attributes used to describe the Boise St. defensive prospects this year is "versatility." Winn fits this descriptor perfectly, fully capable of moving all across the line, depending on the situation. In the 3-4 base, Winn would be a defensive end but in passing downs he could slide inside. With the size and strength to play defensive end in a 3-4, Winn would be an immense upgrade in athleticism over current holdovers Jarius Wynn and C.J. Wilson.
Check out Winn's combine profile on NFL.com.
Honorable Mention: Tyrone Crawford, DE, 6'4", 275 lbs

With all the top BSU guys hovering around the second and third rounds, it's easy to overlook Crawford. He's a Canadian with little previous football experience, but many scouts view his potential as one with great upside. He's coming off only one season of BCS competition and could need multiple seasons to develop into a legitimate NFL player, but someone will pick him in the early rounds based on his frame and ascending stock. I view him as more of a 4-3 end, but if his frame can sustain more bulking up, he could be as versatile as Winn. He did 28 bench reps at the combine which is nothing to scoff at.

More and more, players of Minnifield's smaller stature are proving they can play with the big kids. I think Minnifield slips due to his size, since many NFL teams will be looking for bigger, more physical cornerbacks to compete with the tight-end, wide-receiver hybrids who seem to be growing in numbers.
It never hurts to have NFL bloodlines around draft day, and Minnifield's father was an impressive corner in the NFL. Possibly as a result of his background, Minnifield is said to have top-notch awareness and is advanced on his technique.
Ted Thompson needs a guy who can step in fairly early in the season as a nickel or dime corner and make plays. Minnifield may be the upgrade Green Bay once hoped for when the franchise spent a second-round pick on soon-to-be-forgotten Pat Lee.
Minnifield could even challenge nickel-incumbent Sam Shields if he starts hot out of the gates.
Alternative: Josh Norman, CB, Coastal Carolina, 6'0", 197 lbs, or Casey Hayward, CB, Vanderbilt, 5'11", 185 lbs.

Considered adept at both zone and man, Norman represents the bigger-sized cornerback described earlier. Thompson isn't afraid of small-school prospects, trusting his scouts to make the projection. If Minnifield is likely gone in the second round, Norman is the reverse, a possible reach in the third but not by much, since the Packers pick late in the third as it stands today.
With Hayward, the Packers would be getting a three-year starter who started 37 consecutive games and held his own against the elite SEC receivers of his day (i.e. Julio Jones) to become the all-time SEC leader in interceptions. None of Hayward's combine results pop out at you but that's exactly what everyone expected. Hayward may be underrated in this regard, allowing Thompson to reap the rewards of an extremely accomplished and savvy athlete with top ball skills and football instincts to boot.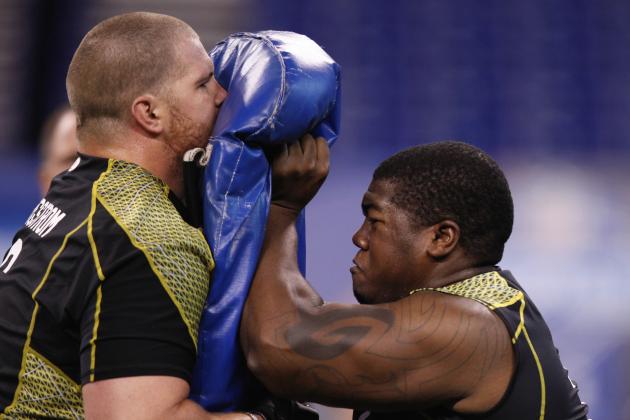 Joe Robbins/Getty Images
Bergstrom (left) in a combine drill.
Comes from a football family, including brothers he played with at Utah and a father who is a college coach and former NFL player.
Bergstrom will enter the NFL as a mature, older prospect after completing a two-year religious service campaign in Germany before his collegiate career began.
Quotes like these would make him a top target of Thompson's scout team (from the NFL combine):
02/23/2012 - "It's pretty exciting. I'm one of those guys who's been watching the combine ever since it's been on the NFL Network. To actually be in it is pretty exciting...(37 career starts. Feel you're ready?) Absolutely. We had a great coaching staff at Utah. I've been through a bunch of O-line coaches who all brought something new to the table. Between the three of them I think they prepared me about as well as I could be...(Your best strengths?) I'm a finisher. You watch me on film and I finish players not just plays. I'm really good with my hands. I get my hands inside. I have a good punch on pass blocking...(RT at Utah?) I was mostly right tackle. I played left as a freshman but switched to right and stayed there after that. I'm happy to move anywhere. I played only left guard in the senior bowl and felt like I did alright there. I played a little left tackle my freshman year. I played center in high school. I've heard all of it. I've heard guys say you'll probably move to guard. Whatever. Whatever it takes to win. I want to win...(Married to Paul Kruger's sister). Paul especially has been a great help. I've been talking to him a little bit. He's been giving me advice on what to expect at the next level and throughout this combine process. (He went against Kruger in college.) He kicked my butt every day as a freshman. It was a good time. - Utah OT Tony Bergstrom, 2012 NFL Combine Transcript
Some might question another offensive linemen being picked relatively early in the draft, but Thompson will prove this spring that you can never upgrade the guys protecting MVP Aaron Rodgers enough.
The 6'5", 275-pounder has a frame that will remind many Packer fans of Aaron Kampman. His on-field attributes of a relentless motor and drive will make the comparison to Kampman uncanny.
Bequette may be one of those high-effort guys who makes the grade despite many scouts saying something to the effect of "he can't carry it over at the next level" or "compete against elite NFL athletes."
The guy only led the SEC in sacks this year with 10, in what many consider the most prestigious conference for NFL-bound prospects.
Bequette, like many Thompson targets, will carry a chip on his shoulder that motivates him to work hard in his NFL career. In defense of Bequette's supposed lack of athleticism, he did achieve the top shuttle and cone times at the combine, two tests which measure agility and quickness.
Though the Redskins' coaches worked Bequette out as a 3-4 OLB at times, I think he projects better as a 3-4 DE or situational pass rusher in Capers's multiple-front defense. Down the road, with added muscle and bulk, Bequette may make for a full-time 3-4 end based on his work ethic and willingness to always improve upon weakness.
In an interesting connection, one of the few scouts who has seen Bequette in practice was Alonzo Highsmith of the Packers, who has a son who plays for Arkansas as reported by the Milwaukee Journal-Sentinel.
Bequette will significantly improve the pass rush from the first level early and often, as Capers finds ways to make it work.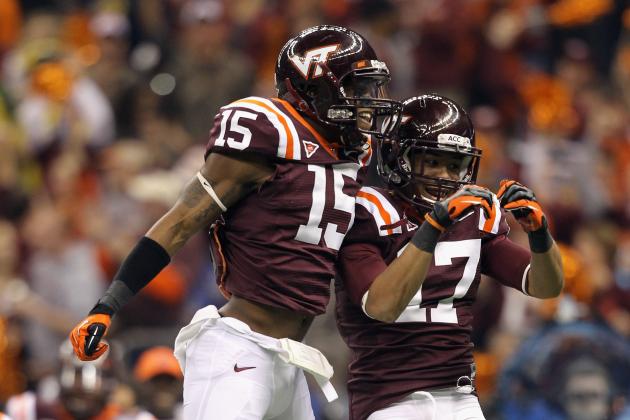 Matthew Stockman/Getty Images
As a team leader, Whitley would provide healthy competition to Boise St.'s George Iloka if both are drafted.
Despite not finding any reason why Whitley didn't participate in the NFL combine, as I envisioned in my first mock, I think Whitley will be a solid addition to both the secondary and special teams units.
The major change from the previous mock is this 2.0 version suggests fellow free-safety prospect, George Iloka, might be taken in the second or third rounds.
The way I see it, the Packers are in a rare position to afford this luxury, as it may encourage further competition at the safety spots regardless of whether Collins is cleared or not.
In other words, if Whitley wows in training camp, he would earn a roster spot over holdovers like M.D. Jennings, or fill in for Jarrett Bush if Green Bay is unable to sign him. If Whitley is a dud, the Packers won't be in any trouble cutting him loose as a fifth-rounder.
Not many teams could take a major health risk (even in the sixth round) to improve their team, but the Packers are positioned well to go for Owusu.
Owusu has had multiple concussions in a short time, making his NFL future full of questions.
His incredible vertical (40.5"), top 40-time (4.36) and impressive 19 reps on the bench press make him stand out at his position in terms of measurables.
Even more impressive is Owusu's resume on the field as a wideout and returner.
According to NFL.com, Owusu is an advanced route runner with good hands.
You might be wondering where the Packers have room for another wide receiver after discovering Randall Cobb is the answer in special teams returns and likely to be a top-three wideout on the team in the coming years.
The way I see it, every year Thompson will bring weapons into the mix for Rodgers to play with, and if it means upgrading to cut a guy from the practice squad that every other team wants, so be it.
Owusu in the sixth round is an ultra-talented, no-risk insurance option on both the offense and special teams if any wideouts get hurt, or if practice squad talents like Tori Gurley and Diondre Borel don't pan out.
Coming from a well-respected program like Stanford may also give Owusu an edge in making the roster that some of the holdover camp bodies don't have.
Adding another element to the wide receiver discussion, we have yet to learn how the Packers will handle Donald Driver's big salary as his playing time diminishes, despite being an all-time Packer legend.
Eric Francis/Getty Images
A top recruit at Tennessee, Coleman left for home when Lane Kiffin flaked out and flared out in UT. Coleman did face some elite competition (seen here against Nebraska).
Like most late-round quarterback prospects, Coleman would have a lot to work on in his game, but his character, intangibles and overall talent still make him a worthy pick.
Considering the impressive McCarthy history with quarterbacks dating prior to his days as head coach in Green Bay, it's likely the Packers would view Coleman's outstanding character and leadership traits as a great backup investment to Rodgers now that Matt Flynn will walk in free agency.
Nobody can be sure about backup quarterback Graham Harrell's progress, and even if Harrell makes strides the Packers will need to continuously bring in new blood at the quarterback position, developing late-round talent that other teams couldn't possibly make starters.
Coleman profiles as a strong-armed, mobile signal-caller with some mechanical issues in his delivery, similar to a late-round version of what many criticized about Aaron Rodgers early in his career coming out of California.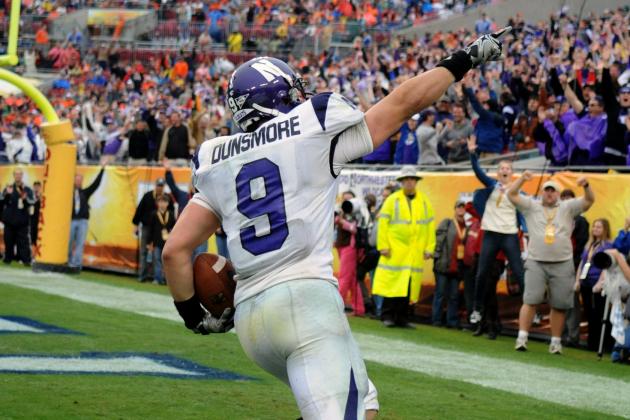 Al Messerschmidt/Getty Images
A solid red-zone target, Dunsmore had four TDs in one game against a Big Ten foe.
While many UFAs in my mock version 1.0 might still remain UFAs by the end of the draft, others like Devon Wylie have skyrocketed after an impressive combine.
Here's a look at a few new names that may be UFAs in Packers' camp after April's draft.
Michael Smith, RB, Utah State
You may be sitting there thinking "but isn't Robert Turbin the only bona fide RB prospect out of Utah State?" But, prior to injury, Michael Smith was worthy competition to Turbin. In fact, others in the collegiate landscape recognize Smith's ability as he was invited to the North-South all-star game recently.
Drake Dunsmore, FB/TE, Northwestern
A lot of Packer fans are familiar with Wisconsin fullback Bradie Ewing's talents, and Ewing deserves to be on radar as a possible late pick. However, fellow Big Ten standout Dunsmore may have more of a knack as a red-zone receiver with the versatility to line up at both fullback and tight end.
As a tight-end, Dunsmore was on the John Mackey Award list for two seasons as a top tight end nationwide.
At the combine, Dunsmore posted top results for his position in nearly every category, including the top performer in 3-cone drill and 20-yard shuttle. These two tests may indicate explosiveness in the short-area passing game that teams covet.
Chris Greenwood, CB, Albion
It's not easy to find corners who are 6'1" and run a sub-4.40 40-time. Though Greenwood would have a lot of football to learn in a one to two-year window, the Packers could keep him on their practice squad and have him learn from some of the greatest position coaches in the NFL in Joe Whitt and Darren Perry.
William Vlachos, C, Alabama
Just about every one of Vlachos's teammates is getting props in this year's draft, but somehow Vlachos is projected as a UFA according to CBS Sports' prospect ratings. Some of the greatest centers get overlooked as not having ideal measurables (e.g., Jeff Saturday and 2011 Packers pro-bowler Scott Wells). Vlachos is a team leader who does the center's job of deflecting praise across the board to his teammates all too well. This guy could surprise folks down the road as he did during his career at Alabama.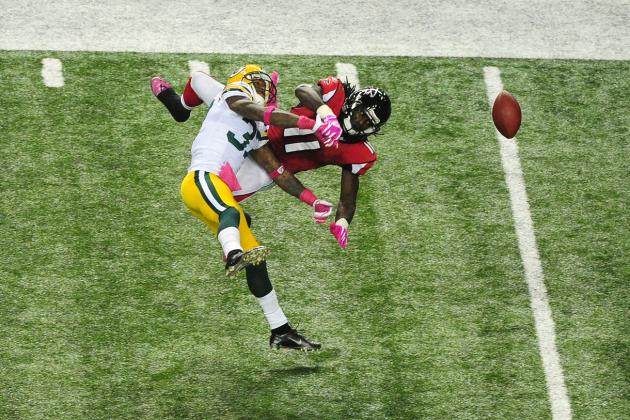 Scott Cunningham/Getty Images
Sam Shields emerged as a 2010 UFA who is now featured as Green Bay's nickel CB.
As pro days start to accumulate, look out for the third version of my mock drafts and feel free to share your opinions and insights in the comment section. Enjoy the ride this off-season.
Some questions for readers to consider:
Who is going to shoot up draft boards?
What top talent represents the big-play ability the contending Packers are looking for?
Which player(s) totally disappoint you and are listed as first-round talent?
Which guys have you heard have the most outstanding character?