7 Reasons for the St. Louis Rams to Draft RGIII and Trade Sam Bradford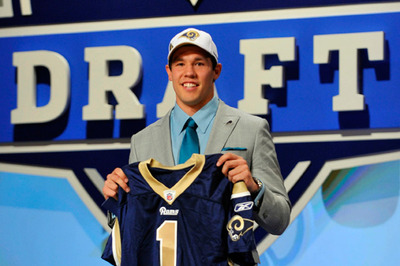 Sam Bradford at the 2010 NFL Draft
Quarterback Robert Griffin III had a stellar showing at the 2012 NFL Scouting Combine on and off the field and many feel (like the National Football Post) that the biggest winner from his performance there was the St. Louis Rams as the value of their No. 2 pick in the 2012 NFL Draft has trended upward like that of the highly anticipated iPad 3.
Before we look at seven reasons why the Rams should trade Sam Bradford and select Robert Griffin III, let me state for the sake of clarity: I do not think the Rams will trade Bradford as Jeff Fisher has said that is not an option, nor do I necessarily believe they should, either.
However, if one were to push for RG3 over Bradford in St. Louis, the following seven reasons would be the foundational pieces that I would use to build my argument upon.
Begin Slideshow

»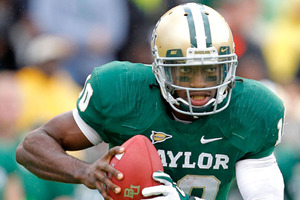 Robert Griffin III
One reason to select Griffin III and to trade Sam Bradford would be a lower projected RG3 salary over the next four seasons.
According to a Charles Casserly column for nfl.com, keeping RG3 rather than Bradford would result in a cost difference of $26 million dollars, freeing up cap room for St. Louis to use on other players.
With a team that went 10-65 over the last five seasons and won three or fewer games in four of those five campaigns, possessing more financial flexibility to upgrade the roster at large is appealing and could be highly beneficial to the Rams going forward.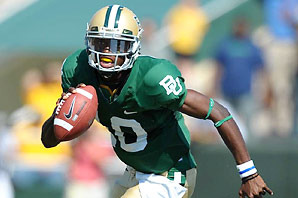 Robert Griffin III
RG3 possesses track star speed and more athleticism than Bradford (who is no slouch in that regard himself).
While Bradford is a very good athlete by most standards, he rates well behind Griffin III in that department.
If Bradford is going to beat you, it is going to be via his arm, predominately. However, RG3 possesses the ability to beat you with his legs, too, a la Steve Young, John Elway, Mike Vick, Randall Cunningham, Tim Tebow and Cam Newton.
That ability in and of itself certainly does not necessarily mean RG3 will be a better quarterback than Bradford. After all, many quarterbacks who could run (such as Vince Young) have developed into less successful pro quarterbacks than those who could not (such as Peyton Manning).
However, RG3 brings a more diversified portfolio to the table than Bradford and his world-class athletic ability (and talent in general) dictates that he can beat a defense and beat a team in more ways than one, making him of greater theoretic appeal at number two.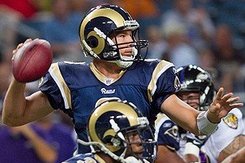 Sam Bradford
Charles Casserly of CBS Sports is one of the sport's highly regarded analysts who believes that Bradford could bring more in a trade than Griffin III could, as he details here for NFL.com.
Casserly feels Bradford has the advantage because he has already showed what he can do in 2010, playing well and earning the NFL Offensive Rookie of the Year Award.
He also believes he was a more accurate passer coming out than RG3 is.
Furthermore, Bradford (24) is only two years older than the Heisman winner from Baylor (22) so teams would not hesitate to trade for him due to long-term age concerns.
In addition, Bradford has four years remaining on his contract, the same that RG3 is expected to have after signing his rookie deal.
Casserly feels the Rams might attain two first-round picks for Bradford, plus another pick or player and could keep Griffin III while saving $26 million dollars in doing so.
His logic is sound and if Bradford could indeed bring more via trade than RG3 while saving the Rams major money, this must be stated as another reason to argue for a hypothetical Bradford trade.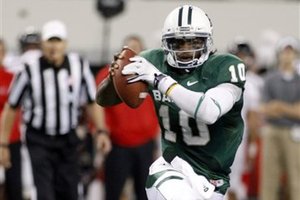 Robert Griffin III
The Edward Jones Dome is a fast track and the Rams had their best years in St. Louis when they loaded up with premiere athletes like Marshall Faulk, Az Zahir Hakim, Torry Holt and Isaac Bruce and turned them loose on the turf of the EJD.
Now, do not get me wrong; those guys could have excelled on grass, on a rubber floor, on a parking lot or in sand, but they loved playing on the turf as it accentuated their speed and made running their routes easier.
If anyone remembers how Isaac Bruce would sometimes struggle to keep his footing playing on the grass, you will understand what I am talking about here.
Again, Griffin III will be a great athlete and a tremendous threat regardless of the primary surface he eventually plays on.
However, his athletic attributes would translate best to playing on a consistently fast track like that of the aforementioned EJD, which would make for a perfect home field for him to perform upon.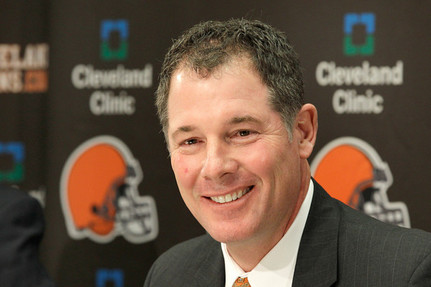 Pat Shurmur
It was under the tutelage of then offensive coordinator Pat Shurmur (now the head coach of the Cleveland Browns) that Bradford played his best football in his brief two-year career. By all indications, Shurmur and Bradford had a synergistic working relationship in the Gateway City.
It was Shurmur who called the plays for Bradford in 2010, his Offensive Rookie of the Year campaign.
At this stage, it is unclear if the Browns like Bradford or RG3 more. According to John Czarnecki of Fox Sports, Mike Holmgren's Cleveland coaching staff is still unsure of what to do with RG3.
If the Browns prefer Bradford and would give up more to get him, this would be a fifth reason for the Rams to consider moving the former Oklahoma Sooner out of St. Louis.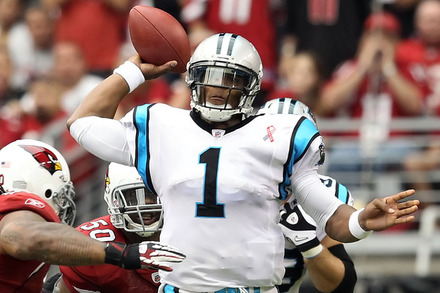 Cam Newton
If you watched as much action around the league this year on the NFL Sunday Ticket as I did, you can probably recall at least an instance or two when you saw a quarterback like Tim Tebow of the Denver Broncos or Cam Newton of the Carolina Panthers scramble, attract multiple defenders' attention and create an opening for a player down the field before connecting on a big play.
That is something that RG3 will bring to the table, too.
He has the ability to make skill players around him better, at least in these particular instances, by drawing defensive attention away from passing options downfield and to himself, helping to free them up for easier receptions.
Although everyone expects the Rams to address the wide receiver position during the 2012 NFL Draft and/or the upcoming 2012 Free Agency period, RG3 could help run even a subpar group of receivers (like those of St. Louis the last two seasons) open.
The multidimensional threat that is RG3 can make the jobs of skill position players around him easier due to the aforementioned abilities that he possesses, making this another theoretic reason to deal Bradford and grab Griffin III.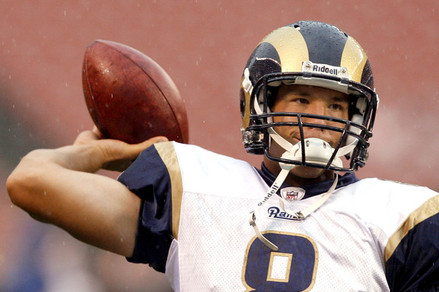 Sam Bradford
Many St. Louis fans grew extremely frustrated with Bradford's tendency to lock onto his primary receiving option far too often in 2011.
That must improve if Bradford is to become the franchise QB that the Rams hope and believe he will become (as do I).
To be fair, however, Bradford had a lot working against him last season:
-He was again dealt a subpar group of weapons to work with in the passing game.
-His pass protection was inconsistent and poor overall.
-He played with a bad ankle through a significant portion of the year.
-He had a shortened offseason and a second offensive system to attempt to implement in as many seasons.
-He lost his QB coach to retirement (Dick Curl) and his offensive coordinator (Shurmur) following the 2010 campaign.
That said, in the NFL, you have to get it done. If not, you will be done, at least as a starter.
Bradford absolutely must improve on his penchant for staring down receivers and must become better at scanning the field and moving through his reads.
At this stage, it is impossible to tell if RG3 will be able to do a better job of this than Bradford did in 2011, but one could argue that it would be tough to do much worse.
If the Rams were to hypothetically believe that Griffin III will become a better QB in this regard long-term, this would be a seventh reason to move Bradford and take RG3.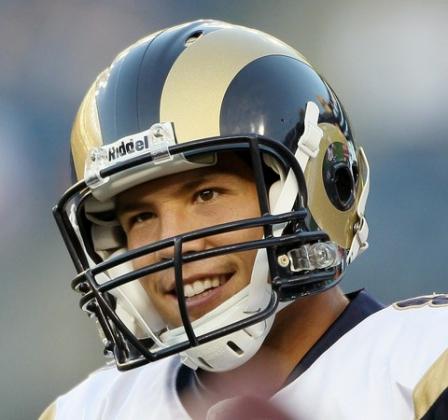 Sam Bradford
Once again, I do not feel the Rams will trade Bradford nor do I ultimately feel that they should. However, this article was designed to present a fair argument as to why a consideration of the theoretic idea of doing so could make sense, at least on paper.
St. Louis will go forward with Sam the Ram and I do believe he will develop into the franchise-type quarterback that Rams head coach Jeff Fisher and general manger Les Snead believe he will be.
RG3 is likely to become a terrific NFL QB himself, but that is almost a lock to occur outside of St. Louis.
It will be interesting to see how it plays out down the road and I will be looking back at this column a few years from now in retrospect, and will compare the careers of Bradford and RG3.
Fisher has said that what the Rams do with the number two pick will "define the future of this franchise going forward".
Whatever your take is on what you would like St. Louis to do with the pick, the key thing is that they get it right, as the aftermath of the certain upcoming trade of the premium draft pick will be crucial to the Rams future.
Shane Gray covers the St. Louis Rams year-round. You are encouraged to check out the rest of his work here and to follow him on Twitter.