Buffalo Bills 2012 NFL Mock Draft: 7 Rounds
Joe Robbins/Getty Images
Bills owner Ralph Wilson, Jr. hopes to finally bring a winning culture back to Buffalo
Completing an entire NFL mock draft is like trying to put together a 300-piece puzzle with the pieces upside down.
Okay, maybe it's not that hard. But it's certainly tricky. And I don't want any part of it.
I did, however, compile a full seven-round mock draft for the Buffalo Bills as I attempted to take a realistic approach to what the Bills could accomplish in the 2012 NFL draft.
The following picks are certainly up for debate and will undoubtedly be affected by what happens in free agency and what other teams do in the draft. There's no formula for this kind of thing.
But by now, we Bills fans know there are certain areas of need that must be addressed. And with that, we can at least begin to speculate about who might fit, where they might fit and when they might be available.
Take a look ahead to find out how I think the Bills can address their needs come April.
Begin Slideshow

»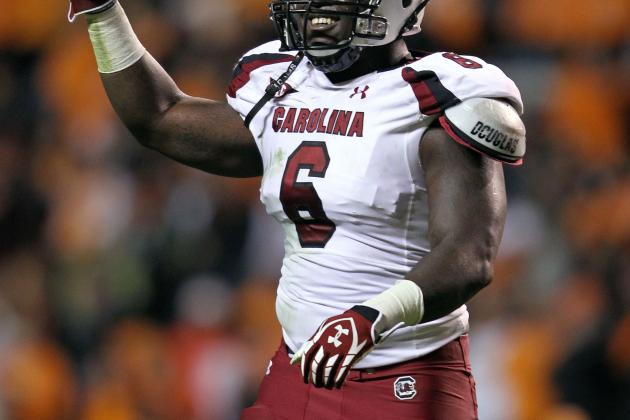 Andy Lyons/Getty Images

With Steve Johnson finally locked up for the long haul, the Bills will almost certainly go pass-rusher with the 10th overall pick in the draft.
I know all the hype is about USC's Nick Perry right now, but I just think Ingram is too talented to pass up at pick 10. Courtney Upshaw, who fits a little bit better in a 3-4 scheme, had a somewhat disappointing combine, and prospect Whitney Mercilus might be too much of a risk in the Top 10.
Melvin Ingram, meanwhile, has everything the Bills would want in a pass-rusher except arm length and height.
At this point of the offseason, it's absurdly easy to be caught up in measurements. Despite Ingram's short arms and less than ideal height as a pass-rusher, he still demonstrates the explosiveness, consistency and versatility to be a legitimate threat off the edge.
When GM Buddy Nix, head coach Chan Gailey and new defensive coordinator Dave Wannstedt get together to deliberate this pick, there's no denying that Ingram's pure athleticism will force the Bills' hand.
At pick 10, Buffalo will get an immediate playmaker with all the right character skills the organization values.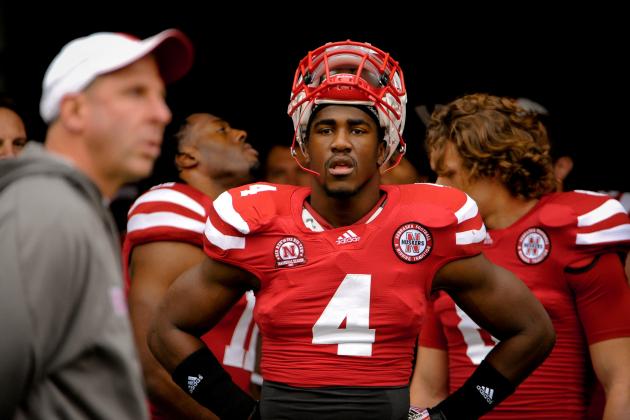 Eric Francis/Getty Images

The linebacker position overall is not a deep one in the 2012 draft class. Nebraska's Lavonte David may be a slight reach here, but he fits the mold of Dave Wannstedt's 4-3 defense, which will emphasize fast, instinctive players at the OLB position.
David is a great fit in the 4-3, even though he is a tad undersized at 6'1", 225 pounds. He'll fit in best as the Will and is great against the run. CBSsports.com had the following to say about this young talent:
David is Mr. Max, as in maximum effort, attitude, results and, unfortunately, his size, which he cannot increase any more. NFL scouts aren't sure whether to play him at linebacker or strong safety. But somebody will draft him, put him on the field somewhere and he will do what he has always done—tackle people.
Wannstedt recently told Chris Brown of BuffaloBills.com that he is seeking "fast linebackers" who aren't situational role players. With David, he'll get what he's looking for.
The former Cornhusker is an exceptional athlete with an impressive college résumé. His production and consistency at Nebraska will stand out to Bills GM Buddy Nix.
Buffalo will also be looking for a strong-side linebacker, but the addition of David will give the Bills flexibility with veteran Nick Barnett and younger players Danny Batten and Arthur Moats.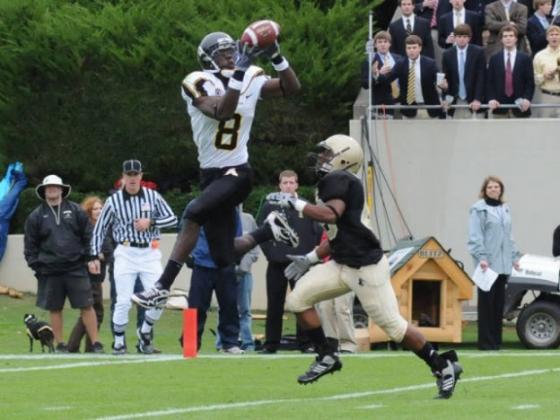 Photo from ChicagoNow.com
Buffalo will catch the tail end of the wide receiver sweepstakes this April, but it will be worth the wait.
Quick is a small-school prospect with big-time potential. At 6'4" and 220 pounds, he has a unique combination of size and speed. His combine performance will certainly help his value, as he ran a 4.55 40-yard dash and posted a 34" vertical jump.
The only concern teams may have about the wideout is his transition from a small-school football program to the NFL.
Buffalo is in a good position here to land a talented prospect who doesn't have to be thrown to the wolves right away. With a little coaching to polish his route running and ability to read coverages, Quick could be quite the steal in Round 3.
Quick might not last this long, but if he's still available the Bills will pounce on him. He possesses the athleticism, size and speed Buffalo is looking for to complement Steve Johnson on the outside. Throughout the combine extravaganza, he's quietly been waiting behind the shadows of other big-name receivers of this year's draft.
The best thing about snagging him in the third round is that the Bills won't have to reach to get an exciting wide receiver. In Quick, Buffalo will add a deep threat, a physical pass-catcher and a legitimate red-zone target.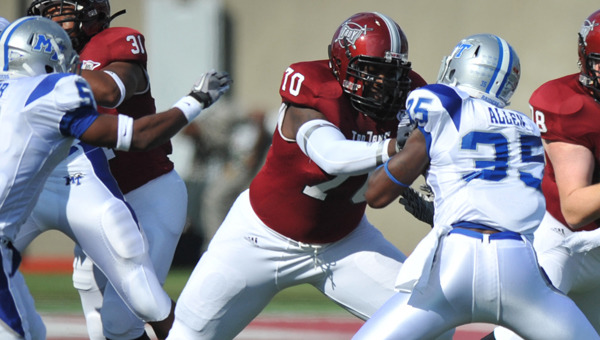 Photo from TroyMessenger.com
Brown would be a steal at this pick. He started all 13 games last year at left tackle for the Troy Trojans and performed extremely well against strong competition.
NFL.com projects Brown as a guard at the next level, citing the lineman's height and superior run-blocking abilities as the primary reasons.
Even so, Brown's experience at tackle offers tremendous versatility. The Bills will get an exceptional athlete who can not only protect the blindside but also mold into an interior mainstay, should they decide to have Brown make that transition.
A competitive, hard-working young man, Brown demonstrates sound technique and impressive agility. The front office will have a difficult time ignoring his potential to play multiple positions.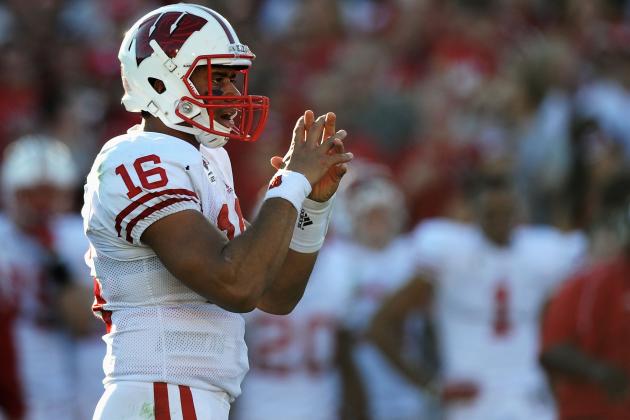 Harry How/Getty Images

Fast. Mobile. Strong-armed. Accurate. Smart. Productive in college.
Sounds like the makings of a franchise quarterback.
But for Russell Wilson, the only thing holding back his draft stock is his size, as he stands at only 5'11". Bills head coach Chan Gailey won't mind, though, as he'll understand that Wilson's strengths greatly outweigh the quarterback's lack of ideal height.
In an article on ESPN.com, Pat Yasinskas quoted former NFL quarterback Chris Weinke as saying, "If he was 6-5, he'd probably be the No. 1 pick in the draft."
Weinke mentions Wilson's intelligence, excellent feet and strong character as a few of his assets as a future NFL QB. Even though he is smaller than the prototypical signal caller, finding a player with those qualities in the fourth round is a terrific value.
Wilson will bring a gritty, underdog mentality with him to the NFL. He'll have a chance to develop in Gailey's system and learn from Ryan Fitzpatrick.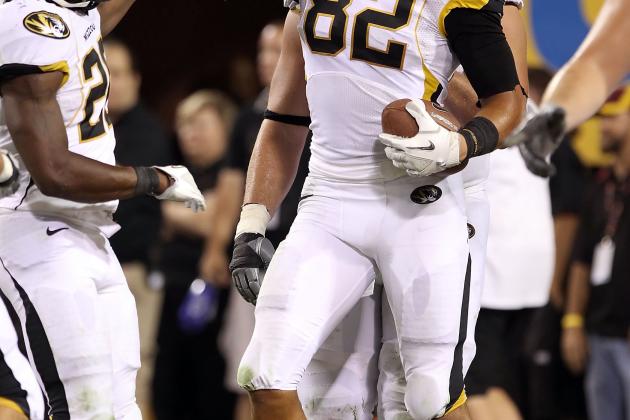 Christian Petersen/Getty Images

Michael Egnew had a strong combine and an equally strong pro day. It would be a mild surprise if the Bills opted to address tight end in the draft, but Egnew would offer Buffalo something that the league's best offenses all possess: a big, athletic pass-catcher at the tight end position.
Buffalo is currently working to re-sign free agent Scott Chandler, who at 6'7" is a huge target for Ryan Fitzpatrick. Egnew would be a nice complement at 6'5", 252 pounds with exceptional receiving skills.
Though he is currently a poor blocker, Egnew won't be asked to function that way early on. The Bills will be intrigued with his athleticism and immense pass-catching abilities.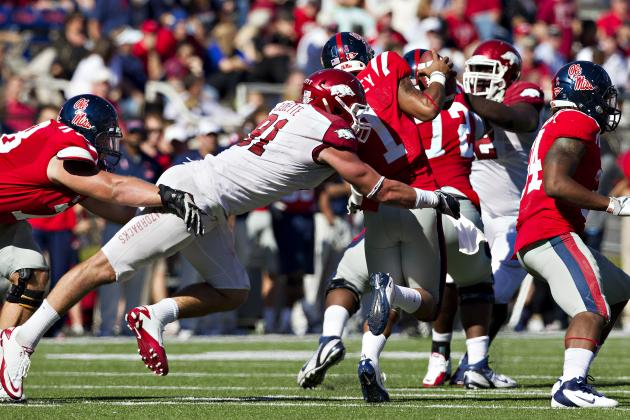 Wesley Hitt/Getty Images

It's Bequette, not briquette. Get your head out of the barbecue, people.
Here's a guy who is not an elite defensive lineman, not exceptionally fast and not exceptionally strong. So what do the Bills want with him?
Jake Bequette is great at setting the edge. He has been very consistent and durable throughout his career, and he offers team leadership and versatility.
Bills defensive coordinator Dave Wannstedt recently discussed how he envisions the D-line truly being the difference in his defense. In his interview with Buffalo Bills lead journalist Chris Brown, Wannstedt stated the following:
For us to take a jump, our front four needs to make a difference. They need to make an impact. Our defensive line, as a group, [needs] to be a major, major factor, run and pass, every week after week after week for this defense to work.
What Bequette lacks in pure athleticism, he makes up for with intelligence, competitiveness and leadership. His high motor will complement the natural talents of Kyle Williams and Marcell Dareus on the inside, and his big frame (6'5", 274 pounds) will help establish a presence against the run.
The Bills are looking for someone to set the edge at defensive end, and Bequette has proven that he can do that.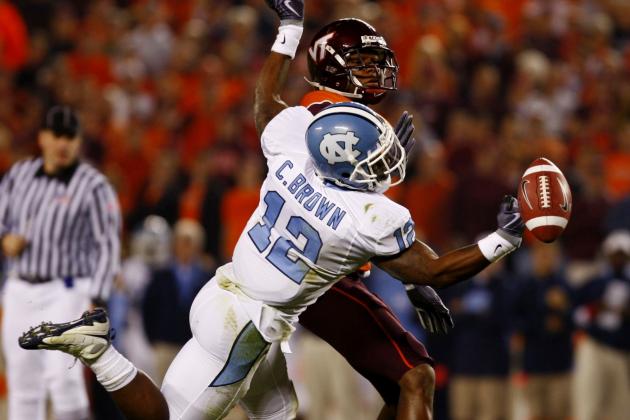 Scott Halleran/Getty Images

Last year, the Bills found some excellent underrated prospects out of North Carolina in Da'Norris Searcy and Johnny White. They could continue the trend in 2012 by taking another Tar Heel, cornerback Charles Brown.
Brown is a smaller corner at 5'9", but he's also compact at 202 pounds. Much like Bills veteran CB Terrence McGee (5'9", 208 pounds), Brown is physical and supports the run well. To succeed in the NFL, though, the undersized corner will need to hone his coverage skills.
Buffalo may address corner earlier in the draft, but this is a deep class at the position. There is talent to be had in later rounds, and Brown is just one example of that.
With the Bills, he could be eased into nickel and dime packages since the team already has McGee, Aaron Williams, Drayton Florence and Leodis McKelvin at the position. With above-average depth at safety and a hopefully improved pass-rush in 2012, this secondary will continue to gel and post strong turnover numbers.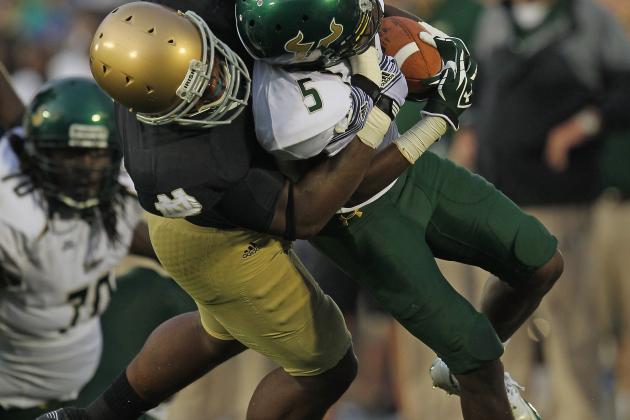 Jonathan Daniel/Getty Images

At pick 200, Buffalo could wrap up the draft with another linebacker to fill in on the strong side.
Notre Dame's Darius Fleming (6'2", 245 pounds) offers a good combination of size and quickness. He posted 27 reps of the bench press at the combine and posted a 33.5" vertical jump, showing that he has the kind of strength and explosiveness the Bills could use.
Although he played mostly in a 3-4 scheme for the Fighting Irish, CBSsports.com projects Fleming as a 4-3 strong-side linebacker. His experience as a pass-rusher will appeal to Buffalo, who despite their recent switch to a 4-3 base will still implement hybrid fronts.
Whether he lines up as a DE or OLB, Fleming can help establish stability in Buffalo's front seven. More of a tackler than a cover guy, he'll offer Dave Wannstedt some flexibility with defensive packages.
Follow @JoshCembellin on Twitter