Ndamukong Suh: NFL's Bounty Gate Should Clear Detroit Lions' Star of Dirty Tag
March 5, 2012

Jerry Markland/Getty Images
If there's anyone that should take advantage of the NFL's latest black eye it's Detroit Lions defensive lineman Ndamukong Suh. He's endured a full season's worth of negative publicity related to his purported dirty play. The media dragged him through the mud all year long.
Bounty-Gate should cleanse Suh, and his Lions brethren, of all that dirt.
Suh garnered the label because of his tendency to play through the whistle and the obvious delight he takes in crushing quarterbacks. All positive characteristics of an NFL defensive player if you ask me. Yet he's been singled out and attacked.
To his credit he's vehemently denied the dirty tag, but the media wouldn't let it die. Now he has every right to shout from the hill tops, "I told you so."
Suh's too humble to do that, but he did comment on the subject. He was quoted Sunday by the Charlotte Observer:
"It's unfortunate to hear these things come out. Me personally, I don't take part in those things and knowing my teammates and knowing my coaches, we wouldn't allow that."  
Suh refers to the solidarity that exists on his team and—if it's true—that is a wonderful thing to hear. You'd hope that the leadership on all NFL teams would be strong enough to quash a thing like this before it started.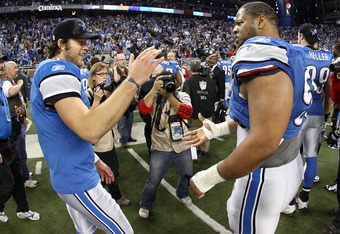 Dave Reginek/Getty Images
Unfortunately, we know that isn't the case.
What is puzzling to me is that player solidarity was something crammed down our throats during the NFL lockout. The players were acting as one. They were united against the greedy owners who wanted to keep them from billions of dollars in revenue.
Bounty-Gate makes that demonstration of unity seem laughable. Players stand together when huge amounts of money are at stake but when the season starts they'll try to end each other's career for what amounts to pocket change?
Nothing says solidarity like sending the other guy to the hospital I guess.
We've often heard players talk about the small window of time they have to play. Injuries are a part of the game and at any time a career can be over.
Yet the same players target opponents like Brett Favre and Kurt Warner and try to cause "knock outs" or "cart-offs."
The hypocrisy on display is shocking. Anyone who accused Suh and his teammates of being dirty should stand up and apologize. After all, anyone who's played in the NFL knew about the existence of bounties.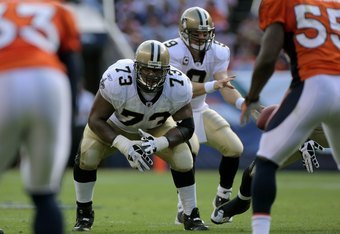 Doug Pensinger/Getty Images
How Suh and the Lions could be called dirty when all of that was going on is puzzling.
Jahri Evans had it going on in his own locker room yet still had the gall to call out Suh as dirty. Talk about the pot calling the kettle black.
According to ESPN.com, Williams and NFL commissioner Roger Goodell are going to meet today and rumor has it stiff penalties will be handed down in the wake of the scandal.
That should eliminate this ugly practice from NFL locker rooms and further the league's push to improve the safety of its players.
I also hope it stops the ridiculous habit of accusing anyone who hits too hard of playing dirty. In a violent sport like the NFL pushing the limits of the rules isn't dirty. It's the norm. That's how players are coached.
A bounty program is something else entirely. It's anti-sportsmanship and anti-professional. It's the ultimate act of selfishness with potentially deadly consequences. Goodell deserves credit for taking swift action.
Maybe his actions will enlighten—or remind—the rest of the NFL about what being dirty really means. Then maybe Suh can shake that big "dirty" monkey off his back.