2012 NFL Draft: Arizona Cardinals' 7-Round Mock Draft, Post-Combine Edition
Chris Trotman/Getty Images

I love this time of year.
The NFL Scouting Combine kicks off the league's offseason as the glorious feeling of renewed hope excites every nerve ending in your body. The excitement forces the rumour mill into overdrive, and what else are we to do but join in on the fun.
There's nothing like seating yourself in your own little make-shift war room and playing GM for a few hours, and that's what I plan on doing just here.
To read my first mock draft, be sure to click here.
Begin Slideshow

»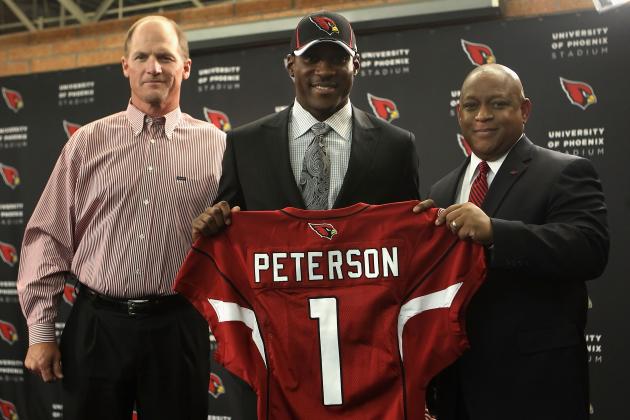 Christian Petersen/Getty Images

Now, I feel obliged to give you all a very brief insight into my general thought process when it comes to the draft, as it will only make it easier for you to understand where I'm coming from with each selection.
Firstly, in the first three or four rounds, I am a believer in the mantra "talent over need." Although, this is only true to a certain extent (it's impossible for need not to impact on the thought-process in some fashion), I do feel as though a team is better off selecting the more talented player in the earlier rounds (Levi Brown over Adrian Peterson, anyone?).
Secondly, I am a sucker for a player who produced consistently in college. If a player managed to get the job done in college, then I feel far better about their chances of doing the same in the NFL, and production is just what I'm looking for from my rookies.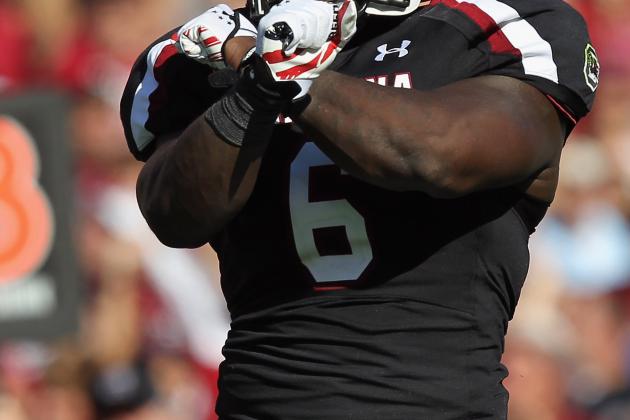 Streeter Lecka/Getty Images

Previous Pick, David DeCastro, G, Stanford
During the past fortnight, it'd be right to say that I have fallen in love with Melvin Ingram.
I am a huge DeCastro fan, and think that he is capable of spending the next 10 years making annual trips to Hawaii. However, the explosiveness and versatility of someone like Melvin Ingram is simply too unique to pass up.
Ingram is quick (4.18 20-Yard Shuttle), strong (28 reps on the bench), and is insanely athletic (the guy did a darn standing back-flip the other day). A back-flip! Tell me how many guys that are 264lbs can do a back-flip?
He recorded 10 sacks last season, proving he can get to the passer. Not to mention that he is also great in coverage.
Ingram would be a fine selection if he's still around at 13.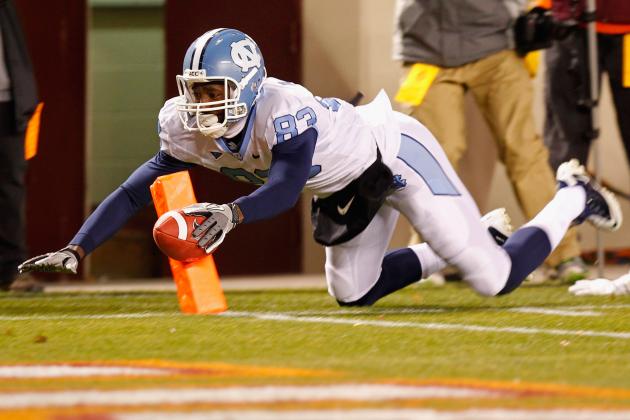 Geoff Burke/Getty Images

Previous Pick: Markelle Martin, FS, Oklahoma State
Another draft, another third-round receiving prospect.
Now someone tell me what I'm missing, because I just don't understand why Dwight Jones does not have a higher grade amongst draft gurus?
He is the right size (6'3", 230lbs), he is quick (4.55 40-Yard Dash), and has been a reliable receiver at North Carolina (85 receptions, 1196 yards, 12 touchdowns last season).

I understand that he may "go missing at stages during the game," but I'm pretty sure that could be said about almost any receiver to have ever played football not named "Jerry Rice."

Besides, who better to take a talented, young receiver under their wing than Larry Fitzgerald? In the desert, Jones has the opportunity to truly blossom and turn into a fine receiver.

I'd love to see Martin or Iloka on the board at 82, but I don't see that happening after both had impressive combines.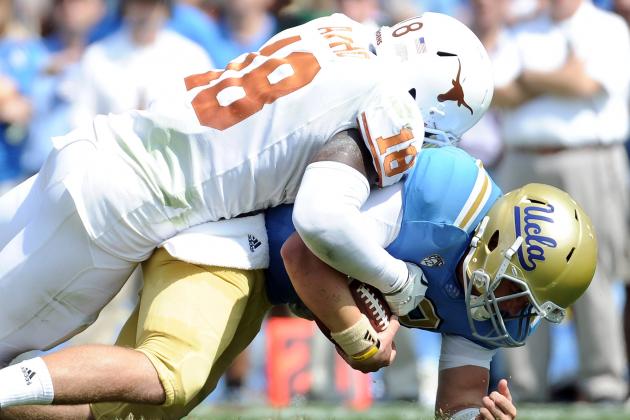 Harry How/Getty Images

Previous Pick: Bruce Irvin, DE/OLB, West Virginia

Firstly, I love Bruce Irvin.
I have nothing but admiration for the way he navigated his life after a tough upbringing, and I feel he can be a great speed-rusher on the outside in the NFL. But, he is just far too talented to last this far into the draft.

Hence, Emmanuel Acho falls right into our laps.

Much like Ingram, the name of Acho's game is versatility, and he's just the sort of player Ray Horton will love to be able to throw into his system.

Acho can play outside and rush the passer, but in my opinion, he'd be best suited alongside Daryl Washington on the inside, as his instincts and motor will make him a fine inside linebacker.

He won't have to contribute immediately with Lenon and Bradley still in the fold, hence he will have plenty of time to hone his skills whilst making significant contributions on special teams.

I know that there are a ton of fans dying to see the Acho brothers pair up in the desert.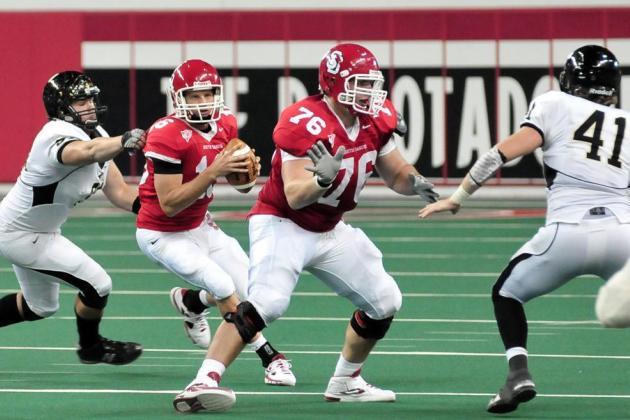 Previous Pick: Jeff Fuller, WR, Texas A&M
I think, as fans, we almost always find a small school prospect who we just fall in love with. With no shame, I'd like to say that, for me, Compton is that guy.
Coming out of South Dakota, he was essentially an unknown heading into the combine, only to come out the other end with a bit of buzz about his name.

He ran an impressive 5.11 40-yard dash, leaped an impressive 108 inches, and ran the 20-yard shuttle in an impressive 4.60. At 6'5" and 314lbs, there are no questions about his size, either.

All of a sudden the All-Time Great West Conference Team, and the 2011 FCS All-American First Team member is turning some heads in the scouting world.

Just don't tell me that I didn't see it coming, as he was a prominent feature in my last mock draft as the Cardinals' sixth-round pick.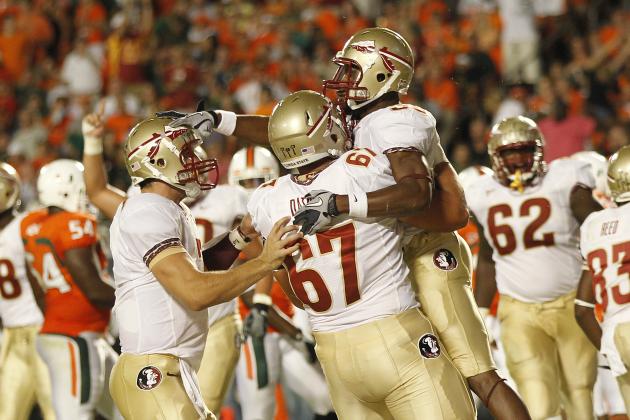 Joel Auerbach/Getty Images

Previous Pick: Not previously mocked
This is the first time I've included this pick in a mock draft, as it's the first time I have been somewhat certain that this slot will belong to the Cardinals.
Arizona received a sixth-round draft choice from the Washington Redskins for Tim Hightower, and Washington's only other sixth-round pick is the third pick in the sixth round, initially owned by Minnesota (trade for Donovan McNabb).
Hence, one can safely assume that this pick will belong to the Cardinals come April.
With this pick, the Cardinals take Florida State offensive tackle Andrew Datko. Datko used to carry a second or third round grade with him, albeit a nasty shoulder injury sidelined him for nearly his entire senior season, dropping his stock dramatically.
The injury may have dropped Datko off the radar, but this kid is still talented. He is 6'6" and 315lbs, and ran a super-impressive 4.54 20-yard shuttle at the Combine.
Prior to his senior season, Datko started in 36 of 39 games, and only surrendered 3 sacks in his junior campaign.
Similarly to Compton, he is a raw tackle prospect who Russ Grimm will be dying to get his hands on.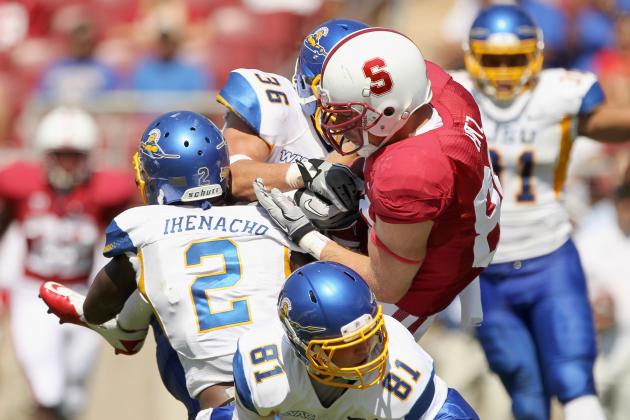 Ezra Shaw/Getty Images

Previous Pick: Tom Compton, OT, South Dakota
Another smaller school prospect, Ihenacho provides great value at this stage in the draft, and given the inevitable aging process that Adrian Wilson may fall victim to, he also fits an important need.
Ihenacho has done it all at his time in college. He played some cornerback, and played at both safety positions throughout his career, which is indicative of the solid, foundational skill-set that he possesses.
He is great in the ground game, and loves to hang around the box, albeit is more than adept in coverage.
He has the luxury of learning from Wilson for the next few years, and has the ability to become an instant contributor on special teams for the Cardinals.
Ihenacho would make for a great value pick in the middle of the sixth.

Not to mention he has "acho" in his surname, so odds are, he must be good!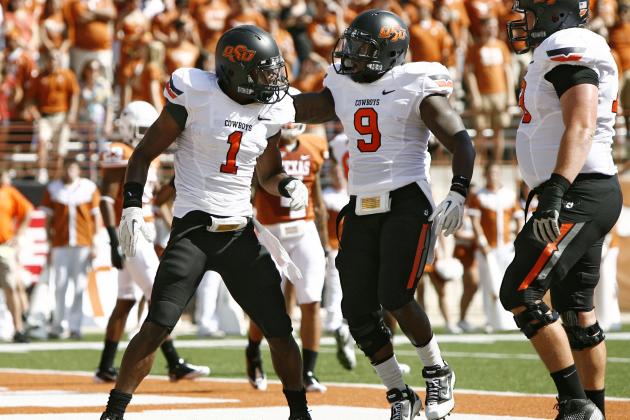 Erich Schlegel/Getty Images

Previous Pick: Max Gruder, ILB, Pittsburgh
Now someone please explain to me why on earth Levy Adcock is rated so poorly amongst most draft experts?
Our very own Shaun M. Church swears by him as one of the draft's most underrated players (although come on Shaun, we all know the majority of that love affair comes down to their haircut) and, when I do my research on Adcock, I just cannot help but agree).
Adcock has won much of his praise due to his stellar play in the running game, although he is certainly no slouch in the passing game, either.
In fact, this young tackle did not allow a single sack in 2010, and as a result, was named to the All Big-12 First Team as a result.

To last a whole season in college without allowing a sack is wildly impressive, particularly when your team is running an offense which thrives off of the pass.

Adcock may well become a very solid right tackle in the NFL.