2012 NFL Draft: Looking at Potential Quarterbacks for Green Bay Packers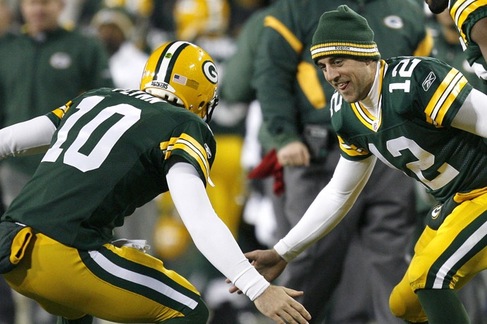 The Green Bay Packers have done a great job in recent history of finding capable backup quarterbacks late in the draft, and even after the draft. Except for the disastrous second-round selection of Louisville QB Brian Brohm, Green Bay has a relatively successful track record drafting at the position. Fortunately, the Packers were able to find a seventh-round gem in Matt Flynn the same year they wasted a pick on Brohm.

There isn't a simple, cookie-cutter mold for what the Packers like in their quarterbacks, but there are a couple characteristics that they all share. Flynn, Brohm, Graham Harrell and Aaron Rodgers were all winners in at the collegiate level. Rodgers was the starter at Cal for two years, Flynn saw playing time in three seasons and won a national championship in his only season as the starter, Brohm was the starter at Louisville for three years, and Harrell started three seasons at Texas Tech.

Another commonality among these quarterbacks? Size.

Rodgers is listed at 6'2", 225 pounds, a tad below the averages for a starting QB in the NFL. His most recent backup, Flynn, is also listed at 6'2", 225. Harrell? 6'2" and a slight 215 pounds. Even Ingle Martin, a fifth-round pick of the Packers in 2006, stood 6'2", 220 for his less-than-illustrious two-year career in the NFL.
Oh yeah, and that guy who used to wear No. 4? He was last listed at 6'2", 222.

Although it's foolish to think Ted Thompson and Mike McCarthy only want quarterbacks that stand exactly 74 inches tall, the fact that so many recent players at the position had similar stature can't be completely ignored.

With Flynn surely headed elsewhere to be a starter, the Packers are left with Harrell as their top backup to Rodgers. While Harrell has improved during his time in Green Bay, he is certainly a downgrade from Flynn as the team's second-string QB.

I'd be shocked if the Packers used their first or second pick, maybe even third, on a quarterback. However, I fully expect them to select a QB at some point later in the draft or sign one as an undrafted free agent shortly after the draft.
Here's a look at some players who could get a look from Green Bay in the middle rounds.
Begin Slideshow

»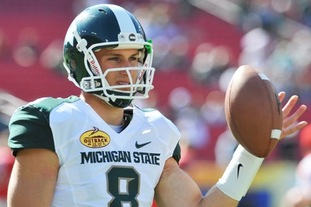 Benefiting from Andrew Luck and Robert Griffin III's decision not to throw at the combine, Kirk Cousins drew rave reviews out of Indianapolis for being the combine's most impressive passer. He was a three-year starter for the Michigan State Spartans and is viewed as an intelligent player as well as a great leader.
He fits the imaginary "McCarthy 74 Rule" perfectly, and he will likely come off the board somewhere in the late third round or early fourth.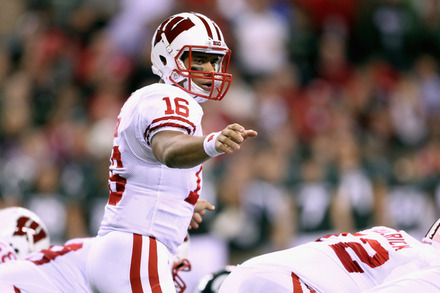 Here's a scenario where three inches could translate to three rounds of draft stock; it appears his only weakness is his diminutive stature.
While at North Carolina State, Wilson split time as a freshman with two others before being the full-time starter for the next two seasons. Wilson transferred to Wisconsin for his senior year and led the Badgers to a tremendous, nearly legendary, season in Madison. He'll likely be selected between Round 4 and Round 6.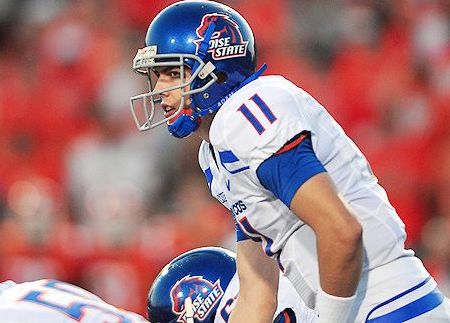 Much like Russell Wilson, Moore's short stature will likely mean he'll be drafted a few rounds later than his resume may suggest. After being redshirted as a true freshman, Moore started his subsequent four years at Boise and became the winningest quarterback in the history of college football.
A student of the game, Moore's NFL future is likely as a career backup. He figures to be drafted somewhere in the sixth or seventh round.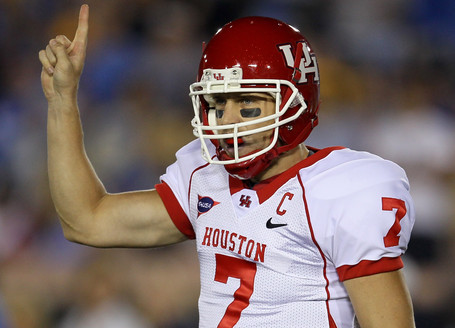 Slightly undersized and highly productive, Keenum's gaudy numbers put him in consideration for the Heisman Trophy later in his college career.
The NCAA granted him a sixth year of eligibility after tearing his ACL in Houston's third game in 2010; he was able to rebound from injury by putting up sensational numbers (48 TD, five INT) in his final season as the starter.
At Houston, Keenum played in a similar offensive attack to what Graham Harrell played in at Texas Tech; however, Keenum has much more mobility than Harrell.
If he's drafted, Keenum will likely be a sixth- or seventh-round selection.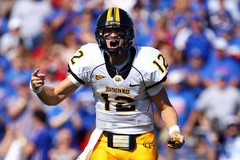 Fitting the recent Packer QB mold to perfection, Davis has more Packer ties than just his stature. Davis has been training with Southern Miss alum Brett Favre in preparation for the 2012 draft.
In 2008, Davis became the first freshman starting QB for USM since 1991—Favre's first year on campus.
Davis put up some impressive numbers as a four-year starter, perhaps most impressive was his touchdown-to-interception ratio: 23-8, 10-2 in a shortened season, 20-6 and 30-11 just last year.
Davis will likely be a sixth- or seventh-round pick in April.