2012 NFL Mock Draft: Analyzing the Best Offensive Undrafted Free Agent Prospects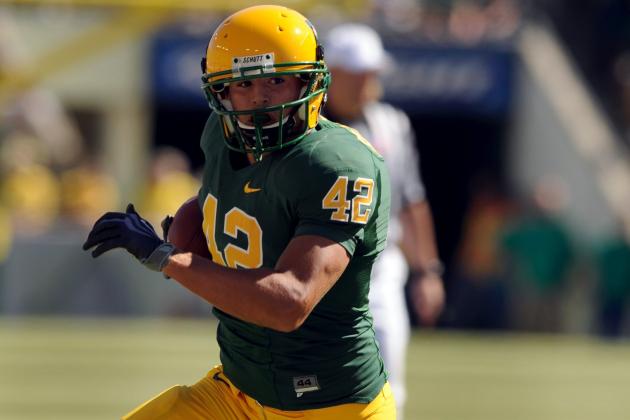 Steve Dykes/Getty Images

The NFL draft may seem like a long event, but we have to remember that it's only seven rounds and a lot solid talent does go undrafted.
That being said, there will surely be some prospects who sign as undrafted free agents and make a splash in 2012.
So, let's take a gander at some of these potential players and what to expect.
Begin Slideshow

»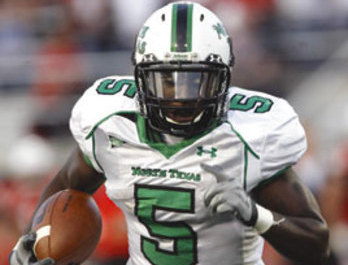 Easily one of the most dynamic running backs that college football has to offer, North Texas' Lance Dunbar was a standout performer from 2009-2011.
As a sophomore, Dunbar accounted for 1,678 total yards and scored 19 touchdowns while upping the ante as a junior in 2010. There, Dunbar ran for 1,553 yards and gained 332 in receiving yards and scored 16 touchdowns.
Now, his senior season was not on pace with the first two. However, Dunbar still managed to total 1,465 yards and reach pay dirt 12 times. If anything, these numbers display consistency at a high level despite not having the luxury of much talent around him.
At 5'9", 200 pounds, Dunbar is good size to slice between the tackles in the pros while being a reliable check-down safety outlet, as well as on screens and pass blocking.
Although the Sun Belt conference isn't a BCS conference, Dunbar was zeroed in by every opposing defense, and no one could completely shut him down. Even behind an adequate offensive line in the NFL, Dunbar has the potential to emerge rather quickly through training camp.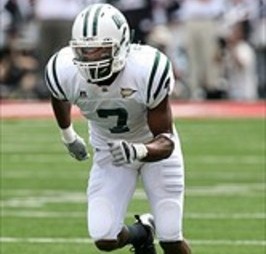 A rather consistent receiver throughout his career for the Ohio Bobcats, LaVon Brazill accounted for 1,150 receiving yards on 72 receptions and scored 11 touchdowns in 2011.
Brazill also ran the ball five times for 73 yards, including one touchdown that added the horizontal rushing dimension to his repertoire.
Before having to sit out most of 2010, Brazill had caught 103 passes for 1,287 yards and scored seven touchdowns from 2007-2009.
Now, he's only 5'11", 190 pounds, but he has the ability to stretch a defense vertically, can get solid yards after the catch and play both the slot and on the outside. Brazill has reliable hands, isn't afraid to move the chain over the middle and has decent field awareness.
The fact that he can run routes regardless of where he lines up provides an offense with the ability to create mismatches. Provided that he can develop more as a slot receiver, though, Brazill will increase his chances of seeing some playing time.
Brazill also has some decent experience as a punt returner, so that only increases the appeal as to what he can offer.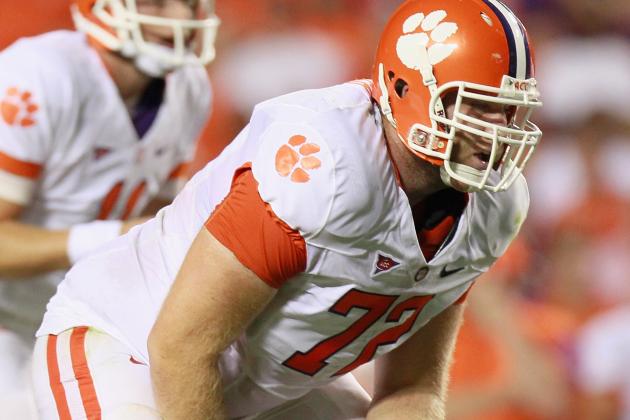 Kevin C. Cox/Getty Images

Considering how much the Clemson Tigers offense threw the ball in 2011, the consistent production of tackle Landon Walker is worth noting.
For one, quarterback Tajh Boyd was sacked 31 times in 14 games. Now, that may seem like a lot, but Boyd also attempted 499 passes in 2011.
So, because getting to the quarterback is the only real way to slow down a pass-happy offense, Walker and the rest of the Tigers' offensive line had to pass block a lot more than the average.
Plus, Boyd has yet to develop as your ideal pocket passer, and an offensive line can hold block for so long. Include the number of blitzes that Walker and Co. had to face, and still, Boyd was provided with enough time to average 273 passing yards per game.
As for Walker, he started 35 games in his career, has proved excellent strength, good size at 6'6", 305 pounds and with development could become a sound blindside tackle in the pros. He does, however, need to gain more experience as a run-blocker since Clemson wasn't a run-oriented team.
Therefore, added forward explosion, getting to the second-level and keeping a low center of gravity must be proven. Walker will get exposed a bit by the more experience pass-rushers, but that's his strength and will surprise more scouts there than anywhere else.
Steve Dykes/Getty Images

When you think of the Oregon Duck's offense, obviously, guys like running back LaMichael James and quarterback Darron Thomas come to mind. Even receiver Jeff Maehl from the 2010 team would likely come to mind before tight end David Paulson. That said, Paulson was one of the most important role players in coach Chip Kelly's fast-paced offense.
The Ducks were wired for speed and quickness, and despite his size at 6'4", 240ish pounds, Paulson was perfect for Oregon's system. 2010 was where Paulson began earning more playing time, and after that season, Paulson recorded 24 catches for 418 yards and scored four touchdowns.
His average of 17.4 yards per reception is pretty ridiculous considering that the Ducks rarely chucked it deep, so it's clear that Paulson knew how to get solid yards after the catch. In 2011, Paulson simply increased his numbers by catching 31 passes for 438 yards and reaching the end zone six times.
Playing a major role in Oregon's passing offense is one thing, but Paulson also was a better-than-indicated run-blocker and was quick enough to wall off linebackers and defensive backs for James.
With his receiving skill set, though, Paulson can make a solid impact as a rookie if he can get stronger and increase his top speed.
Teams are looking for big time playmaking tight ends these days, and Paulson has that kind of potential.
2012 First-Round NFL Mock Draft
| | |
| --- | --- |
| 1. Indianapolis Colts: Andrew Luck, QB (Stanford) | 17. Cincinnati Bengals (From OAK): Trent Richardson, RB (Alabama) |
| 2. Cleveland Browns: (From STL): Robert Griffin III, QB (Baylor) | 18. San Diego Chargers: Alshon Jeffery, WR (South Carolina) |
| 3. Minnesota Vikings: Matt Kalil, OT (USC) | 19. Chicago Bears: Dwayne Allen, TE (Clemson) |
| 4. St. Louis Rams (From STL): Justin Blackmon, WR (Oklahoma State) | 20. Tennessee Titans: Kendall Wright, WR (Baylor) |
| 5. Tampa Bay Buccaneers: Morris Claiborne, CB (LSU) | 21. Cincinnati Bengals: Cordy Glenn, OG (Georgia) |
| 6. Washington Redskins: Riley Reiff, OT (Iowa) | 22. St. Louis Rams (From CLE via ATL): Courtney Upshaw, LB (Alabama) |
| 7. Jacksonville Jaguars: Michael Floyd, WR (Notre Dame) | 23. Detroit Lions: Quinton Coples, DE (North Carolina) |
| 8. Miami Dolphins: David DeCastro, G (Stanford) | 24. Pittsburgh Steelers: Mike Adams, OT (Ohio State) |
| 9. Carolina Panthers: Nick Perry, DE (USC) | 25. Denver Broncos: Stephon Gilmore, CB (South Carolina) |
| 10. Buffalo Bills: Dre Kirkpatrick, CB (Alabama) | 26. Houston Texans: Dontari Poe, DT (Memphis) |
| 11. Kansas City Chiefs: Melvin Ingram, DE (South Carolina) | 27. New England Patriots (From NO): Whitney Mercilus, DE (Illinois) |
| 12. Seattle Seahawks: Devon Still, DT (Penn State) | 28. Green Bay Packers: Zach Brown, LB (North Carolina) |
| 13. Arizona Cardinals: Jonathan Martin, OT (Stanford) | 29. Baltimore Ravens: Dont'a Hightower, LB (Alabama) |
| 14. Dallas Cowboys: Janoris Jenkins, CB (Northern Alabama) | 30. San Francisco 49ers: Mark Barron, S (Alabama) |
| 15. Philadelphia Eagles: Luke Kuechly, LB (Boston College) | 31. New England Patriots: Jerel Worthy, DT (Michigan State) |
| 16. New York Jets: Michael Brockers, DT (LSU) | 32. New York Giants: Coby Fleener, TE (Stanford) |
John Rozum on Twitter.