Oakland Raiders 2012 Mock Draft: Buying or Selling Matt Miller's Latest Picks
March 2, 2012

Bob Levey/Getty Images
Matt Miller has posted a complete seven-round mock draft and is one the of the few draft experts to have projected both of the Raiders' picks in the 2012 NFL Draft.
So, are we buying the two picks Miller projected to the Raiders or selling them like a cheap used car?
Pick 141: Coryell Judie, Cornerback, Texas A&M
Measureables
Height: 5'11.75"
Weight: 194 pounds
Arm: 30.25"
Hand: 8.75"
40-yard Dash: 4.48 seconds
Vertical Jump: 37"
Broad Jump: 10'6"
3-Cone Drill: 7.33 seconds
20-Yard Shuffle: 4.25 seconds
Scouting Reports
National Football Post - West Bunting
Consensus Strengths
Zone Coverage
Ball Skills
Run Support
Consensus Weaknesses
Jamming
Stiff Hips
Length
Durability
Review
The Raiders need a cornerback to compete for a starting job and Coryell Judie fits the need for one that is suited for a zone system. He may develop as a man corner given time to work on his technique.
The combine results in the 3-cone drill and short shuttle support what the scouting reports see of Judie's tight hips. However, Judie was a top performer in the broad and vertical jumps demonstrating his explosiveness.
Judie's injury history and late start to his football career will raise flags, but he's an underrated prospect that would be a good addition at this stage of the draft.
Prediction: Buying
Pick 179: Kyle Wilber, Outside Linebacker, Wake Forest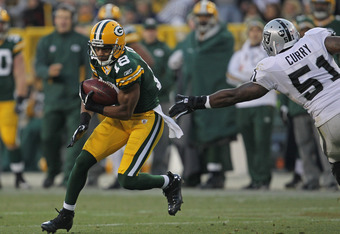 Jonathan Daniel/Getty Images
Measurables
Height: 6'3.75"
Weight: 249 pounds
Arm: 33.25"
Hand: 9.25"
40-yard Dash: 4.86 seconds
Bench Press: 25 reps
Vertical Jump: 33.5"
Broad Jump: 9'9"
3-Cone Drill: 7.11 seconds
20-Yard Shuffle: 4.31 seconds
Scouting Reports
National Football Post - West Bunting
Consensus Strengths
Length
Instincts
Quick/Sudden
Consensus Weaknesses
Run Support
Pad Level
Coverage
Review
He's instinctive and has some potential as a rush linebacker. He needs work, but could develop with time and coaching. The Raiders are desperate for linebackers and need a player that can come in a compete and play special teams.
With the switch to the 3-4 at least part-time in 2012, the Raiders will need more linebackers and are down to Aaron Curry and Kamerion Wimbley, both potential cap casualties. 
Given the need and Wilbur's potential to grow as a player, he's a good fit in the sixth round. 
Prediction: Buying
Conclusion
Miller did a great job determining the team's needs and the best players available to fit those needs. It would be difficult to complain if the Raiders picked up two players of this caliber with their two picks in fifth and sixth round. 
I'm looking forward to breaking down a mock draft from Matt that includes the compensatory picks.