Boston Red Sox: Who Are the Team's Most Likely 2012 MLB Award Winners?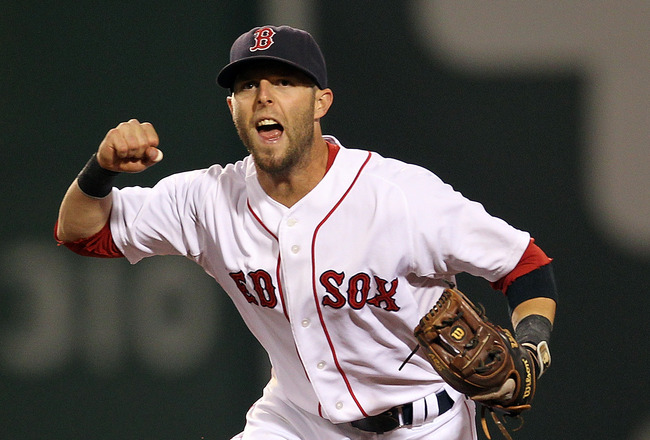 Dustin Pedroia won the American League MVP in 2008.
Jim Rogash/Getty Images
As the 2012 baseball season approaches and winter gradually thaws to spring, the amount of baseball speculation will thaw from a slow trickle to a more consistent stream.
Each major league team has individual stars that will start the 2012 season with high expectations. The Boston Red Sox are certainly no exception. Last season the team placed three players in the top 10 of the American League MVP voting.
Jacoby Ellsbury placed second in the MVP voting and also won the American League Comeback Player of the Year Award.
Dustin Pedroia finished ninth in the MVP voting. Pedroia is the last member of the Red Sox to win the award when he finished first in 2008.
Adrian Gonzalez spent much of the 2011 season as an MVP favorite but his torrid pace slowed as the season dragged on and that coupled with his team's terrible finish dropped Gonzalez to seventh in the voting.
Of course, MVP isn't the only big award; there are others that carry plenty of significance as well. Which Red Sox players will compete for the big American League awards in 2012?
Most Valuable Player: Adrian Gonzalez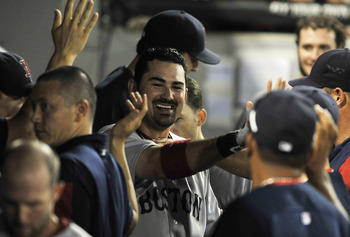 Adrian Gonzalez could be the American League's best player in 2012.
David Banks/Getty Images
The Most Valuable Player award is likely to be the award which sees the most members of the Red Sox in competition for the top spot.
The Sox have three legitimate candidates in Adrian Gonzalez, Dustin Pedroia and Jacoby Ellsbury. Of those three, who seems most likely to end up at the top of what should be a very competitive race in the American League?
Adrian Gonzalez.
The 2011 season was one for the ages for Ellsbury. The combination of power, speed, runs, runs batted in and batting average all out of the leadoff spot was both unexpected and probably unlikely to occur again.
Ellsbury had never hit more than 10 home runs in a season yet last year he exploded for 32. Ellsbury's career high for batting average was .301; last season he finished at .321.
Ellsbury seems ticketed for a run of fantastic seasons but to expect him to hit over 30 home runs every season seems unrealistic. Any drop-off in home runs would probably result in a drop-off in runs batted in. Leadoff hitters rarely eclipse the 100-RBI mark. Ellsbury was able to do that last year finishing with 105, but as with his home run numbers, a slight decline is probably a realistic expectation.
Ellsbury wouldn't shock anyone by competing for the MVP Award but in this talent-laden Red Sox lineup, he's probably not the favorite.
Conventional wisdom might then suggest that Pedroia would be the favorite. After all, he's won the award before in 2008. He's one of the more visible team leaders. He also plays a position where exceptional offensive production stands out a bit more. Historically, second basemen aren't known as prodigious offensive forces.
The amount of very talented hitters in the American League makes the award a bit of a long shot for Pedroia. Remember the American League added both Albert Pujols and Prince Fielder in the offseason. There are going to be some very impressive numbers put up this year. It's going to take a fantastic all around offensive season on a playoff team to win this award.
With that in mind, Gonzalez would have to be the odds-on favorite among members of the Red Sox to win the MVP Award. Gonzalez is already coming off a great season in Boston. It was only his first season playing in the American League.
With a full season of experience dealing with the grueling intensity of the American League East and the Boston media, Gonzalez should be able to avoid some of the drop-off that plagued him down the stretch last season.
Add his placement smack-dab in the middle of a lineup that will provide ample opportunity for both runs batted in and runs scored, and then factor in his ability to hit for both power and average, and Gonzalez is the most serious contender for the MVP Award on a team with several legit candidates.
Cy Young Award: Jon Lester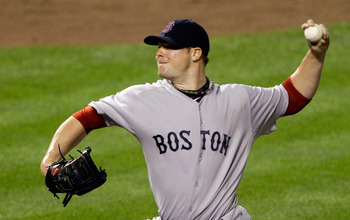 A big arm, high strikeout totals and playing on a team that can earn him wins could earn Lester a Cy Young Award.
Rob Carr/Getty Images
Red Sox fans are going to learn a lot about Jon Lester this season.
Is Lester an "ace" or is Lester a very good pitcher able to shut down almost any opponent on any given night, but unable to pitch to the peak of his potential for an entire season?
Lester has to this point in his career been a very good pitcher. Not an "ace," though.
Lester can mow down batters and look absolutely untouchable in one start, and then go out and be yanked from his next start before the end of the fifth inning.
Sometimes he's too hittable; sometimes he walks a few batters and gets flustered. Then again, there are also starts when one thinks he may repeat his no-hit accomplishment of the 2008 season. Lester has yet to finish a season with an earned run average under 3.00 or with a WHIP ratio under 1.200.
Lester has certainly shown enough to make observers believe he can do those things; the question is "will he?"
If anyone on Boston's current roster of pitchers has the potential to put together a 20-win season with over 200 strikeouts and an earned run average under 3.00, it's Lester. Whether or not he does that is the big question. Even if he were to accomplish that, it wouldn't assure him a Cy Young Award, but he'd be Boston's best shot at it.
Rookie of the Year: Jose Iglesias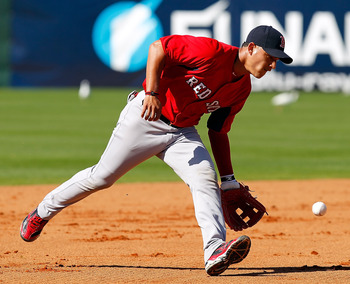 He's a longshot for sure but he's the best shot on the Red Sox.
J. Meric/Getty Images
The last time the Red Sox had a Rookie of the Year winner was 2007. His name was Dustin Pedroia. Before that, the last time the Red Sox had a player who was the league's top rookie was 1997. That year shortstop Nomar Garciaparra won the award.
This season it seems unlikely that the Red Sox will have a player seriously contend for the award. One key reason why is that there aren't too many open positions for a rookie to step in and get the needed playing time to compete for the award.
Plus, playing time is of course only a small part of the equation, you've got to actually produce on the field as well.
Even with that foreboding introduction, Jose Iglesias has a shot.
First, he's going to have to impress Red Sox manager Bobby Valentine in spring training enough to earn the starting position. Either that or he's going to have to light it up early and often in Triple-A when the season starts and almost force his way back onto the big league roster.
Then, once he's there he's going to have to hit. The one silver lining? If Iglesias does get on the field, he might not have to produce offensively at as high a level of some of his fellow American League rookies will because Iglesias plays shortstop and plays it quite well.
Shortstop is one of those positions where slightly inferior offense can be offset by spectacular defense. Iglesias' ability with the glove is top-notch. His hitting is in question.
If Iglesias can get into the Red Sox lineup, he'll eventually see some good pitches to hit since he'll be surrounded by some of the league's most lethal offensive players. If he can take advantage of that and the glove lives up to the hype, then he's got a shot.
It's a long shot though.
Comeback Player of the Year Award: Clay Buchholz
A return to 2010 form could earn Clay Buchholz a Comeback Player of The Year Award.
J. Meric/Getty Images
If you're glancing at the standings in late September and you notice the Red Sox at the top of the American League East, then the odds are that they will have not one, but two players contending for this award.
That's because in order for the Red Sox to return to the postseason this year, they're probably going to need bounce-back years from not just Clay Buchholz but Kevin Youkilis as well.
Both players are coming off of injury-plagued seasons with statistical drop-offs.
Both players need to be healthy and productive for the Red Sox this season.
Buchholz gets the edge here because he's in a situation that seems more advantageous to making that type of return.
Youkilis is now 32 years old. He's tasked with playing a position more grueling, not less, than what he had become accustomed to from 2007 to 2010. That combination doesn't mean that he won't have a better year than he did last year; it's just that his path seems to be getting more difficult instead of easier.
Buchholz, on the other hand, is still young. He's only 27 and while he's had numerous injuries over the course of his career, at 27 he almost seems due for a couple of healthy years. His back problems of last year seem to be in the rear-view mirror.
As important as Youkilis is to Boston's success, Buchholz is even more critical. He's one of three starting pitchers that the Sox will start the season leaning heavily on. The Red Sox of 2011 led baseball in runs scored even with Youkilis having a season marred by injuries. The starting pitching didn't fare so well with Buchholz missing the second half.
If Buchholz can come close to replicating his 2010 season when he had an earned run average of only 2.33, he's going to get noticed. The Red Sox are going to be a much better team if that happens and that always helps in voting for these types of awards
Gold Glove Winner: Jacoby Ellsbury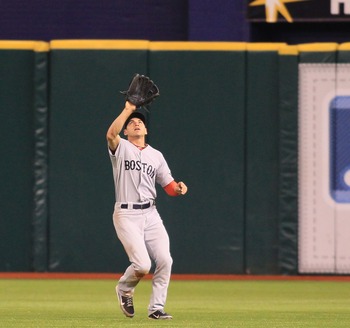 Jacoby Ellsbury took home his first gold glove last year.
Steven Kovich/Getty Images
Last year was the first time since 1979 the Red Sox had three players win Gold Gloves. In 1979, it was Rick Burleson, Dwight Evans and Fred Lynn; last year it was Dustin Pedroia, Jacoby Ellsbury and Adrian Gonzalez.
All three could easily repeat those accomplishments but Ellsbury, with his blazing speed, penchant for diving catches and youth, seems like the safest bet.
The Gold Glove is also largely dependent on who the competition is. Center field is in flux in many American League outfields right now. In Los Angeles, both Peter Bourjos and Mike Trout could split time. Texas also has a slightly unsettled situation since they seem inclined to move Josh Hamilton to left in an effort to avoid injuries.
The Red Sox could of course have two or even three repeat winners, but of the three that won last year, Ellsbury seems safest to repeat.
Keep Reading

Boston Red Sox: Like this team?