Arizona Cardinals: Report Card Grades for Last Five Draft Classes
March 2, 2012
Christian Petersen/Getty Images
Arizona Cardinals GM Rod Graves has been in his position since 2007 and Director of Player Personnel Steve Keim since 2008. Both have been in the Cardinals organization since the late 90s. They must be doing something right, so let's take a closer look at how the Cardinals have done in the draft in recent years (a full list of the Cardinals picks can be found at NFL.com).
2007: The Cardinals spent the No. 5 pick on offensive tackle Levi Brown, who has been serviceable and has contributed, but passed on Adrian Peterson in the process, even though Edgerrin James was clearly in the autumn of his career.
Alan Branch has also been only a modest contributor, and in the third round  Buster Davis lived up to his nickname—he was a complete bust. Only Steve Breaston in the fifth round ended up being a good pick where he was take.
Grade: C
2008: Success came in the form of physical freak CB Dominique Rodgers-Cromartie in the first, giant DE Calais Campbell in the second, one-time starting RB Tim Hightower in the fifth and eventual starting OT Brandon Keith in the seventh.
Third-round pick Early Doucet has also contributed when healthy. The team added cornerstones at tough-to-fill positions and demonstrated a great knack for finding small-school talent.
Grade: A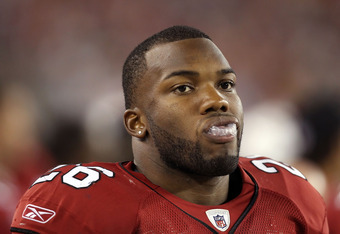 Christian Petersen/Getty Images
2009: The challenge of picking next-to-last as the Super Bowl runner-up was not met, as the Cardinals only really salvaged oft-injured RB Beanie Wells in the first, another small-school CB find Greg Toler in the fourth and special teams ace LaRod Stephens-Howling in the seventh round of this draft.
Edge rusher Cody Brown in the second was a complete bust and safety Rashad Johnson in the third has barely contributed.
Grade: C
2010: Dan Williams hasn't quite lived up to first-round billing, but he had a solid rookie year and was coming on before breaking his arm last year. After all, the Cardinals recorded hits in the second (LB Daryl Washington), third (WR Andre Roberts) and fifth (QB John Skelton) rounds.
Roberts and Skelton also added to the growing list of great small-school picks by Graves and company. Fourth-round pick O'Brien Schofield could also be a big hit soon, as he was drafted coming off an ACL tear and showed flashes in 2011.
Grade: B
2011: No draft pick in the last five years has had the instant impact of Patrick Peterson, who set records with highlight reel returns and really came on as a corner as the season went on. You can't give the Cardinals too much credit for picking him fifth overall—he was basically a no-brainer.
Ryan Williams ended up being a shank of a second-round pick, suffering a catastrophic patellar tendon tear before the season started—although the pick did seem to motivate Beanie Wells to his best season as a pro.
It's too early to judge third-round TE Rob Housler (another small school pick), but fourth-round OLB Sam Acho put his mark on games almost as often as Peterson, and he might represent the best value pick of Graves' run at GM.
Grade: A
What Have We Learned?
Graves and Keim don't shy away from small-school players, even in early rounds, and they don't seem to have hard and fast rules about what part of the field to focus on early in the draft. The Cardinals have done well with homegrown corners, but the track record of choosing defensive tackles and edge rushers is mixed, although trending in a positive direction.
The team will be without a second-round pick this year because of the Kevin Kolb deal, and they have big needs on the offensive line, so the consistently good to great front office will have their work cut out for them this year.