2012 NFL Mock Draft: Mocking Need Picks for Every NFL Team
March 1, 2012

Joe Robbins/Getty Images
The first round this year might be the toughest to predict in a long time because of the depth and diversity of the blue-chip prospects, not to mention an inevitable trade of the No. 2 overall pick to an unknown team.
I'll be attacking the task of mocking the draft from as many angles as possible over the next two months. Today, we'll look at how the first round would shake out if need reigned supreme in war rooms around the league.
1. Indianapolis Colts - Andrew Luck, QB, Stanford: Need, want, covet...however you describe it, Luck will be a Colt in less than two months
2. Cleveland Browns (draft day trade from St. Louis) - Robert Griffin III, QB, Baylor: The Browns NEED to trade up for RG3; he's a franchise destiny changer. No team can match their trade-up firepower. If it doesn't happen, it is for a lack of will, not capital.
3. Minnesota Vikings - Matt Kalil, OT, USC: Ever since Mount McKinnie did his impression of Mount St. Helens, this has been a glaring need for the Vikings.
4. St. Louis Rams (draft day trade from Cleveland) - Morris Claiborne, CB, LSU: Quick, name a starting cornerback for the Rams!
5. Tampa Bay Buccaneers - Luke Kuechly, ILB, Boston College: Mason Foster won't be a liability on the outside, and most importantly, Kuechly fills Tampa's need for nuclei of their new and improved football culture.
6. Washington Redskins - Ryan Tannehill, QB, Texas A&M: No bigger need in the nation's capital than a QB.
7. Jacksonville Jaguars - Justin Blackmon, WR, Oklahoma State: Blaine Gabbert was bad in 2011, but his wide receivers were worse.
8. Miami Dolphins - Melvin Ingram, DE/OLB, South Carolina: Getting a versatile bookend to pair with Cameron Wake is a must in new defensive coordinator Kevin Coyle's hybrid defense.
9. Carolina Panthers - Dontari Poe, DT, Memphis: The Panthers may say that defensive tackle isn't a big need, but they started two mediocre rookies there to open 2011.
10. Buffalo Bills - Quinton Coples, DE, UNC: The Bills are still sorely in need of a marquee edge-rusher. They also need a true 4-3 end to smooth over the transition back to the scheme on defense.
11. Kansas City Chiefs - Riley Reiff, OT, Iowa: Reiff has the Iowa OL pedigree and his less-than-ideal arm length won't be as much of a liability on the right side of the line.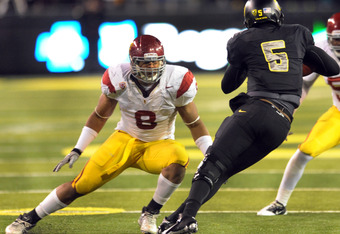 Steve Dykes/Getty Images
12. Seattle Seahawks - Nick Perry, DE/OLB, USC: It's too easy to slot this athletic Trojan pass-rusher with his former coach Pete Carroll while the Seahawks are in the market for pressure on the QB from the edge.
13. Arizona Cardinals - Courtney Upshaw, DE/OLB, Alabama: Sam Acho has been a pleasant surprise, but the Cardinals still sorely need that impact OLB to be the James Harrison/LaMarr Woodley in former Steeler coach Ray Horton's defense.
14. Dallas Cowboys - Dre Kirkpatrick, CB, Alabama: Terence Newman's play has fallen off a cliff and he is a possible cap cut. Kirkpatrick might be able to step right in and start from day one.
15. Philadelphia Eagles - Kendall Wright, WR, Baylor: Forget about Wright's 4.61 40 at the combine and watch the film. He would be a suitable replacement for DeSean Jackson if the Eagles find a trade partner or let him walk in free agency.
16. New York Jets - Trent Richardson, RB, Alabama: Shonn Greene wasn't striking fear into any defenses, but Richardson will, and he'll take pressure off of Mark Sanchez during a crucial year in his career.
17. Cincinnati Bengals (from Oakland) - David DeCastro, OG, Stanford: This would be a dream scenario for the Bengals, as DeCastro would instantly be the best interior offensive lineman they've had since Eric Steinbach left for Cleveland.
18. San Diego Chargers - Jonathan Martin, OT, Stanford: Even if they re-sign 2011 reclamation revelation Jared Gaither, the Chargers need help at offensive tackle.
19. Chicago Bears - Michael Floyd, WR, Notre Dame: The Bears' never-ending search for that big No. 1 wide receiver could come to an end if Floyd lasts this long after a sizzling combine.
20. Tennessee Titans - Janoris Jenkins, CB, North Alabama: The Titans are sending off clear signals that they are letting Cortland Finnegan walk in free agency. If they don't look for his replacement on the open market, Jenkins would be a worthy replacement on the field, even if he does come with a lot of off-the-field baggage. Could he induce the team that was burned by "Pacman" Jones to take a chance on him?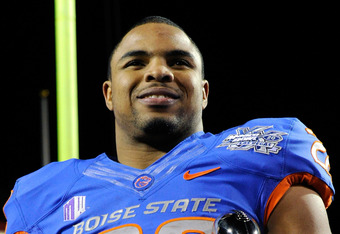 Ethan Miller/Getty Images
21. Cincinnati Bengals - Doug Martin, RB, Boise State: If the Bengals don't land Michael Bush in free agency, No. 21 would give them their pick of the second-tier blue-chip backs.
22. St. Louis Rams (draft day trade from Cleveland Browns from Atlanta) - Fletcher Cox, DT, Mississippi State: Cox is likely to go much higher than this after a great combine performance, but the Rams would be thrilled to bolster their defensive line rotation with a player of his caliber.
23. Detroit Lions - Mark Barron, S, Alabama: The Lions have to improve their secondary this offseason. Taking the best all-around safety in the draft would accomplish that.
24. Pittsburgh Steelers - Dont'a Hightower, ILB, Alabama: There's no long-term answer on the roster for the hole next to Lawrence Timmons, but Hightower would change that. His hard-nosed game would fit right in from day one.
25. Denver Broncos - Peter Konz, C, Wisconsin: The Broncos need help at center and guard. They're in the perfect position to snag the best pivot in the draft.
26. Houston Texans - Stephen Hill, WR, Georgia Tech: The Texans need a talented No. 2 receiver to play opposite Andre Johnson while this championship window is open. Hill is raw, but his speed will open things up for Johnson and company right away.
27. New England Patriots (from New Orleans) - Michael Brockers, DT, LSU: Brockers is tumbling down boards after an unimpressive combine. That slide would stop with the Patriots, who are sorely in need of impact players up front on defense.
28. Green Bay Packers - Andre Branch, DE/OLB, Clemson: The hole opposite Clay Matthews at OLB makes the Packers defense like a crab with one pincher. Branch would hopefully change that.
29. Baltimore Ravens - Mike Adams, OT, Ohio State: Bryant McKinnie worked out at left tackle last year, but he is only a short-term solution.
30. San Francisco 49ers - Rueben Randle, WR, LSU: Part of the reason Alex Smith never throws to his wide receivers is that the group isn't very good. 
31. New England Patriots - Whitney Mercilus, DE/OLB, Illinois: Mercilus flashed the movement skills to fit in a hybrid defense at the combine. The Patriots have been forced to use scrap-heap guys at the position (albeit with some success).
32. New York Giants - Dwayne Allen, TE, Clemson: Not one, but two Giants tight ends went down with ACL tears in the Super Bowl. Allen has the all-around game they desire to become the first tight end off the board.