NFL Draft 2012: History Suggests Either Andrew Luck or Robert Griffin Will Fail
February 29, 2012

Joe Robbins/Getty Images
A quick look at history suggests that either Andrew Luck or Robert Griffin III will end up becoming a failure, or at the very least, a bust as a top-two pick.
If Luck and Griffin III are selected No. 1 and No. 2 in the 2012 NFL draft, it will only be the fifth time in league history that two quarterbacks were taken at the two top spots since the merger.
Examining the other careers of the other eight quarterbacks who were selected one and two shows that there is a strong likelihood one of the two is bound to become a disappointment.
The first time it happened was in 1971. It was also the most successful of the four.
Jim Plunkett was taken first overall by the New England Patriots, and then Archie Manning was taken second overall by the New Orleans Saints. 
Plunkett looked to be a bust for his first seven years before getting a second chance in Oakland with the Raiders when starting quarterback Dan Pastorini went down with an injury in Week 5 of 1980. He went on to lead the Raiders to two Super Bowl victories and became a hero of Raider Nation forever.
Manning's best accomplishment in the NFL has surely been to produce Eli and Peyton, but he was also a darn good quarterback on a terrible team for most of his career. He won the NFC Offensive Player of the Year Award in 1978 and was a two-time Pro Bowl selection.
It was over two decades later in 1993 before two quarterbacks were selected at the top of the NFL draft. I'd have to say this was the least successful of all four.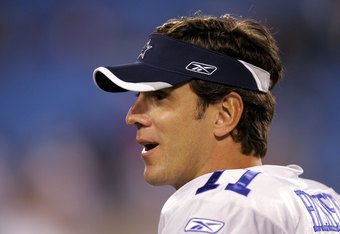 Streeter Lecka/Getty Images
Drew Bledsoe was taken first by the New England Patriots. Rick Mirer was selected second overall by the Seattle Seahawks. 
Bledsoe was Tony Romo before Romo was in middle school. He was the face of the Patriots franchise, though he never seemed to quite get over the hump to become truly successful. He is most famous for getting injured in 2001 and allowing Tom Brady to come out of nowhere and become what the Patriots had hoped he'd become in the first place.
Mirer was simply atrocious. In his 12-year NFL career, he threw for under 12,000 yards while throwing only 50 touchdowns to 76 interceptions. He was a huge bust.
Then, in 1998, Peyton Manning one-upped his father and was selected first overall by the Indianapolis Colts. Ryan Leaf was selected with the second-overall pick of the 1998 NFL draft by the San Diego Chargers.
Manning is a four-time NFL MVP. He has been to two Super Bowls, winning one. He is one of the greatest quarterbacks that has ever played in the history of the league. 
Leaf, on the other hand, was one of the biggest busts in the NFL until JaMarcus Russell came along and blew Leaf's meltdown out of the water.
The very next year, Tim Couch wast taken by the Cleveland Browns first overall over Donovan McNabb, who was taken second overall by the Philadelphia Eagles to a chorus of boos.  
Couch ended up becoming one of the biggest draft busts in history after spending five horrible years in Cleveland.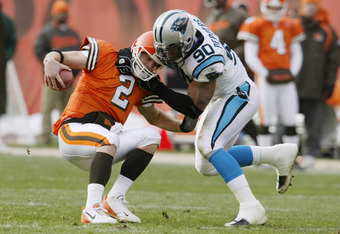 Tom Pidgeon/Getty Images
McNabb, on the other hand, had a largely successful NFL career, leading the Philadelphia Eagles to multiple NFC championship games and one Super Bowl, which they lost. He has thrown for over 37,000 yards and 234 touchdowns in his career, and nobody can deny he was worth the second-overall selection.
This history lesson doesn't guarantee Luck or Griffin will fail, but it does provide some clarity and perspective.
Every single one of these eight men here were as highly touted in their day as Luck and Griffin. Nobody expected them to fail. They were evaluated with the highest level of scrutiny, yet some turned out to be monumental failures.
If I had to choose between which player I think has the best chance to succeed between the two, I give my vote to Luck. In my mind, he has more tools, both mentally and physically, to succeed long-term in the NFL.
What's your take?