Bart Scott: Disgruntled Jet Could Be Detroit Lions' Insurance Policy.
February 28, 2012

According to ESPNNewYork.com's Rich Cimini, the New York Jets and linebacker Bart Scott are preparing for divorce. Scott's been unhappy with his decreased playing time, and he's made his frustrations clear.
After meeting with him at the NFL Combine, the Jet's are prepared to send him packing. In fact, the New York Daily news is reporting the Jets gave him permission to seek a trade.
Rex Ryan brought Scott, a 10-year NFL veteran, over with him from Baltimore. He signed a six-year, $48 million contract and was to be the emotional leader of a potent defensive unit. Initially came great success. The Jets had an undeniable toughness and swagger to them, which was attributed to Scott.
In 2011, the wheels fell off. The Jets were were not winning, and Scott saw less playing time. He sulked and fumed, and he started to become a distraction.
It all came to a head when the Jets season ended; Scott directed an obscene gesture at a photographer in the locker room. He was fined $10,000 by the team.
The Jets are looking to cut ties and rebuild their image.
Here's where it gets dicey for them. According to Cimini, they are guaranteed to pay him $4.2 million next season. Even if they trade him, they are still on the hook for the money and the salary cap hit. If they can trade him, they at least might get a draft pick in compensation.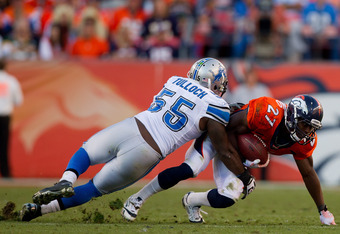 Justin Edmonds/Getty Images
The Detroit Lions might find this situation interesting.
As everyone knows, Martin Mayhew has his hands full right now trying to sign all the Lions' free agents. Calvin Johnson, Cliff Avril and Stephen Tulloch are the big names but there are many more.
No one is signed yet, and there's evidence to suggest that one of the "big three" above will not be. It might be Stephen Tulloch.
There's already rumor that someone—possibly the Philidelphia Eagles—will offer the linebacker a much richer deal than the Lions can afford.
If the Lions lose Tulloch, they're looking at a possible linebacking corp for 2012 of Justin Durant, Doug Hogue and Slade Norris. Every other linebacker on the roster is a free agent.
Tulloch, Bobby Carpenter and Isaiah Ekejiuba are unrestricted and Ashlee Palmer and DeAndre Levy are restricted. According to this article on MLive.com, Palmer will probably not be back—unless he accepts less money.
It's a pretty good bet the Lions will be able to hold on to Levy. Even with him, the linebacking corp will be thin.
Scott could be a stop gap for this year if they lose Tulloch. It's possible that they could sign him without having to give up much.
The Jets are hoping to trade him and get some kind of compensation, specifically a draft pick. That doesn't mean that other teams have to comply though. It all depends on how badly the Jets want to get rid of him.
Scott was a malcontent last year and the Jets are trying to distance themselves from the image he portrays. They could end up simply cutting him and eating his salary if they don't get any offers. If so, the Lions could scoop him up at a bargain price.
Although Scott has already identified the New York Giants as a desired trade destination, the Lions might be a close second.
Scott is from Detroit after all. A homecoming might be right up his alley.
The Lions also have a defense that matches his gritty style of play. They've got their own swagger, and they've been labeled a "dirty" defense because of it. Unlike the Jets, they aren't trying to distance themselves from it. Scott would fit right in. 
Obviously, he's not the long-term answer if the Lions can't retain Tulloch. He's heading into the tail end of his career, and his numbers are showing a clear downward trend. That's not to say he can't have another productive year though.
All the Lions need is a temporary solution. Then in 2013 they can pursue a younger long-term solution such as Mathias Kiwanuka of the New York Giants or Jerod Mayo of the New England Patriots.
If worst comes to worst, I think Paris Lenon will be available in 2013.