Buyer Beware! NFL Running Backs: Leading Rushers Equal Leading Losers
February 27, 2012

Chris Graythen/Getty Images
Those of us who are avid football fans hold our team's running backs in the highest regard. They are a critical part of the offense often touching the ball 20–30-plus times per game. An exceptional running back has always been a necessity if you want to win the Super Bowl right? Well, it was right.
What is most surprising is that I've always assumed that you simply cannot win in the NFL without a premiere back. In my mind this was an absolute, however this is not what I found to be accurate.
Let's start with the Super Bowl champion New York Giants. Like most people, I naturally assumed that the Giants' running backs would rank in the top 10 in overall yardage in 2011.
The Super Bowl winning running backs Brandon Jacobs and Ahmad Bradshaw were ranked 30th and 40th in total rushing yards. This is out of a total of 40 running backs. If you were an NFL owner and someone offered you the 30th and 40th-ranked running backs would you even entertain bringing them to your team?
Now consider this, out of the top 25 running backs there were only three were on teams that made it beyond the first round of the playoffs. This list includes Ray Rice of the Baltimore Ravens, Frank Gore of the San Francisco 49ers and Willis McGahee of the Denver Broncos. The next player on the list who went deep in the postseason was BenJarvus Green-Ellis of the New England Patriots and he was ranked 27th in rushing yards. 
In the past 13 years, there has only been one running back who led the league in rushing and won the Super Bowl, and this was Terrell Davis with the Denver Broncos in the late 90's.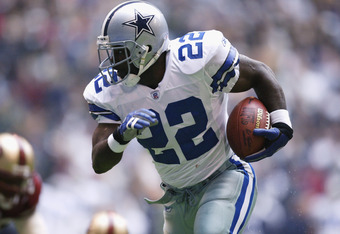 Brian Bahr/Getty Images
The data does not correlate between having a premiere running back and Super Bowl wins. 
The caveat to this information is when you look at the all-time leading rushers. When you review the all-time rushing statistics you'll see that at least five of the top 10 all-time rushing leaders have Super Bowl wins, in many cases multiple Super Bowl wins. According to Wikipedia.com it is written that "He (Emmitt Smith) is also one of only four running backs to lead the NFL in rushing three or more consecutive seasons, joining Steve Van Buren, Jim Brown and Earl Campbell. Smith led the league in rushing and won the Super Bowl in the same year three times (1992, 1993, and 1995)." Three out of four of these record holders accomplished these amazing feats albeit decades ago. 
There is an exorbitant amount of information out there that supports the contributions good running backs make to a team. However, when you examine this information more closely, you'll see very few teams with outstanding running backs that make the playoffs and win the Super Bowl.
In an article on ESPN.com by Mike Sando titled, "Passing league? NFC West Runs Strong" the author assembled a list of running backs who were the 1000-plus yard rushers after initial contact. Again, only Frank Gore, Ray Rice and Willis McGahee were on teams that made it deep in the playoffs.
Are running backs important to a team? Without a doubt they are, however the data clearly shows that premiere running backs do not equate to making the playoffs and more importantly, Super Bowl victories. As a Redskins fan I idolize John Riggins and his Super Bowl run. I remember Terrell Davis' Super Bowl dominance.  Both players were MVP's and deservedly so.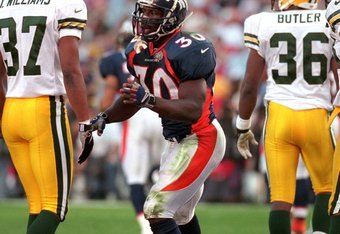 Doug Pensinger/Getty Images
As Hall of Fame coach Vince Lombardi once said, "If it doesn't matter who wins or loses, then why do they keep score?" When it comes to running backs I am keeping score and the facts dispel the myth. It can be said that elite running backs are a waste of money and a non-essential component to a Super Bowl team.  
I'll leave you with this last question? Can you name the running backs who played in the Super Bowl over the past 10 years? There's a reason you can't remember. Now try and name the last 10 quarterbacks to play in the Super Bowl. If you can name most of the quarterbacks and very few of the running backs, there's a reason for that. It's because well known running backs haven't played in the Super Bowl many times in the past decade. They no longer are necessary to win the championship.
Clark Judge wrote an article on CBS.com earlier today titled, "Trend Shows Teams Better off Drafting Running Backs in Later Rounds." It looks like the word is beginning to get out that the importance of running backs is not what it used to be just a few years ago.