MLB Free Agency: Roles Each Team Still Needs to Address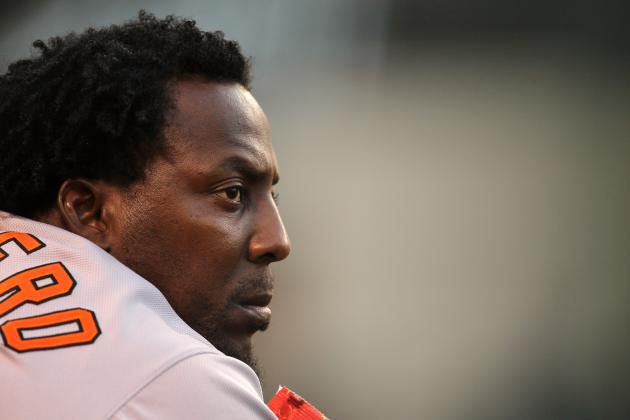 Stephen Dunn/Getty Images

With Opening Day right around the corner, teams are still searching for holes to fill in their lineup or bullpen.
There are several players on the free-agent list available who can make an impact with any MLB team like Derrek Lee, Johnny Damon and Vladimir Guerrero. If that option fails, there is always the possibility to make a trade.
One of the biggest holes a team filled was seen through the Oakland A's signing of outfielder Manny Ramirez. GM Billy Beane said the team needed a cleanup hitter, so Ramirez was their guy.
Here's a look at each team's needs entering the 2012 season.
Begin Slideshow

»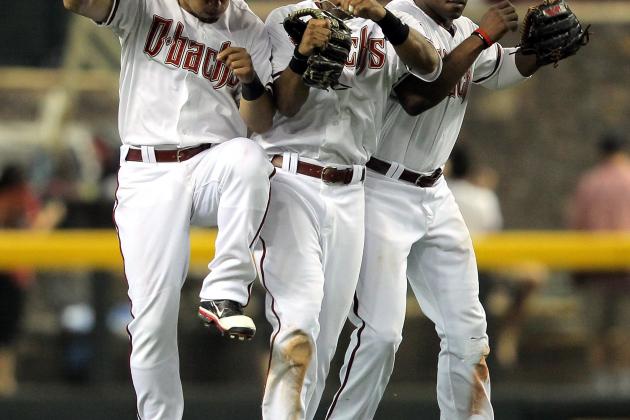 Doug Pensinger/Getty Images

Team Need: Shortstop
Why: Last July, shortstop Stephen Drew had a season-ending ankle injury that kept him out of one of the team's best playoff runs in recent history.
So far, Drew looks "outstanding" in spring training after taking batting practice for the first time at camp. However, he still hasn't taken any grounders in the field and is experiencing some trouble stopping quickly during movements.
In case Drew isn't ready for Opening Day, it wouldn't hurt Arizona to sign veteran shortstop Edgar Renteria off the free-agent list to provide as a backup and someone with tremendous playoff experience. Renteria hit .251 with five home runs and 36 RBI for the Reds in 2011.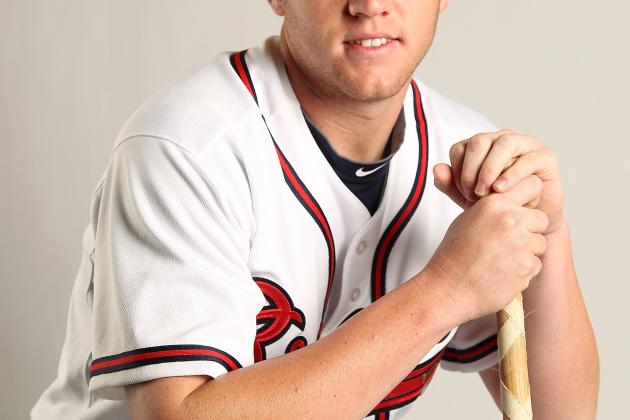 Mike Ehrmann/Getty Images

Need: Shortstop
Why: With the departure of veteran shortstop Alex Gonzalez, the Braves are in search of a reliable shortstop.
Their solution: 22-year-old prospect Tyler Pastornicky.
Pastornicky has been working out and being mentored by long-time MLB infielder and teammate Jack Wilson to prepare him for his 2012 rookie season as the Braves starting shortstop. However, Manager Fredi Gonzalez is still keeping the option open of moving Chipper Jones back to the position in case Pastornicky can't cut it.
The Bradenton, Fl. native hit .314 with 15 doubles, five triples and seven home runs with 45 RBI between Double-A and Triple-A in 2011.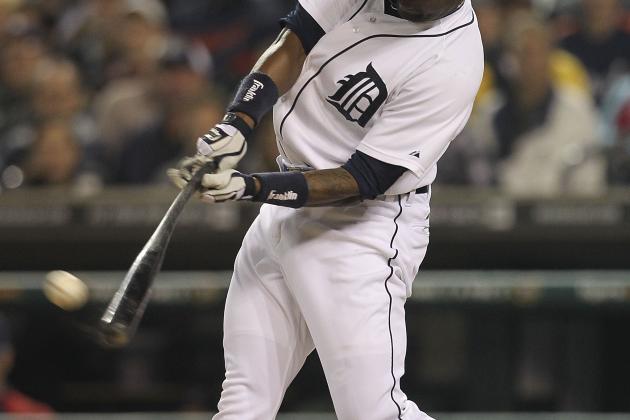 Leon Halip/Getty Images

Need: Designated Hitter
Why: The team highly lacks the stereotypical offensive profile a DH posses.
In 2011, they had Vladimir Guerrero. In 2012, they'll have Wilson Betemit. Just the name alone is a falloff.
Despite signing utility infielder Betemit to fill this role, the Orioles still need someone to fill the role. Last year, he hit .285 with 22 doubles, four triples and eight home runs with 46 RBI during time split between the Kansas City Royals and Detroit Tigers.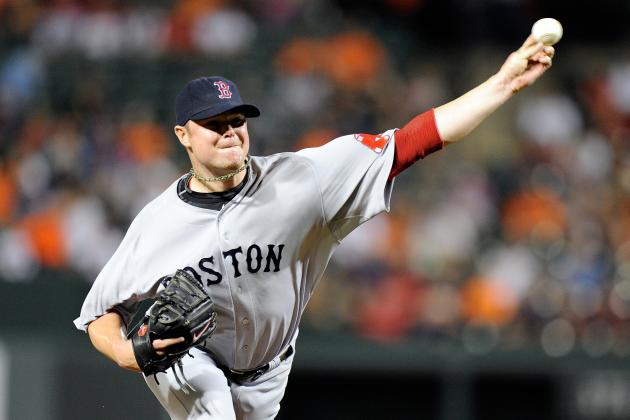 Greg Fiume/Getty Images

Need: Starting Pitcher
Why: After Jon Lester and Josh Beckett, there isn't much guarantee in success in the rotation.
Clay Buchholz, Daisuke Matsuzaka and Daniel Bard follow the two former All-Stars in the starting five. Bard recently moved into the five slot.
In 2012, there was not a single pitcher in the rotation who hit the 200 innings pitched mark. In addition, the man who likely to be the pitcher with the best chance to retired, Tim Wakefield.
Ezra Shaw/Getty Images

Need: Corner Infielders
Why: The Chicago Cubs signed third baseman Ian Stewart to fill in the offensive hole Aramis Ramirez created by going to the Milwaukee Brewers, but statistically, there is a good chance that will never happen.
The Cubs are hoping top prospect Josh Vitters can make it to the big leagues as soon as possible. Last year the third overall 2007 MLB draft pick hit .283 with 28 doubles and 14 home runs with 81 RBI including being named to the 2011 Arizona Fall League All-Prospect Team after hitting .360 with four home runs and 17 RBI in 100 at-bats through 24 games.
Also, at first base is Bryan LaHair, a 29-year-old journeyman who was drafted in the 39th round of the 2002 MLB draft and has only played in 65 career games hitting .262 with five home runs and 16 RBI.
It's not looking too promising in the corner infield for the Cubs this season.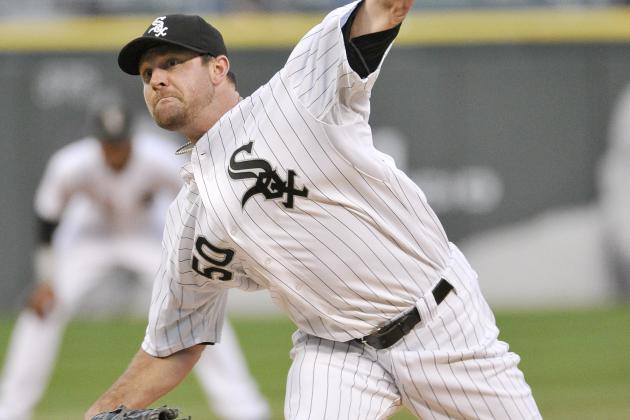 Brian Kersey/Getty Images

Need: Pitching Ace
Why: The team needs an ace, a true workhorse after the departure of Mark Buehrle to the Miami Marlins.
The team made a five-year, $65 million deal with starter John Danks during the offseason. Those figures almost claim him to be the man in the rotation, but they will need someone more than Gavin Floyd and Philip Humber to make a running for that role.
Will left-handed pitcher Chris Sale be the surprising answer in 2012?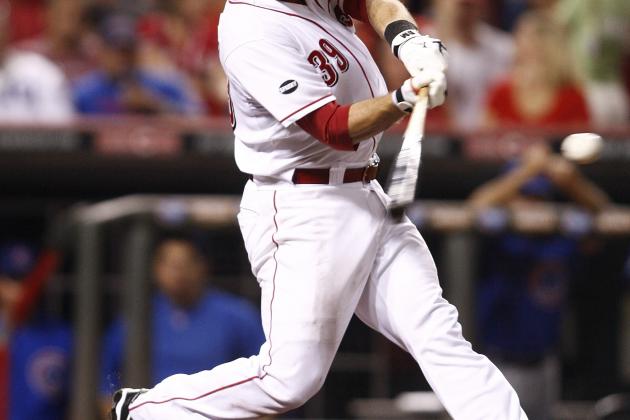 John Grieshop/Getty Images

Need: Catcher
Why: The team did a significant amount of offseason transactions this winter, but one thing they need most is a catcher.
The answer? Prospect Devin Mesoraco.
Listed as one of the top prospects in baseball, Mesoraco hit .289, 36 doubles and 15 home runs with 71 RBI in Triple-A last year. He also saw some time in the big leagues, but only saw action in 18 games hitting .180 with two home runs and six RBI.
The Reds are going to need Mesoraco to step up big in their hopeful resurgence to the top of the NL Central.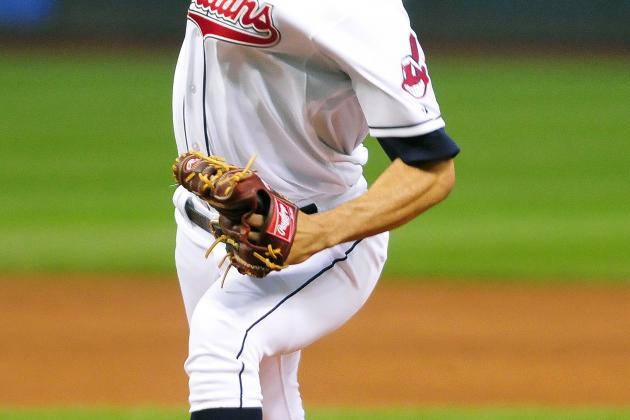 Jason Miller/Getty Images

Need: Starting Pitching
Why: The Cleveland Indians' ace needs some backup. In 2011, Ubaldo Jimenez posted a 10-13 record with a 4.68 ERA.
The pitcher behind him in the rotation is formerly known as Fausto Carmona. Now known as Roberto Hernandez Heredia, he may be in his last season in the rotation since his contract with the Indians has club options for 2013 and 2014.
In addition, there is still no timetable on when "Heredia" will be able to return to the United States after his legal woes dealing with his false identification arrest outside the U.S. consulate in Santo Domingo, D.R. that proved he was three years older than stated. They are hoping sometime before Opening Day.
The Indians did sign starting pitcher Derek Lowe, but after a horrendous 2011 season who knows what the 38-year-old will bring to Cleveland.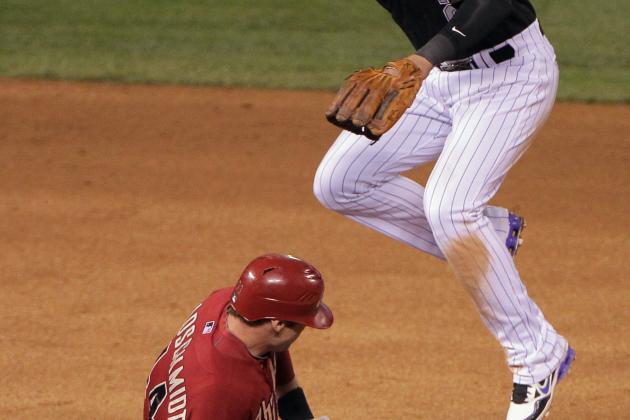 Doug Pensinger/Getty Images

Need: Infielder
Why: The Colorado Rockies have an infield filled with veterans.
Todd Helton (1B), Marco Scutaro (2B), Casey Blake (3B) and Ramon Hernandez (C) are each at the end of their careers leaving Troy Tulowitzki as the "young" one in the infield.
The Rockies have solid infield prospects throughout their system like shortstop Josh Rutledge, third baseman Nolan Arenado and Trevor Story who can man both positions on the left side. However, neither of the three have seen action above High-A meaning it will be quite some time before they make it to the majors.
The only way youth can come quick to Coors Field will be through trade.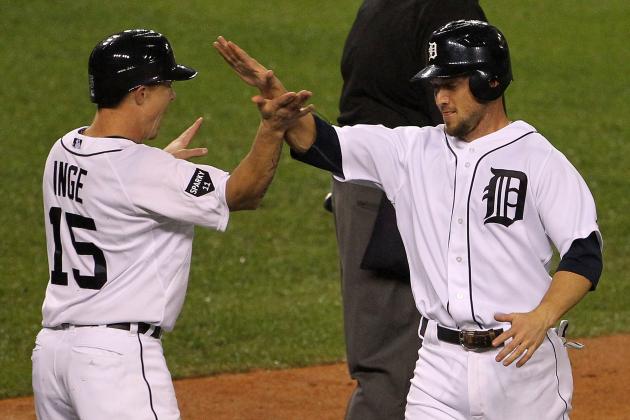 Leon Halip/Getty Images

Need: Second Baseman
Why: The second base role is filled by platoon players with Ryan Raburn, Brandon Inge and Ramon Santiago on the depth chart.
However, the lineup is stacked throughout despite the likeliness of catcher Victor Martinez missing the entire 2012 season due to an offseason leg injury resulting in surgery.
The Tigers can afford to have second base filled like this, but probably not much else after the huge winter signing of new first baseman Prince Fielder.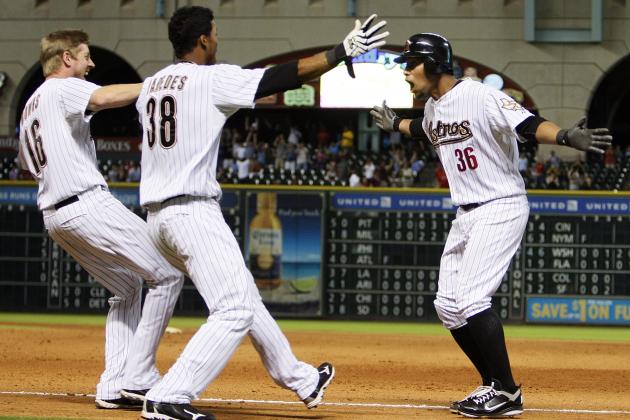 Bob Levey/Getty Images

Need: Outfielder
Why: The Houston Astros experienced one of their worst seasons in franchise history in 2011 and lost two of their best players in the process.
Outfielders Hunter Pence was sent to the Philadelphia Phillies and Michael Bourn ended the season with the Atlanta Braves leaving this year's situation looking like J.D. Martinez, Jordan Schafer and Brian Bogusevic from left to right.
This new-look outfield is definitely a falloff, but at least will provide some youth in Houston as they play their last season in the National League before going to the American League.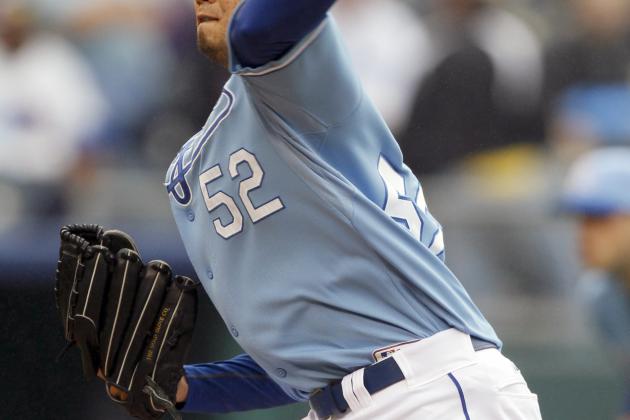 Ed Zurga/Getty Images

Need: Starting Pitcher
Why: Despite the offseason transaction of starting pitcher Jonathan Sanchez, the Kansas City Royals need a little bit more in order to contend with the teams in the AL Central.
Here's how the rotation is squaring off for 2012: Luke Hochevar, Bruce Chen, Jonathan Sanchez and Felipe Paulino and Danny Duffy.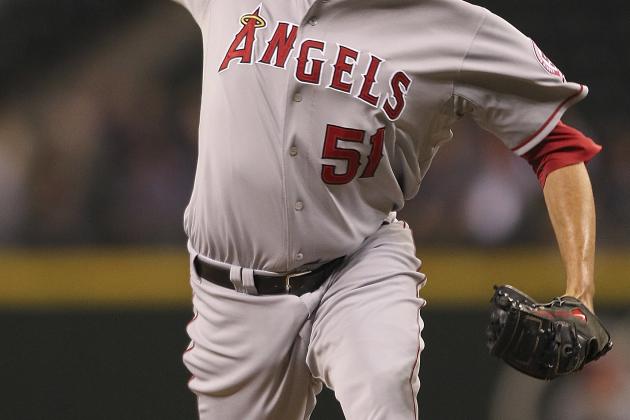 Otto Greule Jr/Getty Images

Need: Closer
Why: Los Angeles Angels reliever Jordan Walden did a stellar job out of the bullpen in 2011 on paper, but they need someone who will be reliable and seal the deal as soon as the ninth inning rolls around.
Walden was 5-5 with a 2.98 ERA and 67 strikeouts through 60.1 innings of work. However, of the 42 save opportunities he had, he dropped the ball on 10 of them giving him a total of 32 saves on the year.
With the offseason additions of starting pitcher C.J. Wilson and first baseman Albert Pujols, there isn't much room to find someone more effective than Walden was last year, but it is something the Angels should be sure to watch the market for.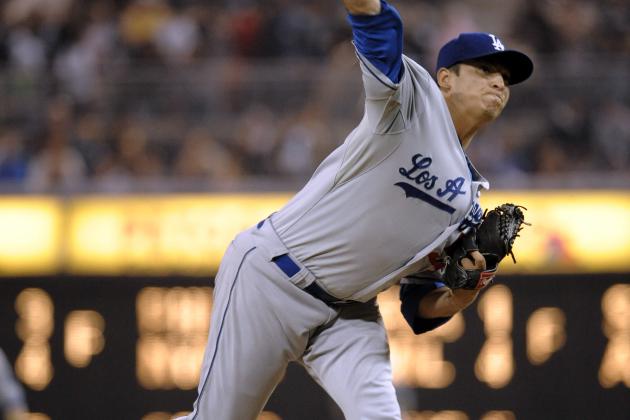 Denis Poroy/Getty Images

Need: Closer
Why: Like the other team Los Angeles, as Tommy Lasorda would word it, the Dodgers are in need of a true closer after the departure of Jonathan Broxton to the Kansas City Royals.
The ninth inning in LA has always been known to be electrifying through Eric Gagne then Broxton.
This season, pitcher Javy Guerra will fill the full-time role of closer after going 2-2 with a 2.31 ERA and 38 strikeouts while closing 21 games for the Dodgers in 2011. However, seen as a "semi-closer" means there is always the potential to be replaced by someone else in the bullpen.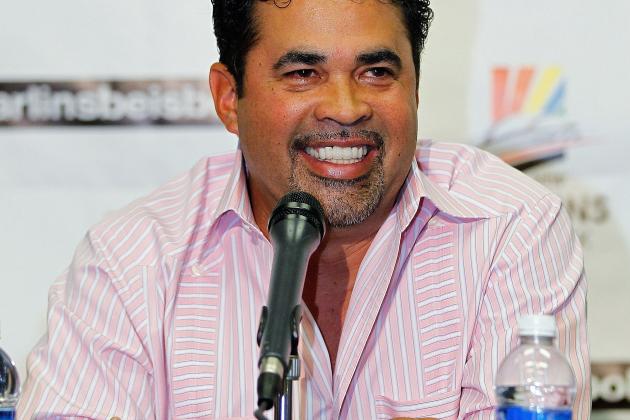 Mike Ehrmann/Getty Images

Need: Highly Qualified Team Therapist
Why: Ozzie Guillen + Carlos Zambrano + Logan Morrison + Hanley Ramirez + Jose Reyes = Migraine.
They have all the talent on the field to win the World Series, but it's what is off the field that can be a worry.
Manger Guillen is known to be one of baseball's loudest mouths from the bench.
Pitcher Zambrano is a Gatorade jug's worst nightmare.
Outfielder Morrison's Twitter account reflects his well-known wild personality (refer to any tweet).
Third baseman Ramirez showed signs of being lazy and immature in 2011.
Shortstop Reyes gets to deal with the pressure of being in a new environment in Ramirez's old one.
Good luck Miami.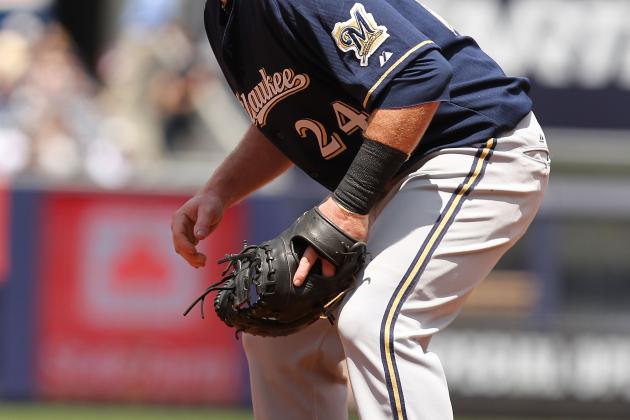 Al Bello/Getty Images

Need: First baseman
Why: Whoever plays first base for the Milwaukee Brewers will have a tough time filling in the pants at the corner position, literally and statistically.
The departure of Prince Fielder to the Detroit Tigers leaves Mat Gamel assuming the role at the position, but with only 85 career games under his belt, the Brewers may want to look elsewhere.
In 2011, Gamel hit .115 in 26 at-bats through 10 games.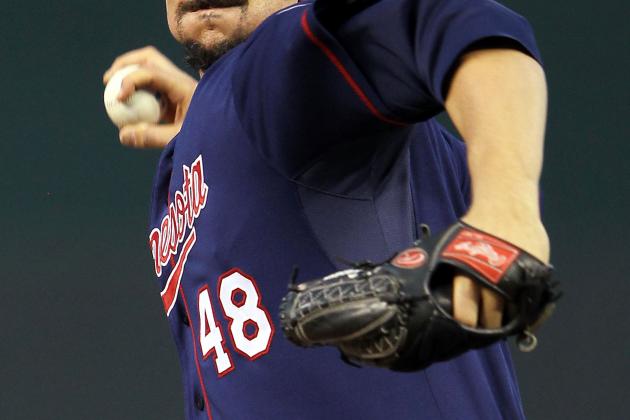 Jamie Squire/Getty Images

Need: Pitching Ace
Why: When Carl Pavano is your ace, you know you have a problem.
The Minnesota Twins have Pavano at the head of the rotation this year. The right-hander went 9-13 with a 4.30 ERA and 102 strikeouts in 222 innings pitched. Besides the 200-plus innings mark, not much to be impressed with there.
In addition, Pavano gave up 262 hits and 40 walks during those 222 innings.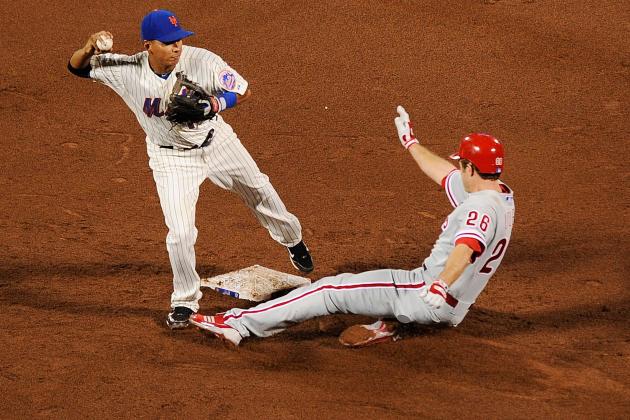 Patrick McDermott/Getty Images

Need: Shortstop
Why: Homegrown shortstop Jose Reyes took his 2011 NL batting title by signing a new contract with the Miami Marlins.
At least Mets fans won't have to deal with Reyes' constant injuries, but they will have to deal with filling a huge hole he's left in the infield.
The man taking over for him is slated to be Ruben Tejada.
Tejada, 22, hit .284 with 15 doubles, one triple and 36 RBI through 96 games with the Mets last season.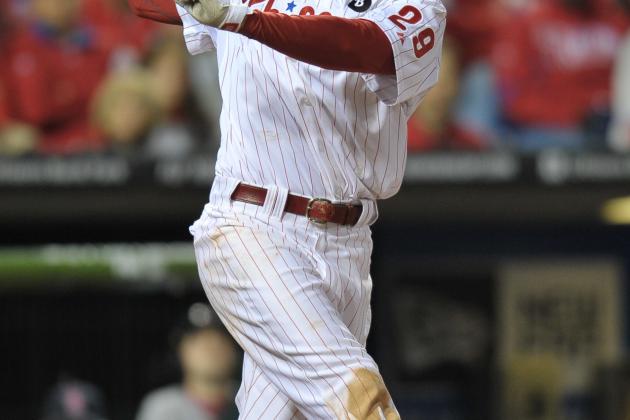 Drew Hallowell/Getty Images

Need: Designated Hitter
Why: Granted the Yankees filled their last real need with signing Raul Ibanez at the DH spot, they still should be on the lookout for another.
Ibanez hit .245 with 20 home runs and 84 RBI for the Philadelphia Phillies in 2011. At 39 years old though, he is at the end of his career.
As for the player behind Ibanez in the DH spot, he is also at the end of his career.
Andruw Jones is entering his 17th season in the major leagues and hasn't been a regular in a starting lineup since 2007.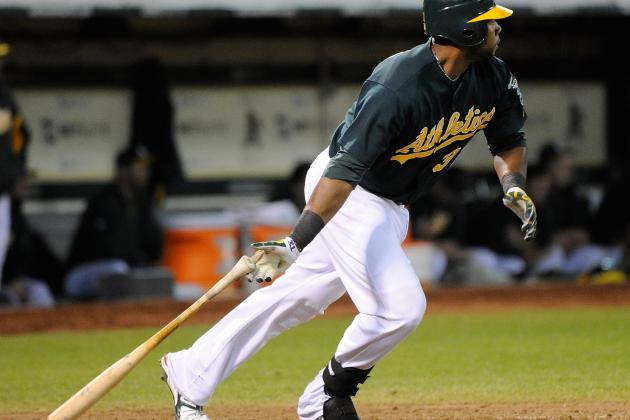 Thearon W. Henderson/Getty Images

Need: First Baseman

Why: The Oakland Athletics have first baseman Brandon Allen filling in the top spot at the position, but he's not the answer for the A's.
After three seasons with short stints in the majors, Allen has only played 106 games hitting .210 with 19 doubles, two triples and 11 home runs with 38 RBI while posting a 128:40 strikeout-to-walk ratio.
Unless the A's hope DH Cris Carter and outfielders Johnny Gomes and Manny Ramirez can have a good season then they may want to try them at first base. Otherwise, this is the main hole the A's need to fill.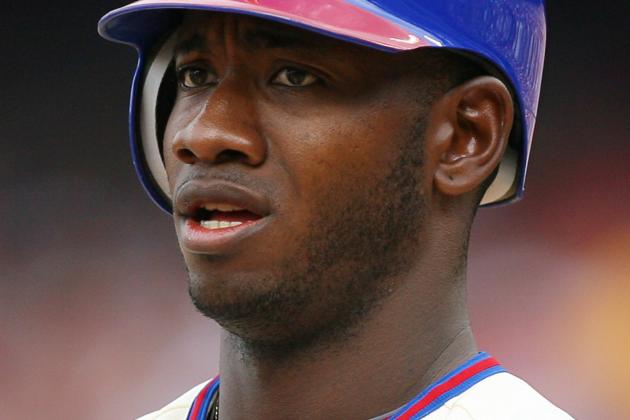 Hunter Martin/Getty Images

Need: Outfielder

Why: The Philadelphia Phillies need outfielder Domonic Brown to come around at the major league level or John Mayberry to make a strong statement as to why he should be the team's starting left fielder.
Brown struggled to stay in the major leagues last year. He finished the season with a .245 batting average, 10 doubles, five home runs and 19 RBI. A far cry from the .290/20/70 and 20 stolen bases he's been projected to hit.
Mayberry had a solid season in the outfield for the Phillies in 2011. He hit .273 with 17 doubles, 15 home runs and 49 RBI in 104 games.
Brown may be the long-term answer, but if he can't produce again then Mayberry will play the role.
Jared Wickerham/Getty Images

Need: Shortstop

Why: As the Pittsburgh Pirates continue to turn a corner, their shortstop situation isn't very ideal.
Clint Barmes is slated to be the team's starting shortstop in 2012. In nine MLB seasons, only five were over 100 games played. Of those five, only one of those seasons saw a batting average over .245 and that came in the season where he played the least 100-plus games at 107 in 2008.
It wouldn't be a bad idea to try out infielder Chase D'Arnaud at the position in his first full season with the club.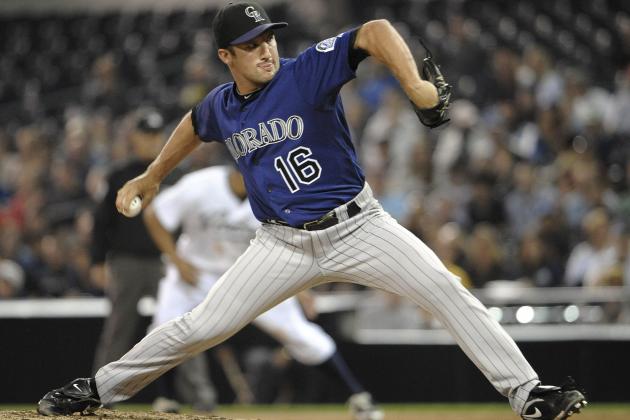 Denis Poroy/Getty Images

Need: Closer

Why: The San Diego Padres signed closer Huston Street during the offseason, but it's tough to ignore the fact they lost All-Star reliever Heath Bell.
Street will need to return to his Oakland Athletics' form in 2012 now that he is out of Colorado and back in a more favorable pitching park like Petco in order to take this term of the team's need list.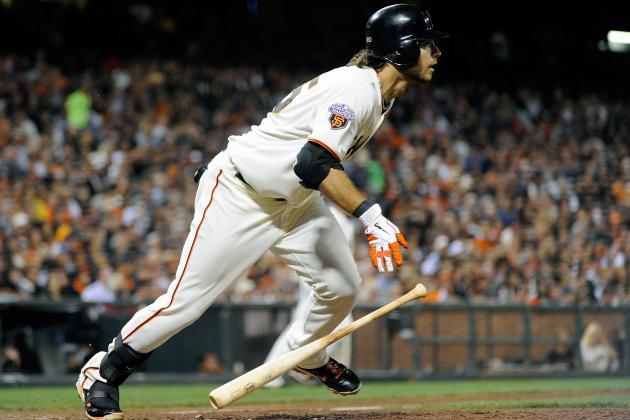 Thearon W. Henderson/Getty Images

Need: Shortstop

Why: The San Francisco Giants need offense and a position that needs it most by far is at shortstop.
Slated to begin the season as the Giants' shortstop is UCLA product Brandon Crawford.
In 2011, Crawford hit .204 with five doubles, two triples and three home runs with 21 RBI in 66 games during his Bay Area debut.
The Giants think he can hit .280 with at least 20 doubles and home runs in the double-digit category a season. Hopefully for them that time will come beginning Opening Day.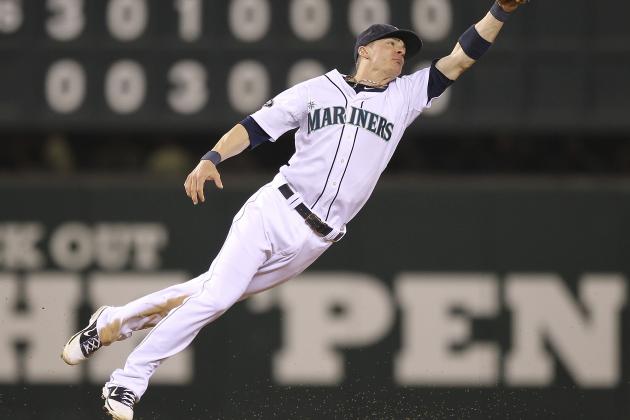 Otto Greule Jr/Getty Images

Need: Shortstop

Why: The Seattle Mariners have the pleasure of facing two of the best teams in baseball on a consistent basis; Los Angeles Angels and Texas Rangers. This will make a team like Seattle worse than they look on paper.
While the team has many needs, the one they really need is at shortstop.
Brendan Ryan will fill the role for now, but he hasn't seen any success during his five-year major league career since 2009 when he hit .292 with three home runs and 37 RBI while swiping 14 bases for the St. Louis Cardinals.
The Mariners should hope for nothing less than a repeat of Ryan's 2009 season with the strengthened AL West.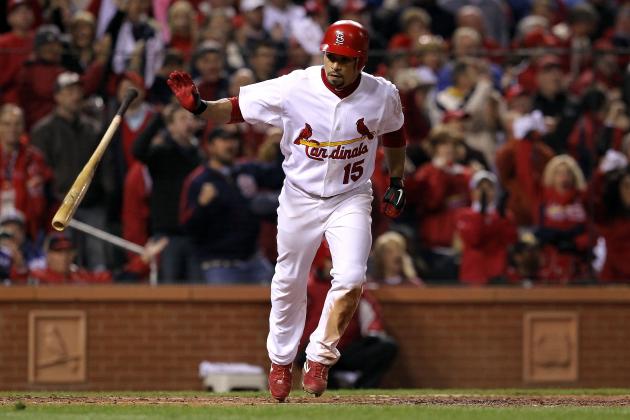 Jamie Squire/Getty Images

Need: Shortstop

Why: Like many teams in the major leagues, the St. Louis Cardinals need a shortstop for a couple main reasons.
Shortstop Rafael Furcal is old and unproductive.
Last year, Furcal hit .231 with 15 doubles, eight home runs and 28 RBI through 87 games. He is also 34 years old this season and the 12 years of experience has under his belt is wearing off on him.
Lance Berkman is coming off a career year and will be at first base this season. If he wasn't tabbed as the Cardinals first baseman, that would be the main need for the team this year with the departure of Albert Pujols to the Los Angeles Angels.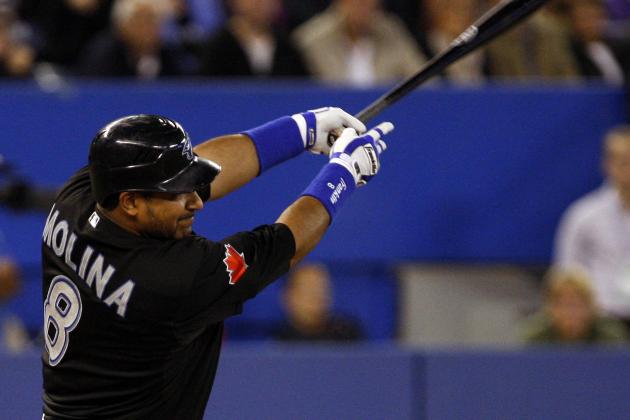 Abelimages/Getty Images

Need: Catcher

Why: The Tampa Bay Rays declined the option of re-signing catcher Kelly Shoppach so now they are stuck with Jose Molina.
No disrespect at all to Jose Molina, but he is not durable, reliable, offensively productive and maybe the slowest player in baseball.
In addition, the most games Molina has played in his 12-year career in a season is exactly 100. All of the other season are well below 75.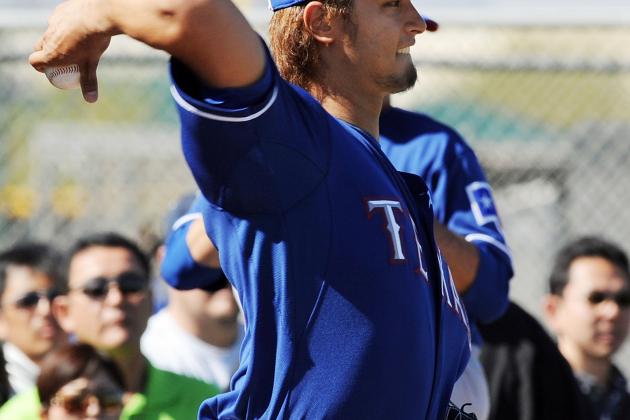 Norm Hall/Getty Images

Need: Relief Pitcher

Why: Despite losing their ace C.J. Wilson to the Los Angeles Angels, the addition of Yu Darvish and Joe Nathan in the bullpen virtually leaves them with zero holes in their lineup.
However, like anything else, things can always be improved.
That being said, they may want to look into an arm out of the bullpen after losing relief pitchers Darren Oliver and Mike Gonzalez during the offseason.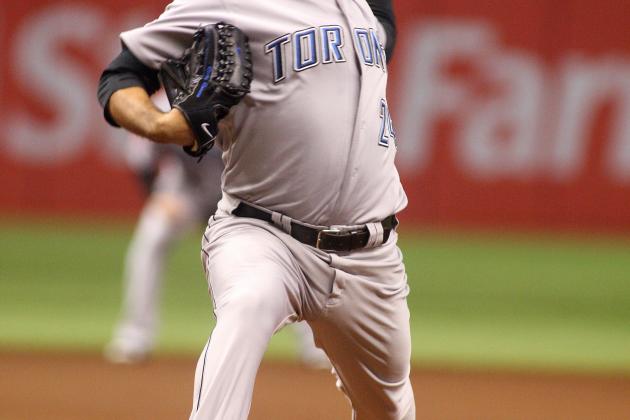 Charles Sonnenblick/Getty Images

Need: Starting Pitcher

Why: In a division with teams like the New York Yankees, Boston Red Sox, Baltimore Orioles and Tampa Bay Rays, pitching is a must.
After Ricky Romero at the head of the rotation, there really isn't too much depth at all.
Blue Jays GM Alex Anthopoulos will have to look into adding arms to the starting five if he ever wants to make their way to the top of the AL East.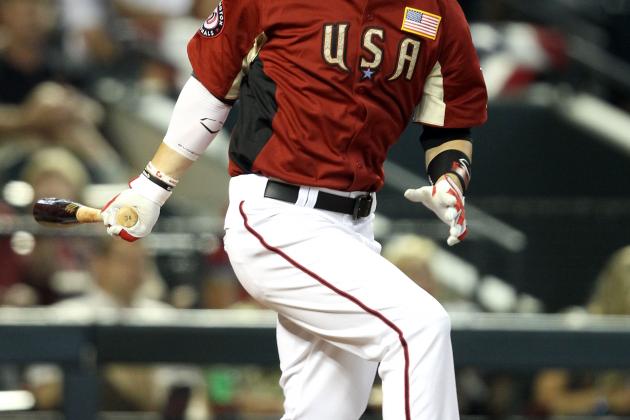 Christian Petersen/Getty Images

Need: Outfielder

Why: The Washington Nationals have a slightly above average outfield with Mike Morse in left, Roger Bernadina in center and Jayson Werth in right, but it stops there.
The Nationals need outfielders because they have none besides their starting three. Which brings up the mostly asked question in baseball right now: When will the Nationals promote Bryce Harper to the majors?
Well, this is looking like the year MLB's top prospect Bryce Harper makes his way to D.C. Keep an eye on the young phenom to make a splash with the Nationals similar to the one Stephen Strasburg made when he first came to the big leagues.
Matthew Stucko is a featured columnist with Bleacher Report. His work has been featured on MLB.com, MiLB.com, Baseball America and more. Follow him on Twitter @MLB_Prospects.