NFL Draft 2012: St. Louis Rams Wisely Make Desire to Trade Down Publicly Known
February 24, 2012

Dilip Vishwanat/Getty Images
There was almost a consensus speculation that the St. Louis Rams were going to trade out of the No. 2 spot in the 2012 NFL Draft.
They've now made that official by confirming to Adam Schefter of ESPN that they are shopping their draft spot and will award it to the highest bidder.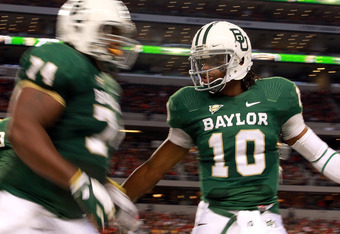 Ronald Martinez/Getty Images
It just makes sense for the Rams to move out of the slot because their biggest need isn't a quarterback, and teams are going to be fighting to get a shot at Robert Griffin III.
The team that makes the most sense to swap with is the Cleveland Browns.
Cleveland possesses the No. 4 and 22 overall picks this year and has already stated their desire to move up.
"You evaluate everything," Shurmur said, according to the News-Journal. "I wouldn't say we're hesitant to do anything. We're excited about the fact that we're going to make our team better with this draft. That's the way we approach it. We're not hesitant at all."
Nabbing a franchise quarterback is definitely a way to better the team.
Cleveland has long struggled to find a signal-caller worthy to build around and incumbent starter Colt McCoy obviously isn't the answer.
If they were to offer both of their first-rounders to St. Louis, there is no way they say no.
The Rams have need for a receiver like Justin Blackmon, who should certainly be available at No. 4, and they could work on their terrible defense with the No. 22 selection.
It's a win-win for both parties and it should definitely happen given their mutually stated desire to shuffle draft positions.
Even if the Browns decide not to make a play for the No. 2 pick and RGIII, expect another team, such as the Washington Redskins or Miami Dolphins, to make a stab at it.
If St. Louis wants to move from that spot, they are going to have no shortage of suitors and offers.