Joe Blanton: Just How Overweight Is Contract of Philadelphia Phillies Pitcher?
February 23, 2012

Chris McGrath/Getty Images
Last week was Philadelphia's most recent attempt to unload Joe Blanton and his salary. The Phillies, according to Buster Olney, were looking to trade Blanton to bring Los Angeles Angels outfielder/DH Bobby Abreu back, temporarily. They would then flip Abreu back to the New York Yankees (again), and acquire A.J. Burnett.
What probably prevented that nightmare of a trade, Blanton for Burnett, from actually happening was the money didn't work out for the Phillies. Good. They would have fallen victim to the Yankees again, but also would not really be gaining any salary relief from Blanton, if they were to pay roughly what the Pittsburgh Pirates are going to pay Burnett (granted over two years).
But why is Blanton's deal perceived as so terrible that there are often desires, from both the Phillies and their fans, to unload his deal? It's not as terrible as bandwagon perception would suggest.
Interestingly, the deal Blanton and the Phillies agreed to in January 2010 is one of the most talked-about signings in the franchise's recent history. It's not crazy to say it is as discussed as much as Jim Thome's original deal with the Phillies in 2002, which, of course, was a pretty remarkable signing for a few other reasons.
People are able to recite Blanton's salary for 2012, $8.5 million, like no other Phillie. It probably would require someone more thought (or time if they forgot and had to go as far as looking it up) to remember Chase Utley's salary off the top off their head than it would to think of Blanton's.
The number and the agreement itself have been mentioned so much because they are both discarded as "wastes of money" and add to Big Joe's alternate nickname of "Heavy B" because of his heavy cost. Should they be regretting the contract though?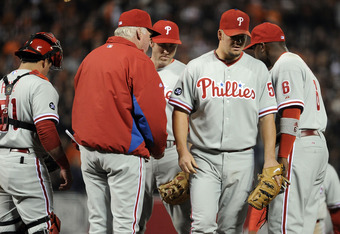 Harry How/Getty Images
First, let's keep in mind that it really only was a two-year extension. Blanton was up for arbitration in 2010, the first year of the deal, and the Phillies, having tendered him, would have to pay him for that season, even if they settled before a hearing. According to Baseball-Reference, his 2010 salary in the deal was $3 million, but that was because it was part of the extension.
If it was just a one-year deal, there is no chance he makes anything less than $5 million more than that. Pitchers usually receive a $2-5 million raise going into their final year of arbitration. Blanton took a $2.5 million pay cut. And he had a very solid 2009 campaign on top of that.
With that in mind, the real extension, not even counting his 2010 salary that was spread out across his 2011-12 salaries, would be keeping him in his free-agent years, his first chance to be paid and on the open market. He received $10.5 million in 2011, and will make $8.5 million in 2012, again according to Baseball-Reference. That equates to a two-year, $19 million extension.
Then consider that they spread out a majority of his true 2010 salary the other two years, and the extension could really only be worth about $15 million for two years.
Even if we temporarily ignore that part of it and value it at what it is in paper for now, which people ignore quite often, and value it at two years, $19 million, is that so terrible?
According to the market, which in reality is the most important thing, it is not terrible at all. For those same two seasons, 2011 and 2012, Jake Westbrook will be paid slightly less than that at around $17.5 million, at the minimum. He has options and other clauses that could flocculate that. But Westbrook, at the time a career sub-.500 pitcher, is past his prime and at the time of both his and Blanton's deal was far more of an injury risk.
Furthermore, he got this deal after the St. Louis Cardinals were able to witness the Phillies give Blanton this deal and be injured in 2010.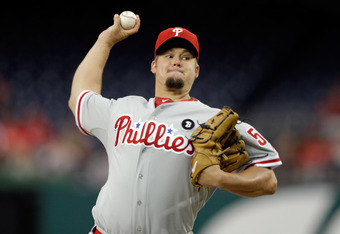 Rob Carr/Getty Images
Pitching for the World Champions in a lineup with Matt Holliday, Lance Berkman and Albert Pujols, Westbrook was able to ride on a 4.66 ERA to squeeze out 12 wins with the help he received. He by far led the league in run support and got almost a run per inning to work with from the offense.
Is Blanton definitively worse than he is, and not worth paying a tick more for his prime years? It's not a logical argument to make. Even now, with two injury-plagued down seasons, Blanton still has a better career winning percentage and ERA compared to Westbrook. So you figure that with Blanton being healthy and if you gave him nine runs to work with per start, he could win a dozen games easily.
Also remember that the Phillies could not assume that Blanton would be injured the first two years of the deal. He had been extremely durable before then. In addition to pitching in and out of the bullpen for them in the postseason, Blanton consistently made every start and led the American League with 34 starts in 2007.
Then, factor in that the two seasons really included part of his 2010 salary, and they clearly were not well beyond the market. If anything, it was less than that, given the contract Westbrook received.
Taking a different angle and playing along with the anti-Joe team, let's say the Phillies went along with their wishes and only gave him one post-arbitration year, 2011. Who is pitching every fifth day after Roy Halladay, Cliff Lee, Cole Hamels and Vance Worley in the rotation? Remember, the Phillies are right up against their desired budget to avoid the luxury tax.
Right away, throw out Roy Oswalt, as his desire for $10 million can not be accommodated in this scenario. There isn't anyone making more than Blanton they can consider for the spot, given the budget limits.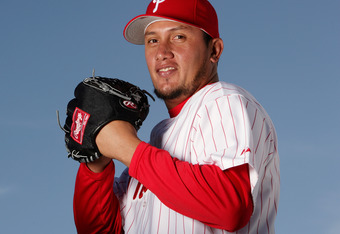 Al Bello/Getty Images
It is tough to find one person making what Blanton is set to make or less, about which you can say he is clearly a better option than Blanton for a healthy 2012.
Going over the list, pretending as if Edwin Jackson wasn't overpaid and would shave off a few million to come to a winning team would not be a better option. The man whose initial claim to fame was being the pitcher that served up a home run to Blanton in the World Series is a .500 pitcher, with an ERA around 4.5, much higher than Blanton's. He also has struggled in the National League for his career.
Moving on, Paul Maholm is mediocre at his absolute best, and is no better than Blanton. He followed up a 15-loss season with 14 losses this past year, and has lost 14 or more games three of the past five seasons. He's not worth giving any significant amount of money. If you're not for counting wins and losses, which at the end of the day is the most important stat, Maholm's ERA is higher than Blanton's anyway.
Then there was Jason Marquis as an option this offseason. Marquis is worse than Jackson and has an ERA nearly a quarter of a run higher than Blanton. Incredibly, Marquis is about a .500 pitcher, despite pitching for 11 playoff teams in his 12-year career. How does that happen?
Additionally, Marquis is awful at Citizens Bank Park. His career ERA there is around nine; would you like to see him make 20 or so starts there?
Jamie Moyer technically is an option, but with people upset about him being signed a year too long, is there any reason to think he is worth bringing back again compared to Blanton, especially coming off Tommy John surgery? He is no better.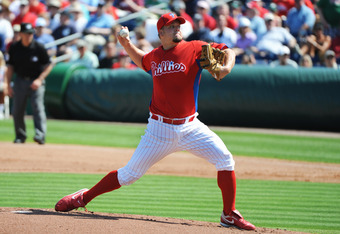 Al Messerschmidt/Getty Images
Freddy Garcia is the last option even worth considering, and the reality is he will never be brought back here after his 2007 season. He is even more of an injury risk than Blanton is anyway.
No one in the minor leagues is ready for this season, and the team remains committed to Kyle Kendrick in the bullpen as a long man and not starting. It's not a slam dunk that he is better than Blanton anyway.
So while Blanton may frustrate people at times for being just what he is and we all expect from him—an average starting pitcher just giving his team a chance to win—there is not much logic or merit behind it. If you'll recall, the Phillies recently paid someone more than what Blanton makes to go 14-18 with an ERA above six.
And they considered trading for a pitcher in A.J. Burnett who has posted ERAs above five the past two seasons. The Phillies and their fans last saw him get torched by a Phillies lineup that included Brian Schneider, Wilson Valdez, Greg Dobbs and Ben Francisco for six runs in less than four innings.
Is he really better and worth more than Big Joe? Is anyone truly better than Blanton at the same price or less than he's being paid?
As far as fifth starters go, the Phillies are and will be fine with Blanton for this season. The guy actually could be the Opening Day starters for some teams in the league, so he's good enough to be the least-relied-upon starter in Philadelphia while making his market value.