Tim Tebow: Comments Made By Terrell Suggs in GQ Much Worse Than Brady Quinn's
February 22, 2012

Rob Carr/Getty Images
The GQ interview heard 'round the world features more than just one person ripping Denver Broncos' QB Tim Tebow.
In the article entitled "The Year of Magical Stinking: An Oral History of Tebow Time," backup Brady Quinn came off sounding like a jealous second-stringer trying to get one last dig on his way out the door. He took it a step further by suggesting Tebow was lucky and prayed for the cameras.
It caused a stir in the media yesterday and Quinn quickly backed off his words pretending that author Mike Silver took his quotes out of context.
But what Quinn said is nothing compared to the words linebacker Terrell Suggs used. The outspoken Baltimore Raven, who has never faced Tebow, was incredibly blunt when talking about how most NFL players feel about No. 15:
They say we were giving him a hard time because he's a Christian. No, that's not it! We were giving him a hard time because he was terrible.
Straight and to the point. It's somewhat strange that Silver would seek out a player that has likely never even met Tebow, let alone played against him. Probably because he was one heck of a sound bite:
I mean, it's an insult to us players. You know, wins are hard to come by in this league, and if I was Denver's defense, I would feel a certain way – they're not allowed to, because they're all on one team, but people are making it look like Tim Tebow is the kid from Foxborough (Tom Brady), which that couldn't be more opposite. It's just crazy that we're calling him a phenomenon when basically he's mediocre. (Carolina rookie) Cam Newton is a way better quarterback than Tim Tebow, and we don't have a Cam Newton phenomenon.
At least Quinn had a front row seat to Tebowmania.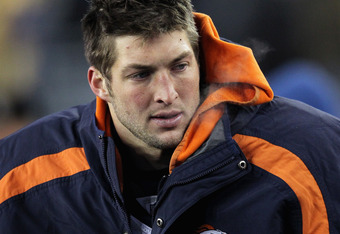 Jim Rogash/Getty Images
This isn't the first time Suggs has ripped Tebow. He spoke his mind on the Mile High Messiah throughout the season and it seems like the Defensive Player of the Year has some sort of personal vendetta against him.
Why isn't anybody enraged by this? He basically made every anti-Tebow excuse in the book and called him terrible despite knowing nothing about him. He should worry about how his own quarterback Joe Flacco is trying to get paid like a top-five QB. He should be worried that his Pro Bowl running back Ray Rice is a free agent.
He needs to worry about his own team and not a player who resides two time zones away. I will say this about Suggs; at least he won't back down to his comments and say he was portrayed wrong.