NFL 2012: 10 Biggest Impact Rookies for the 2012 Season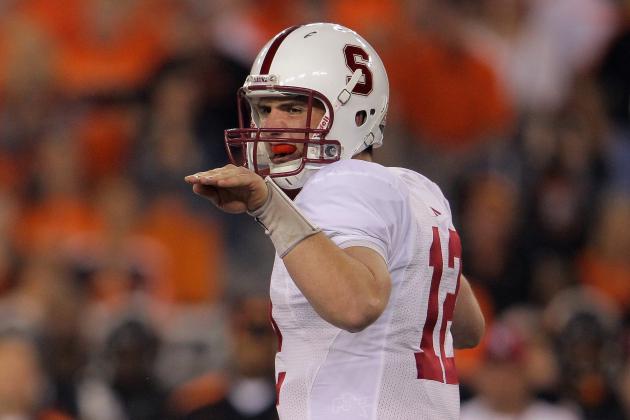 Doug Pensinger/Getty Images

Here are 10 rookies that have the skill set and playmaking ability to have a serious impact this season. Some will step into situations where they are forced to play because of need, and some will excel simply because of how skilled they are entering the NFL.
In today's NFL, first-year players can have a huge impact for the team drafting them. See Cam Newton and the Carolina Panthers, and Patrick Peterson and the Arizona Cardinals.
This list is full of players who have the skill set to make such an impact. Videos are included to show what each player can bring to the next level.
Begin Slideshow

»
Andrew Luck is as can't-miss a quarterback prospect as there has ever been. Simply put, every aspect of his game has been scrutinized, and there is nothing he doesn't do well above average. To find a flaw, you have to nit-pick—he is that polished in every way.
The video shows Luck throwing from the pocket and outside the pocket. It shows him making plays on the roll-out and making plays with his feet. Luck displays very good decision-making and a very fast, accurate delivery. He shows a strong arm when needed, but also throws with great touch when necessary. One thing that stands out is his excellent footwork, as he always seems to be set and ready to throw.
Luck will be replacing a legend and will get compared to Peyton Manning his entire career. His physical gifts are so much that as a rookie he should be very productive in the 2012 NFL season.
Robert Griffin III is the most exciting player in the 2012 NFL draft. He is an outstanding quarterback with elite arm talent who can also torch opposing defenses with his legs. He is a gifted, intelligent athlete who has it all. He will be the piece that turns around a franchise from behind center.
The video shows Griffin III throwing from the pocket and outside the pocket. What stands out is how much time he buys with his feet and how electric his arm is throwing the ball deep. He throws with great accuracy with what seems to be an effortless motion. The video also shows his footwork and athleticism as he burns defenders with his speed running the ball.
Starting at the 3:10 mark, you can see just how strong his arm is. He rolls left and throws across his body, throwing the ball 40 yards. The throw is a frozen rope and demonstrates his elite arm strength.
Trent Richardson is a dynamic powerful running back and whatever team he lands in is getting a workhorse. He is an elite runner but is also very skilled in the passing game. It is an underrated aspect of his game. Some scouts consider Richardson the best running back to enter the NFL since Adrian Peterson.
The video shows how elusive Richardson is, along with how well he runs behind his pads. He is a powerful athlete with a nice burst after contact who runs the ball "angry." Richardson is a violent running back who seems to like running the football. The video shows how quick his feet are and how he makes tacklers miss with his foot speed.
Richardson is a feature back playing in an era when they are rare. He is an amazing talent and a player that will have no problem making the jump to the NFL.
David DeCastro is arguably the best offensive linemen in the entire NFL draft. He plays guard and will anchor the interior of an offensive line for years. A player like DeCastro is vital to any team as he is a plug-and-play type of player who will start and dominate from day one. He is a road-grader and a force in the running game and a player that won't get beat in the passing game.
The video shows an interior lineman who has good initial quickness and a player who adjusts well to the blitz. He shows a mean streak and a desire to maintain his block throughout the play. He has really good range pulling as he gets into the second level quickly. The video shows his great feet and his dominance in the run game and his ability to move along the line.
This will not be a "sexy" type of pick come draft day. DeCastro is a powerful athlete and a player that will be a force at the NFL level immediately.
Justin Blackmon is an elite wide receiver and a player that will make plays for an offense immediately at the NFL level. He has a great ability to use his body as a shield to box out defenders and quarterbacks will love his ability of using his body to his advantage. Blackmon is big and strong and will be a player that defenses won't be able to press off the line.
The video showcases Blackmon's ability to contort his body to make a play. He is a strong athlete who will run through tackles and use the stiff arm to fend off defenders. Watching the video, you are instantly reminded of Terrell Owens. He is not the fastest wide receiver but has an incredible way of eliminating a defender using his body. He displays a great ability to rack up yards after the catch.
Blackmon will make the transition from college to the NFL very well. He is a competitive player who wants the ball and shows a tremendous passion for the game.
Kendall Wright is an explosive wide receiver who will present matchup problems for opposing defenses. Teams will draw up plays specifically for Wright and will use him out of the slot. Speed is a proven commodity in the NFL, and Wright has it. He is the type of player that teams will use to take the top off of the defense. He has a phenomenal ability to make things happen after the catch but will go into traffic and take a hit.
The video instantly shows how fast Wright is as he simply runs away from defenders. He has a great feel for the sideline and uses it to his advantage. We can see how he concentrates to make catches across his body and over his opposite shoulder. He has a second gear that jumps out whether it's a route from the slot or a route up the seam. He looks to be very elusive and a player that defenses will have to account for all the time. There is an electric feel about him.
Wright is going to be an interesting player at the NFL level because of his speed. He can flat out fly and is a player that will punish defenses in the passing game and with yards after the catch.
Coby Fleener fits the mold of the new breed of NFL tight end. This new breed looks and plays like a basketball player, boxing out defenders and using their height to win jump balls in the red zone. At 6'6" and 245 pounds, Fleener is a matchup nightmare for defenses in the mold of a Rob Gronkowski or a Jimmy Graham.
The video shows that Fleener is a good route runner and a really good catcher. He has a good ability to run underneath routes and has no problem running into traffic. He has long arms and does a good job of setting up defenders with head fakes. He looks to be a tough player to cover and a one that finds open space very well.
Fleener is the type of player that will use his size and natural athletic ability to make plays in the NFL. The new breed of NFL tight end calls for a very tall, athletic player, and Fleener definitely fits that mold.
Cordy Glenn is an interior lineman who is very versatile. There is some discussion as to whether he could make the move to tackle at some point early in his career. Glenn has a massive size; he is 6'5", 348 pounds and is extremely strong. Glenn can anchor the interior of an offensive line for years to come, and if there is a chance that he can move to tackle, he becomes even more valuable.
In the video, he displays his characteristics as a mauler. It seems like once he gets his hands on a defender, the play is over for the defender. He does a good job out in front when pulling with his massive body. He enjoys the physical contact at the line of scrimmage and works to finish the play.
Glenn is versatile, physical and can play right away at guard in his rookie season. He is big and strong enough that he will play as a rookie already on the interior of an offensive line.
David Wilson is a running back who runs very hard for a smaller player. He can really run and has a strong second gear. Wilson is an asset in the return game and is a dynamic playmaker. He does a good job in the passing game and is a player that is one missed tackle away from taking it to the house. Wilson might not be an every-down player but he will make big plays with his speed.
The first thing you see on the video is just how fast Wilson is and how he uses that speed to run away from the defense. He is shifty and has an ability to step away from a tackler without losing any speed. The video shows how quickly he gets to the corner and how he is one step away all the time. He does not shy away from contact as he runs behind his pads well. The bubble screen in the video showcases how dangerous he can be in space.
When a player can run past an entire defense you know that player is going to make plays, and Wilson is absolutely that type of player. Wilson will make plays as a rookie simply because he is so fast inside and on the edge. You can see him becoming a very solid NFL running back early in his career.
Mohamed Sanu is a disruptive wide receiver who plays with a mean streak. He is a gifted athlete who is willing to mix it up physically. Sanu is just scratching the surface but also has elite physical tools. He will go get the ball and has the range to be a factor in the passing game. He has good hands and can make incredible catches.
The video shows Sanu's ability to use his athleticism and power to make plays. He is a violent blocker. He has an elite playmaking ability from an athletic perspective and shows good hands. He is very quick in and out if his breaks, and when given a step, he will make defenses pay. The video shows that Sanu has the agility to change directions and keep his balance without losing any speed.
Sanu is willing as a blocker and that attribute along with his own physical skills will put him in a nice position early in his career in the NFL. Sanu will be making noise as a rookie.