New England Patriots 2012 Mock Draft: 7-Round Predictions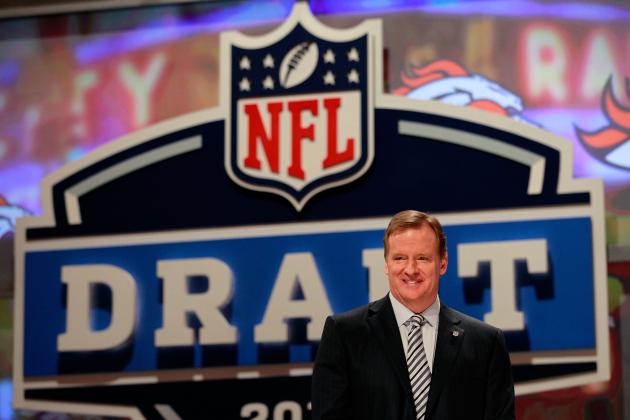 Chris Trotman/Getty Images

Despite a handful of plays preventing the New England Patriots from securing a fourth Lombardi Trophy in Indianapolis earlier this month, the roster is entering a period of flux.
Last season, Bill Belichick made a host of personnel moves that leave the team looking for long-term solutions at various key positions.
The Patriots' draft approach will, as ever, be shaped by their activity in free agency, which begins March 13, but as things stand now, very few positions are off limits when analyzing the team's needs.
After conceding the second-most passing yards in regular season history in 2011, most observers would agree that the secondary should be a major focus this offseason. Beyond that, a consensus on other upgrades is hard to come by.
Should the team focus on drafting an impact pass-rusher?
Is a receiver that can stretch the field a top priority?
What about the defensive line?
What's more certain, is that Belichick will move around the draft board, manipulating picks and dealing up or down where value presents itself. With no selections beyond the fourth round, expect to see plenty of activity on draft weekend.
It's hard enough to select the correct player in the slots provided, so for this mock draft, I'll leave trade scenarios out of the picture, and give you a run-down of the players that should pop up on New England's radar over the coming weeks.
Follow Nick on Twitter @nickbutterworth
Begin Slideshow

»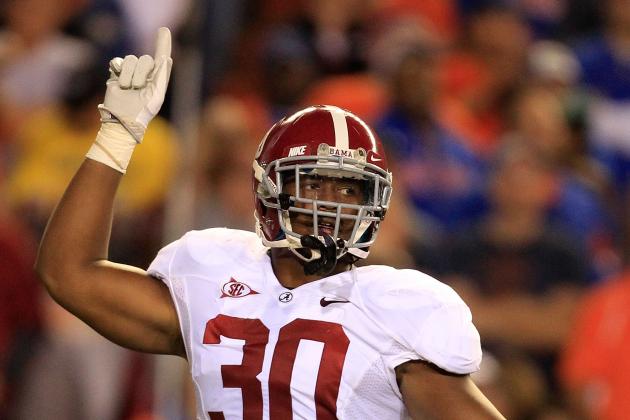 Sam Greenwood/Getty Images

Height: 6'4"
Weight: 260
I've seen a number of mock drafts focus on Mark Barron here, the Alabama safety, but the Patriots' issues in the secondary stemmed from a lack of speed in pass coverage. His strength is in the box, as a smash-mouth tackler and despite the drop-off after Barron, I don't see his skill-set as the solution in sub-packages.
Bill Belichick is a huge admirer of versatile, three-down defensive players, and Donta'a Hightower fits the bill at 27.
The Alabama linebacker can play as a 3-4 outside linebacker, and has the measurables and athleticism to fit the Patriots' traditional base scheme. He's just as comfortable as an inside linebacker and would convert to 4-3 strong-side linebacker with ease, thanks to his ferocity in the tackle, and solid technique.
With Hightower in the front seven, Belichick finds an edge-setter whose speed should see him break to the ball decisively. His ACL tear in 2009 is a concern, as is his ability to play man-coverage. Still, at the end of the first round, he is a safe pick who the coaches can feel good about plugging into the starting lineup from day one.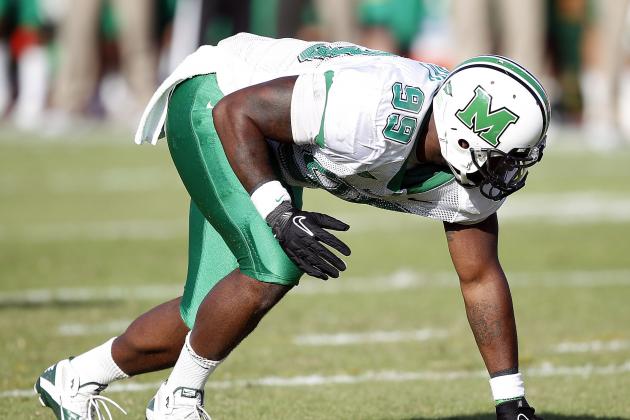 Bob Levey/Getty Images

Height: 6'3"
Weight: 265
If they don't trade down at this point, it wouldn't shock me to see the Patriots draft Wisconsin center Peter Konz with the 31st pick. Dan Koppen will test the waters of free agency. The interior line struggled to protect Tom Brady at times, though Dan Connolly settled into the job as the season wore on.
However, center is far from being New England's biggest need. Regardless whether veterans Mark Anderson and Andre Carter following their one-year deals, a young, quality pass-rusher is needed to bolster the front seven.
Bill Belichick rarely uses his top draft picks on college 4-3 ends. However, given Curry's size and production (a three years starting, 11 sacks, 22 tackles for a loss, three blocked kicks and six forced fumbles as a senior), there's much to like about the Marshall team captain.
With a full offseason strength conditioning program to add bulk to his lower half, he could be groomed for the "elephant" role in Belichick's system, while initially lining up in four-man fronts to ease the transition to the pro ranks.
Curry's speed and ability to drop into coverage will ensure that the Patriots take a close look at him in the coming weeks. He's not without fault—his resumé lacks a long list of elite offensive tackles faced—but there can be no denying his instincts, nor his ability to wreak havoc in the backfield.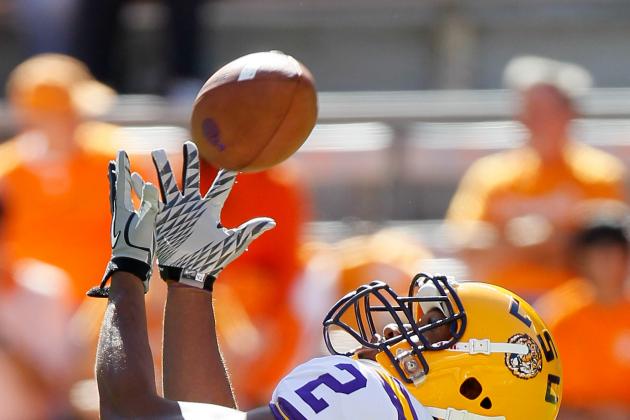 Kevin C. Cox/Getty Images

Height: 6'4"
Weight: 208
Bill Belichick's recent draft record with wide receivers leaves plenty to be desired. Recent third-round picks Brandon Tate and Taylor Price were released last season, and Chad Jackson and Bethel Johnson rank among the bigger Patriots busts in the past decade.
That said, a previous swing-and-miss doesn't have much bearing on future selections. Until 2010, a series of disappointing tight end picks left fans wondering if the Patriots would ever find a solution through the draft. Now, with Rob Gronkowski and Aaron Hernandez, the position is one of the team's top strengths.
Rueben Randle is an intriguing option in the second round. A big target and natural pass-catcher, Randle faced some of the top cornerbacks through playing in the SEC, and had solid production in a run-heavy offense at LSU last year (917 yards, eight touchdowns).
He lacks the elite speed of some wideout prospects—Baylor's Kendall Wright springs to mind—but his days as a quarterback enable him to dissect defenses, finding soft spots in coverages with ease. With an athletic frame, Randle stretches the field and makes big plays.
Randle will need to work on his short-route running, having been utilized on long posts, corners and fades in college, which may limit his snap-count as a rookie.
As a deep threat, he would plug in instantly and offer Tom Brady a fourth receiving option that defenses would have to respect, freeing up the intermediate lanes for Wes Welker and Aaron Hernandez.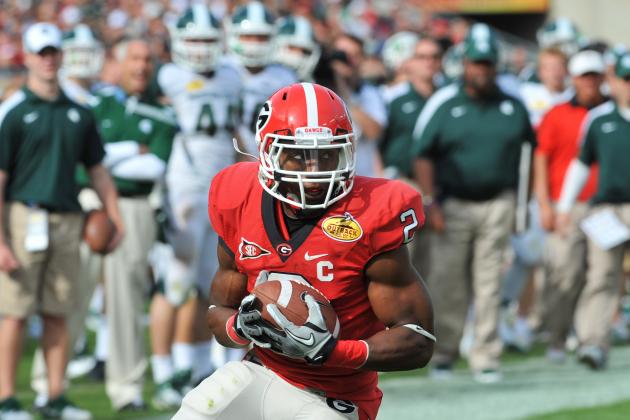 Al Messerschmidt/Getty Images

Height: 5'9"
Weight: 183
Following the late-season emergence of Sterling Moore, the picture at cornerback is slightly less desperate for a secondary that conceded the second-most passing yards in NFL history.
Still, the Patriots lack speed at the position, and slot defender Brandon Boykin would provide a welcome injection of pace and sound fundamentals.
Ras-I Dowling will also enter the mix at corner next season, but, given his injury history, he's an unknown quantity, and a player your can't yet rely on. Boykin is durable given his size, and he plays press coverage with an aggressive streak, skills that would set him apart from the current roster.
He is a couple of inches shorter than ideal, but he makes up for it with a huge leaping ability, and routinely covered taller receivers in college.
Boykin's value increases when you factor in his skills as a returner, with five touchdowns in his Bulldogs career. Given New England's lackluster return game in 2011, he would provide an instant upgrade over Danny Woodhead on kickoffs.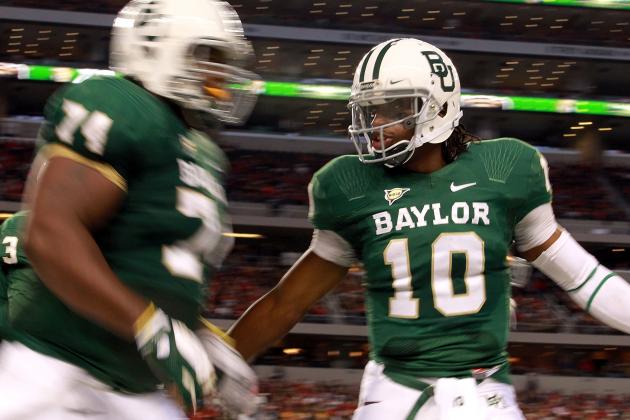 Ronald Martinez/Getty Images

Height: 6'2"
Weight: 315
Philip Blake is a bigger body than Dan Koppen, and that extra size on the interior of the line could appeal to the Patriots, which struggled to protect Tom Brady through the "A" gaps at times in 2011.
At 26, he won't be the youngest prospect on the board in the third round, but his experience as a three-year starter should ease his transition to pro football.
As a former right tackle, the Patriots will love Blake's versatility, and his bulk enables him to win one-on-one battles with defensive tackles at the point of attack.
With no injury concerns, Blake could start from day one—with Dan Connolly providing spot duty at guard and center—and solidify the line for six or seven seasons. Not bad for a third-round pick.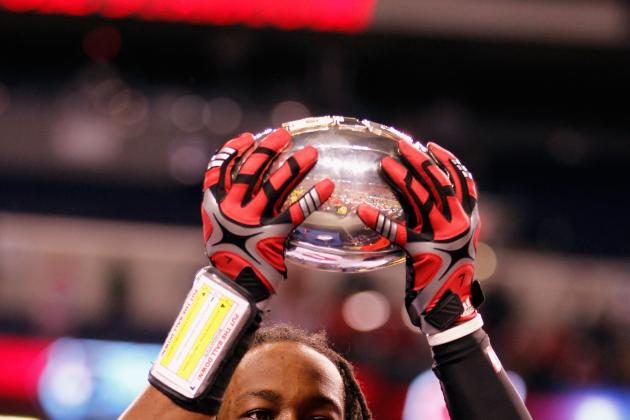 Gregory Shamus/Getty Images

Height: 6'0"
Weight: 210
Henry is another versatile mid-round talent who could appeal to Bill Belichick's philosophy of building a flexible roster.
Safety is a top need in New England. Although Henry is far from an elite prospect, his skill set could appeal to the Patriots. Having converted from cornerback in 2010, Henry can line up at various spots in the secondary, and demonstrates sound, disciplined technique in the tackle.
If he sounds like the opposite of Brandon Meriweather, you may be on to something. A team captain at Wisconsin, Henry is a natural leader. While he lacks the ball-hawking instincts of a top safety, he gathered four interceptions in his senior year.
If the Patriots target a safety in free agency, Henry could be a nice complimentary selection to develop, playing as an understudy to a proven veteran.