2012 NFL Draft: Ranking the Top 10 Running Backs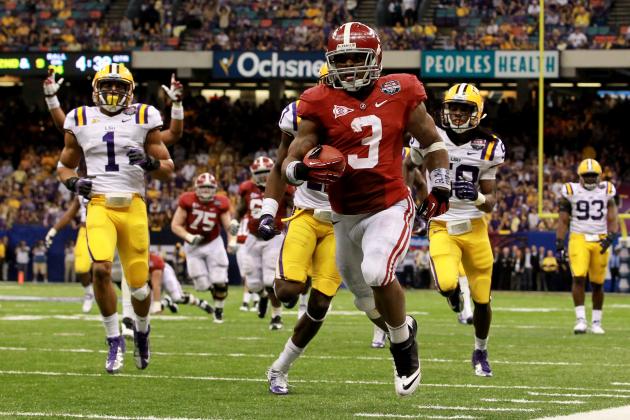 Ronald Martinez/Getty Images
RB Trent Richardson Storming Downfield Against the LSU Tigers
Despite the fact that passing has gained immense popularity over the last decade, the running back position has still been proven quintessential to succeed in the NFL.
If you look at the Super Bowl-champion New York Football Giant team, they have two fantastic running backs in Brandon Jacobs and Ahmad Bradshaw.
This year's draft features a class full of top-tier backs, and without further ado here are your rankings.
Begin Slideshow

»
Tauren Poole, Running Back, Tennessee, 5'10" 206 Pounds.
Poole is a very explosive back. At 5"10", he is tough to bring down, also. When Poole gets to the corner, catching up to him and bringing him to the turf is next to impossible. Against a fantastic Alabama defense in the video above, you will see how much damage Poole can do.
He is nothing short of versatile and dynamic. On the second play displayed in the video, he pounds up the middle, but swings to the outside and dashes to the end zone against Alabama. Additionally, Poole is a consistent threat in the passing game.
The team that drafts him will benefit in the long run. He is probably not a day one starter, but he has a bright future in the NFL.
Robert Turbin, Running Back, Utah State, 5'9" 216 Pounds.
Unlike Poole, Turbin is an up the gut, ground-and-pound back that will run through a wall. On the contrary, Turbin has the speed to take it to the house every touch he gets.
He has less versatility than Poole, but is a completely different type of running back. Turbin is a powerful, scary tailback that can make defensive coordinators cringe in an instant.
Turbin has a strong chance of being a day one factor, and should be a big-name back for whatever team he suits up for.
Dan Herron, Running Back, Ohio State, 5'9", 212 Pounds.
Herron is very reliable in short yardage situations, but also possesses an ability to pick up big chunks of yardage after contact. He has world-class elusiveness, and is very active in the passing game. He is lethal in the screen game.
"Boom" Herron was a star at Ohio State, but his college career is stained by a suspension. Boom, however, was proven with immense potential.
He could use a couple running style tweaks before he starts in the NFL, but after one or two seasons he should be off to the races.
Isaiah Pead, Running Back, Cincinnati, 5'10" 193 Pounds.
Pead is as elusive as a running back gets. He has nifty feet and is poised to be something special in the NFL. He is a dominating force and has the talents to make it big in the NFL.
Don't be surprised if you see Pead's name pop up in the end of the first round. If you take a look at Seahawks OT James Carpenter, who was projected a late Day Two pick, you'll see how a player can quietly slide into the end of the first round.
Cyrus Gray, Running Back, Texas A&M, 5'10" 198 Pounds.
Gray is a great runner with great cutback ability. He consistently darts through the right lane play, after play, after play, after play. He was featured in Texas A&M's offense, which also had Ryan Tannehill and Ryan Swope.
Gray is tough to prepare against for any defensive coordinator. He has the potential to be an offense's main weapon, as long as he stays healthy.
Chris Polk, Running Back, Washington, 5'11" 222 Pounds.
In Polk's scouting report I wrote earlier this year, you will see that he is a multidimensional tailback that plays a lot like Baltimore Ravens RB Ray Rice.
He has the speed and power to succeed in the NFL. The only big thing that concerns me is his running style. Polk uses a lot of gas, meanwhile he takes a lot of hits. If he ends up like Michael Vick, his NFL career will be very short.
Doug Martin, Running Back, Boise State, 5'9" 219 Pounds.
His old-school running style may seem to not fit the NFL. He may take a lot of hits. But his assets—speed, strength and power to name a few—will completely deny modern football philosophy. Martin's size allows him to take hits over and over again.
He is small and is as elusive as Isaiah Pead. Additionally, Martin is extremely durable. That key asset will benefit his team immensely in the long run.
David Wilson, Running Back, Virginia Tech, 5'10" 205 Pounds.
Wilson has a 50/50 chance of squeaking into round one. His universally-recognized speed is nothing short of lethal.
If he cracks the first round, watch out for Green Bay to scoop him up. If he gets paired up with Aaron Rodgers and their illustrious offense, their Super Bowl chances will skyrocket even more. Wilson is a potent tailback and would change the Packers' offensive attack.
Lamar Miller, Running Back, Miami (FL), 5'11" 212 Pounds.
Miller is a monster. He sheds tackles and rips through defenses in an instant. Defenses get torn in half by this insane tailback. Miller makes magic out of seemingly broken plays. There is nothing he can't accomplish on the football field.
Miller is going to be something special in the NFL. He is so versatile that the team looks like they have two amazing running backs with the same number. He is nothing short of multidimensional.
Trent Richardson, Running Back, Alabama, 5'11" 224 Pounds.
Trent Richardson is just flat-out fantastic. He has the size, power, speed, elusiveness and quickness to emerge as the best running back in football. Immediately, Richardson would be recognized as a top-tier running back.
He breaks tackles over and over and over again. He backed up former Alabama RB Mark Ingram for a little, but entered America's radar immediately. He was predominantly unstoppable in the NCAA.
Richardson will undoubtedly be drafted in the first round. He could even go as high as number four to the Cleveland Browns. Wherever he ends up, he is going to be phenomenal.