Hanley Ramirez Still Not Thrilled to Play 3B in Miami
February 16, 2012

Kevin C. Cox/Getty Images
Every time I hear the name "Hanley Ramirez" and somehow it is connected to the phrase "unhappy with the Marlins" my pulse speeds up just a bit.
Listen, I know I am promoting a rumor that just won't die. In large part, I must be a masochist.
I was, am, and will continue to be a huge fan of Hanley Ramirez. Would I trade him for the World Series victory in 2007?  No, of course not.  
However, post that World Series victory, there hasn't been a rumor to bring him back to town that I have not read about. Some of which actually makes sense.
According to the Marlins new manager, Ozzie Guillen, Hanley is not 100 percent on board with playing third base in 2012, as he told the Miami Herald.  Does this mean Ramirez is 90 percent on board?  Who knows?  
What it tells us is that he has had conversations with Guillen proclaiming his disdain for the situation.
The Marlins, wisely, are spinning this as building the team around Ramirez. He doesn't seem to be taking the bait. (Pun intended.)
Ramirez is still under contract with the Marlins through 2016 for $46.5 million. He'll still only be 30 years old at that point. The Marlins currently have a pretty stacked, young lineup.  
Would it make sense for them to trade their face of the franchise? Nope.
Are they willing to let a Barry Bonds/Pittsburgh Pirates situation happen? That also would not be wise.  
According to the teams official depth chart, behind Ramirez at third is Greg Dobbs. The 29 year-old Dobbs is a career .264/.308/.405/.713 batter. Not fantastic, but serviceable should a trade be made for a player that could not handle third.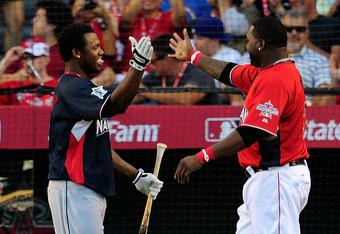 Jeff Gross/Getty Images
Enter the Kevin Youkilis argument. With the Red Sox having both Nick Punto and Mike Aviles on the roster, the team could plausibly trade Youkilis to the Marlins in exchange for Ramirez. Naturally it would cost an additional prospect or three, but with stud prospect Will Middlebrooks in the wings, the Sox could afford to trade away Youk, obtain a comparable, if not better bat and stud shortstop.
The Marlins in turn save a couple of million going into the 2012 season and about $30 million in the grand scheme of things, removing a clubhouse distraction for a team that is trying to re-image itself.
Will it happen? Probably not.  
Would it be fun if it did happen?  You betcha.