NFL Draft 2012: Michael Floyd and 9 Players the Chicago Bears Must Look at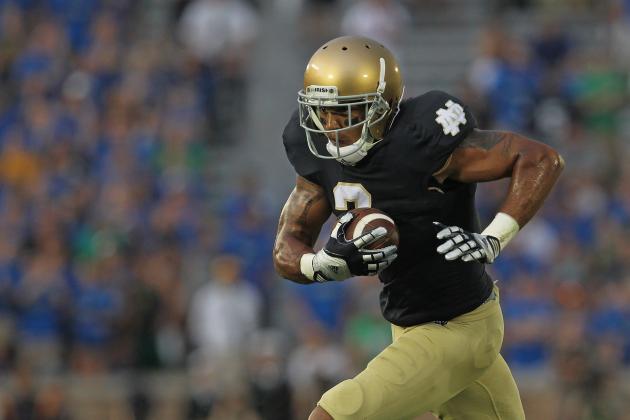 Jonathan Daniel/Getty Images

The Chicago Bears have just never seemed to get over the hump.
Two years ago, they finished the regular season with an 11-5 record, winning the NFC North. The Bears lost to the eventual Super Bowl champion Green Bay Packers in the NFC Championship game.
Last year was a step back, though, as Chicago finished 8-8 and missed the playoffs.
Jay Cutler's injury really derailed the season as the Bears were 7-3 prior to his injury.
Even with a healthy Cutler, the Chicago Bears still need to make some improvements if they are to win that elusive Super Bowl.
One of their biggest deficiencies has been at WR. It's been years since Chicago has had a game-breaking wideout.
The Bears could look to the draft to rectify that problem.
Michael Floyd has been one of the more dependable wide receivers in college football. Over his four-year career at Notre Dame, Floyd caught 271 passes for 3,686 yards and 37 touchdowns.
By most accounts, he should fall to the Bears at No. 19 without any problems if they do want to draft a receiver.
However, they have significant problems at multiple positions.
The offensive line is clearly something the Bears must address this offseason, either through the draft or free agency. Jay Cutler was sacked 23 times last year in 10 games, which was actually an improvement from 2010, when Cutler as sacked 52 times in 15 games.
The Bears are not without plenty of options in the upcoming draft.
Here are nine more players the Bears should consider drafting at the 2012 NFL Draft.
Begin Slideshow

»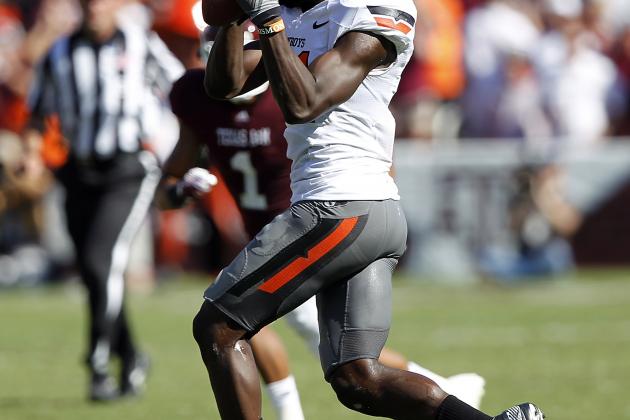 Bob Levey/Getty Images

This one is a significant stretch. Justin Blackmon is a lock for a top-five pick in the draft.
If the Bears want to go after the best wide receiver on the board, though, this is their guy.
The Oklahoma State receiver caught 121 passes last year for 1,522 yards and 18 touchdowns. That followed a 2010 season in which Blackmon caught 111 passes for 1,782 and 20 touchdowns.
Blackmon appears to be an even bigger lock than Andrew Luck.
You can't overstate how much a great receiver can improve the passing game. Look at what Calvin Johnson and Larry Fitzgerald have done to Detroit and Arizona respectively.
Should Chicago want to select Blackmon, it will have come at a steep price.
Last year, Atlanta traded up to the No. 6 pick to draft Alabama receiver Julio Jones. The Falcons gave up their 2011 first-, second- and fourth-round picks along with 2012's first- and fourth-round picks.
Sarah Glenn/Getty Images

Kendall Wright is more in Chicago's draft range.
In CBS' mock draft, Rob Rang has Wright going No. 13 while Dane Brugler has him falling to the Bears at 19.
Wright had a solid first three seasons at Baylor before really breaking out in his senior season.
Baylor had the fourth highest amount of passing yards per game last year with Heisman Trophy winner Robert Griffin III at the helm.
Wright was dependable all year in 2011. He didn't seem to struggle, even in big games.
His worst performance was against Texas A&M and even that wasn't a terrible showing. He had seven receptions for 67 yards and a touchdown.
Kendall Wright might not be a big name like Justin Blackmon, but nonetheless he can get the job done for Chicago next year.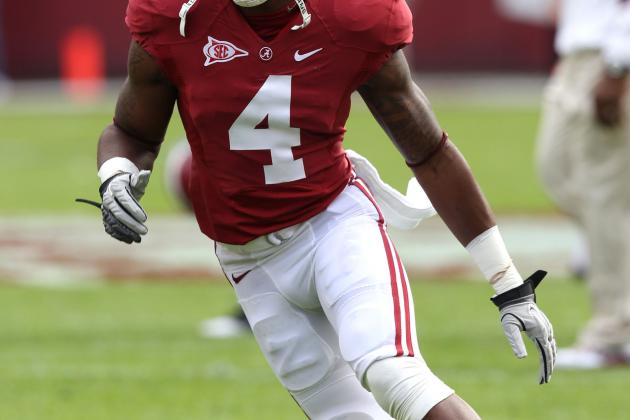 Mike Zarrilli/Getty Images

The vertical passing game has not been kind to Chicago on either side of the ball. To complement their 26th-ranked passing offense, they had the 28th ranked passing defense.
Alabama SS Mark Barron could help change that.
Barron is the prototype ball-hawking safety. He has been a menace to SEC quarterbacks for four years.
He was never able to replicate his 2009 numbers when he had 76 tackles and seven interceptions, but that's more of a result of opposing teams trying to avoid throwing his way.
Much like overstating the importance of an impact wide receiver, a safety can change a game all by himself. Look at Troy Polamalu and Ed Reed.
Should Chicago want to give consideration to Barron, he should be available at No. 19.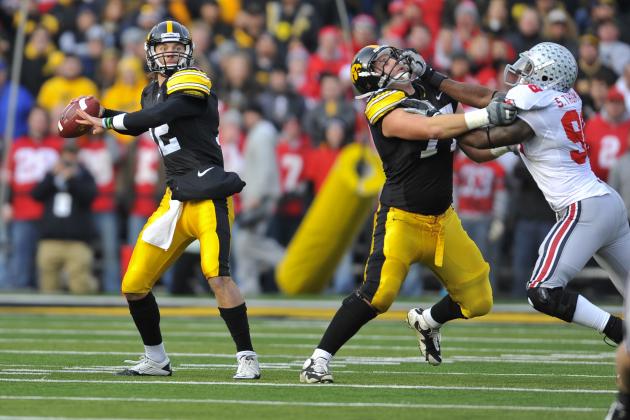 David Purdy/Getty Images

Much like Blackmon, if the Bears want to draft Riley Reiff, he's going to come at a price.
Most draft experts have Reiff as the second-ranked offensive tackle, behind Matt Kalil. While he's probably not a top-five pick, he definitely looks to be going somewhere in the top 10.
There's not much to dislike with Reiff.
His size (6'6", 300 pounds) is perfect for an offensive tackle. He isn't too small that he'll get bullied by defensive ends and linebackers, but that size allows him to be athletic enough to be very quick off the ball.
Again, though, Chicago will have to bet a lot on Reiff being a great tackle because selecting him would come at a steep price.
There are other options on the board, but on paper they look to be a downgrade from Reiff.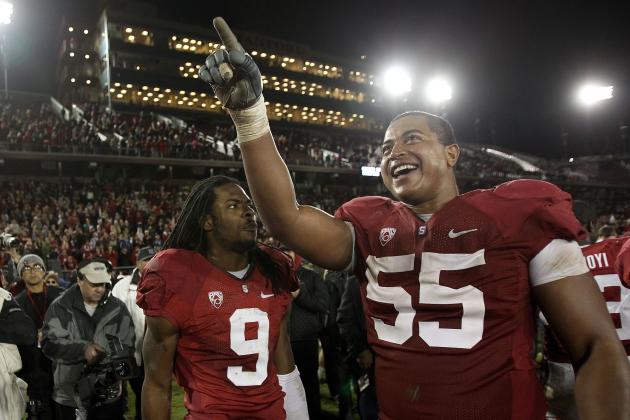 Ezra Shaw/Getty Images

It wasn't really much of a surprise when Jonathan Martin confirmed he would be entering the draft.
He is very similar to Reiff.
Coming in at 6'6" and 304 pounds, Martin is very athletic off the ball. His strength might leave a little to be desired, but that's something that can easily improve by hitting the weights.
He had one of the highest profile offensive line jobs in the country over his three-year college career: protecting the blind side of Andrew Luck.
Martin is NFL-ready right now and drafting him would immediately improve the Bears' line situation.
Much like Reiff again, Martin looks to be going earlier than No. 19, so Chicago will really have to bet a lot on Martin being their left tackle of the future.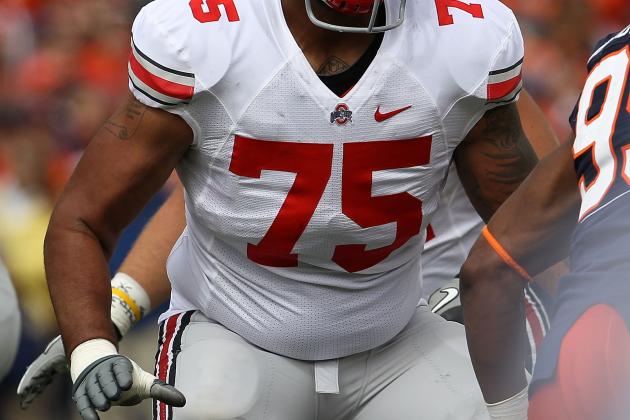 Jonathan Daniel/Getty Images

Mike Adams is not quite as NFL-ready as either Riley Reiff or Jonathan Martin, but he looks like he'll actually be available when the Bears draft.
Adams has excellent feet, which is a definite plus for him. It seems to be the one thing that scouts are really raving about him.
A lack of footwork can really wreck a tackle, even if all of the other skills are there. Robert Gallery is a great example of this.
Adams, though, seems to lack the consistency that you want out of a left tackle. Some also question his toughness on the line and ability to really get in the face of opposing defensive lineman.
It will take a year at least for Adams to really get comfortable with the NFL and show his true value. But at the No. 19 pick, Chicago could do far worse than drafting him.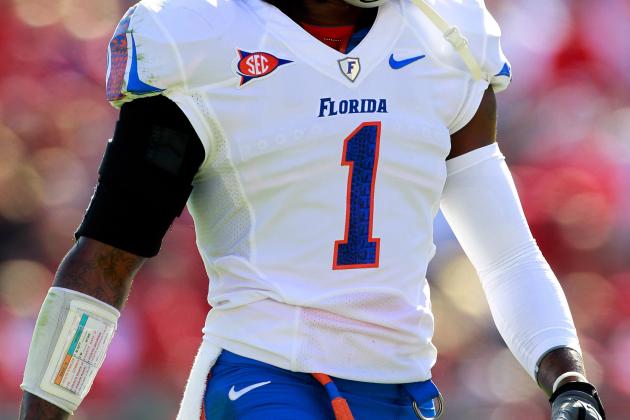 Sam Greenwood/Getty Images

As said in the first slide, the Bears pass defense was dire last year.
Janoris Jenkins could do a lot to change that.
He was forgotten a little last year as he was kicked off the team at Florida and transferred to North Alabama. The dismissal was as a result of multiple arrests during his time in Gainesville, so that is a problem that NFL scouts must evaluate.
Off-field issues aside, Jenkins looks to be a lot in the mold of Darrelle Revis.
He has great speed and playmaking ability. That speed can allow him to make up a lot of ground should he make a mistake in coverage, which he is prone to do.
Although he's only 5'10" and 183 pounds, he's not afraid to get physical with bigger receivers.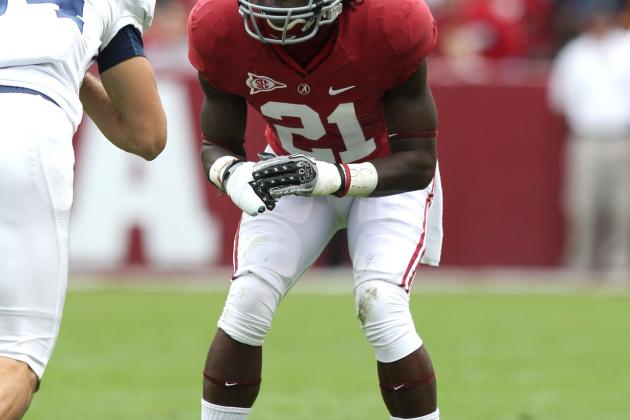 Mike Zarrilli/Getty Images

Unlike Janoris Jenkins, Dre Kirkpatrick is a much more physical cornerback.
His size (6'2", 192 pounds) allows him to make plays that a smaller corner like Jenkins or Morris Claiborne wouldn't be able to make.
However, he lacks the same kind of freakish athleticism that they possess. Kirkpatrick can gamble a little too much, so his lack of elite speed can be a detriment.
Kirkpatrick, though, is an above-average tackler for a corner and very good in man-to-man situations.
He has a lot of big-game experience too. He started two years at Alabama and earned second team All-American honors in 2011.
Kirkpatrick's had some off-field trouble as he was busted for marijuana possession on January 17th. The charges were dropped, however, on February 7th.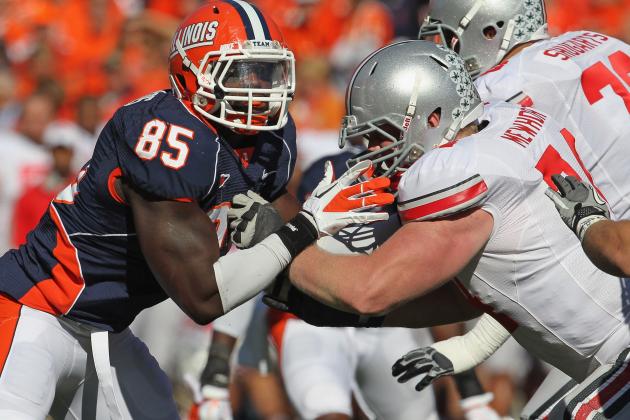 Jonathan Daniel/Getty Images

Although they signed Julius Peppers in 2010, the Bears still lack an elite pass rush. Neither Amobi Okoye nor Israel Idonije look to be the answer at the other defensive end spot.
This need probably isn't on the level of wide receiver or secondary help, but it's definitely a position Chicago could look at.
One option is Illinois defensive end Whitney Mercilus.
Mercilus had a great year in 2011, as he lead the nation with 16 sacks en route to being a consensus All-American.
However, his biggest critique is whether he can continue that kind of production over a period of time, especially in the NFL.
Mercilus was a relative unknown before the year started, and many are questioning whether he is simply a one-year wonder.
He doesn't have the best technique nor the physicality to be any kind of consistent run-stopper to complement his pass-rushing abilities.
If the Bears do look to selecting a pass-rusher, a linebacker like Melvin Ingram might be a better bet.