Washington Redskins Free Agency Housekeeping: Who Should Stay and Who Should Go?
February 14, 2012

Patrick Smith/Getty Images
When the 2012 NFL free-agency period kicks off in four weeks, the Washington Redskins plan to be busy.
The Redskins have a number of areas of concern, the most pressing being the quarterback situation.
The 'Skins also need to bolster their struggling offensive line as well as add another wide receiver and a couple of defensive backs.
Before the Redskins begin recruiting players in search of a new home, they must address their own in-house free agents.
Key Free Agents
LB London Fletcher, TE Fred Davis, S LaRon Landry, QB Rex Grossman, RB Tim Hightower, DE Adam Carriker, LB Rocky McIntosh, OL Will Montgomery, DE Kedrick Golston, OL Kory Lichtensteiger (restricted), WR Donte Stallworth, OL Sean Locklear
Should Stay
Fletcher, Davis, Landry, Grossman, Hightower, Carriker, Montgomery
The first signing this offseason for the Redskins needs to be London Fletcher. He's the heart and soul of not only the 'Skins defense, but the entire team.
Bruce Allen has noted that signing Fletcher is a priority. The soon-to-be 37-year-old led the NFL in tackles last season with 166, and should sign a three-year contract to ensure that he retires in the burgundy and gold. 
Fred Davis was enjoying a monster season before his love of the marijuana led to a four-game suspension. It appears likely that he will be franchise tagged, which is the judicious move for the Redskins.
If Davis leaves his Wiz Khalifa habits alone and learns to block, then he is bound for a monster 2012 season what will result in a hefty pay tag next offseason. 
LaRon Landry is a dominating player when he's healthy. But, he's been unhealthy much of the past two seasons.
The 27-year-old, former top-10 pick is a prime example of a risk and reward player.
Montgomery started all 16 games last season and his ability to play both guard and center is crucial. Carriker played really well during the 2011 season and the Redskins need to keep their three-front in tact.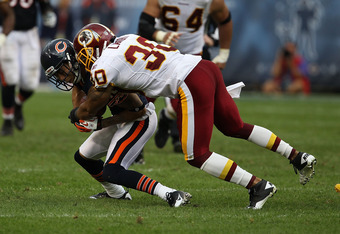 Jonathan Daniel/Getty Images
Grossman re-signs, but only as a backup. He knows the offense well, but his days as the starter should be over. Hightower is returning from an ACL injury and should re-sign for cheap. If he's healthy at camp's start, he'll battle Evan Royster and Roy Helu for the starting job.
Should Go
McIntosh, Stallworth, Golston
Rocky McIntosh is likely not-resigned. The 2011 season was not one of his better seasons, and he is much more suited for a 4-3 defense. After six seasons with the Redskins, McIntosh's time to move on has come and the Redskins need to find his replacement.
Stallworth had an unimpressive 2011 season, and the Redskins don't have much need for a 31-year-old receiver.
Golston is no longer a starter for the Redskins. If the Redskins cannot re-sign Carriker, then they will re-sign Golston for insurance purposes. However, the Redskins need to get younger across the defensive line. 
Bottom Line
The Redskins have the fifth-best defense in the NFC, and need to keep their defense together. Keeping Fletcher, Landry and Carriker will go a long way in making sure the defense continues to play at a high level.
The offense is still lagging behind, and whomever the Redskins start under center will benefit from having Davis to throw to.
The Redskins are $47.568 million under the projected salary cap, which allows them to re-sign their key in-house free agents and also remain active during free agency and address the looming problems on offense.