Kellen Moore 2012 NFL Draft Scouting Report
February 13, 2012

Otto Kitsinger III/Getty Images
There are limited players...and then there is Boise State quarterback Kellen Moore.
After completing his four years of eye-popping statistics for Boise State, Moore opened himself up for scrutiny from NFL scouts and armchair gurus. He is one of the most interesting quarterbacks in this class because of all the odds going against him.
However, we've seen players in the past overcome questions. Can Moore do the same?
Size
Just like every other position, height and size come first. In Moore's case, he struggles in this department because he is 5'11" while weighing in at only 191 pounds. This is very concerning for a quarterback because of two reasons: inability to view passing lanes clearly and taking a beating. 
Passing lanes have to be seen by quarterbacks. If not, there will be plays left out on the field, whether it be in the intermediate or deep (21-plus yards) depths. If he can't see the passing lanes, he will not be able to make the requisite throws to lead his team to victory.
Also, he will have issues with batted passes by defensive linemen. This, in particular, is an issue because of the length of defensive linemen nowadays, as witnessed in the Super Bowl with the New York Giants front four that was led by the 81-inch wingspan of Jason Pierre-Paul.
Further, Moore's weight of 191 pounds is simply not OK. He is not built to take a beating at the next level, which he most certainly will have to do if he's a starting quarterback. At Boise State, his offensive line did a very good job of giving him a clean pocket.  
Mechanics
Quarterbacks' mechanics come in many different fashions, ranging from side arm to over the top, and Moore's are sometimes in question. He tends to drop the ball a bit before delivering the ball but I don't see it as a significant issue. He gets the ball out quickly enough despite the question mark.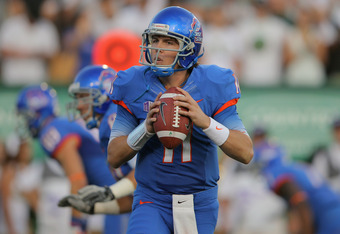 Doug Pensinger/Getty Images
He's shown that he can keep both hands on the ball while dropping back and before releasing the ball. Where some questions arise about his mechanics while dropping back is when he's under pressure, as he sometimes will take a hand off the ball and expose it, which puts him at risk of fumbling.  
This is able to be coached, however.
Footwork
When it comes to footwork, Moore has some things to his advantage as well as one big negative that makes you wonder how he'll fare at the next level. The advantage that he has is that he's worked out of both shotgun and pro set.
Because of this, he's taken drops of one, three and five steps. The one- and three-step drops make up what many NFL coaches deem "quick game," a rhythm drop-back passing game that features short routes (i.e. three-step slant) to pick up quick yardage. 
The five-step passing game is one that's prevalent in the NFL right now and what this has is combination routes that attack the field at different levels while asking the quarterback to go through more reads. This type of drop back has the quarterback read the middle of the field first before looking to his first read, which is done when the back foot (fifth step) plants in the ground.
All of this plays into the advantage of Moore, but what doesn't is his footwork when throwing to the right side of the field, which is opposite of his throwing hand (left). Moore tends to lock his front leg when throwing right, thus causing himself to go off-balance and making it a more difficult throw for himself, which leads me to accuracy. 
Accuracy
The Boise State product has quality accuracy when distributing the ball to his pass-catchers in the short and intermediate levels of the field. He does a good job of anticipating passes as well as displaying an understanding of the game, delivering throws based off of leverage, which is when the term "ball placement" comes into play. 
He's particularly accurate to the left, but on the right side of the field, his throws can become inaccurate and lack velocity because of his locked front leg. 
When a quarterback throws in this manner, his shoulders drift over his feet and he is unbalanced. His body is not proportionate and consequently, his accuracy fades. This is an issue because Moore doesn't have the strongest arm. 
Arm Strength
There's two types of arm strength: throw-off-your-knees-70-yards and velocity. The former is typically not an important part of scouting unless your name is Al Davis.
Throwing passes with velocity can be a difficult task because there are many factors that come into play, such as the aforementioned footwork and natural arm strength as well as technique (i.e. bringing your throwing shoulder over when throwing). 
Velocity is a requirement for an NFL quarterback in an effort to make the necessary throws to attack defenses at all levels of the field. Spacing in an NFL offense is important, especially nowadays with faster athletes, and having a quarterback that can make all the throws gives you the ability to use the width of the field while keeping defenses vertically honest.
Boise State, despite its brilliant offensive outputs, is constrained in this because of Moore's limited arm. Look no further than their passing tendencies, which shows that they don't often throw anything more than screens in the field side (wide side of the field when ball is on the hash).
If there is a throw made in the direction of the wide side of the field, it's a crossing route that's been hit early by Moore or a three-step slant that's just inside the numbers. 
Moore lacks a strong arm because he simply has a weak arm. He lacks the ability to consistently fit the ball into tight windows, which is an issue going forward. Is this something that he can improve on?
In a word, yes, but it is unlikely that he will ever get it to the level it needs to be.
Touch
Moore displays quality touch when delivering the ball to his intended target, as he shows the ability to drop the ball in the hole of the defense as well as anticipate and deliver a throw on a crossing route that requires a touch pass. 
In my opinion, this is one of Moore's strengths.
Pocket Presence
Pocket presence is one of the most important characteristics of a quarterback, yet it can be difficult to grade based off of film because college quarterbacks aren't always dealing with pressure due to the schematic design of their offense. 
This is the case with Moore, a collegiate quarterback that has not dealt with a ton of pressure within the pocket. In the instances he has, he has proven to have issues making quality decisions and delivering the ball to his intended target.
A reason he has had this issue is because of the aforementioned lack of velocity on his throws. He is unable to set his feet and step through a pass while under pressure because of a collapsing pocket, so he has to rely on his arm strength to get the ball out, which he cannot do.
Mobility & Throwing on the Run
With the rise of even more athletic pressure players, mobility has become a very important trait, which is something Moore does well. He doesn't have the agility of Cam Newton nor the track speed of Robert Griffin III but he is quick-footed and can move the chains with his feet. 
He's shown the ability to execute play-action roll-outs and boots at Boise State with his mobility because of his previously mentioned quick feet.
Scheme
Everyone wants to know; is this guy making one read and throwing or is he making multiple ones while he drops back? What about the offensive design? Is it the dreaded S-word, "spread"?
To answer the above questions, I start with Moore's reading of the field. He's sat in the pocket in the past and read multiple potential pass-catchers such as when taking a five-step drop. He can do this because he sees the field and understands the game well enough. 
However, his offensive design also helps him significantly in understanding the defense. Boise State runs a significant amount of motions and shifts in the pre-snap phase of the game and it's not just "window dressing" as commentators like to say. It's done for a reason and that reason is because it simplifies the game for the quarterback. 
Motions and shifts force the defense to break down their coverage assignments and tip them off, thus giving the quarterback an upper hand. While defenses pride themselves on disguises and staying one step ahead of the offense, they struggle to do so against Boise State because of their movement before the snap.
Last, this movement, whether it be a receiver reducing his split or a receiver motioning from one side of the field to the other to create a bunch receiver set, gives the offense a matchup advantage, which creates simpler throws and reads for the quarterback. The reads become triangular with a one-two-three rhythm. 
Overall
Boise State quarterback Kellen Moore may have "it" but he doesn't have the physical tools. "It" are the intangibles of a quarterback, the leadership and cold-blooded poise late in the game.
Moore possesses these characteristics, which is why many will say, "Draft him, he's a winner." However, that doesn't always translate and I don't expect it to in this case either.
Moore's multiple limitations will slide him down draft boards (if it hasn't already) and he should be a late Day 3 pick at best.